Where Are These 'Gilmore Girls' Actors Now?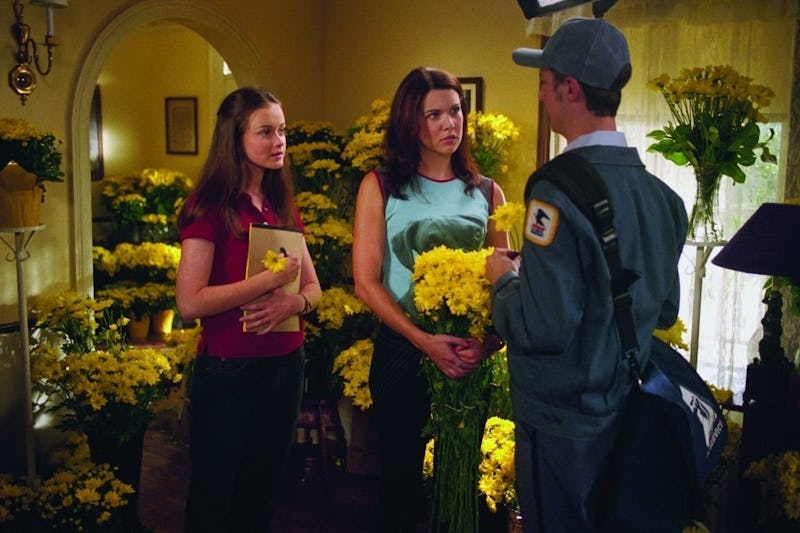 The breathtakingly amazing rumor that Gilmore Girls is coming back, thanks to the god that is Netflix, has made every person I know super excited (except maybe my Dad, but he'll get into it). Since the show ended in 2007, in almost every interview, Lauren Graham, aka Lorelai Gilmore, has been asked about a Gilmore Girls reunion. When is it happening? Would she do it? Is Melissa McCarthy too busy making Hollywood movies now, or could they sweet-talk her into it? And whatever happened to Luke Danes, played by Scott Patterson? Is he still running his diner? Did Luke and Lorelei ever work things out? Argh! So many questions. Plus, the rumor that there will be an eight year time jump, is simply too exciting.
Lauren Graham and Alexis Bledel, who of course played Rory Gilmore, the truly wonderful and super smart daughter of Lorelai, have always raved about the show and how they'd go back if only they could. Even the show's creator Amy Sherman-Palladino, has continued to speak highly of Gilmore Girls and its surrounding fandom. But the big question has always been WHEN?!
Finally, our dreams, and incessant questioning, have potentially garnered results. Gilmore Girls could finally coming back. So, what have all our favorite characters been up to since the show's finale? And, more importantly, will they be back for the Netflix revival if it happens? Here's what we know so far.
1. Lauren Graham (Lorelai Gilmore)
Since Gilmore Girls wrapped, Graham has been super busy. She spent six years on NBC's Parenthood, and even performed on Broadway in the revival of Guys and Dolls. She also wrote a book, which entered the New York Times bestseller list and is being developed for TV by The CW.
Back for the Netflix revival? TVLine says YES!
2. Alexis Bledel (Rory Gilmore)
Bledel has been making movies and appearing on TV since Gilmore Girls finished. Notably, she had a three-episode arc on Mad Men, and recently starred as Katherine Heigl's love interest and bride-to-be in Jenny's Wedding, which is well worth a watch.
Back for the Netflix revival? TVLine says DEFINITELY! In fact, word on the street is that the four 90-minute episodes will revolve around each of Rory GIlmore's love interests. She's got to be there for them to love her.
3. Scott Patterson (Luke Danes)
Patterson is one of those actors I'm always happy to see. He made the Saw franchise amazing, and was even in some episodes of 90210 as Liam's dad!
Back for the Netflix revival? TVLine mentions his name, and Patterson's spoken at length about the need for a Gilmore Girls movie. He'll be back.
4. Kelly Bishop (Emily Gilmore)
Bishop has been very busy TV-wise since Gilmore Girls, especially as she had a main role in Bunheads , also created by Amy Sherman-Palladino and sadly cancelled too soon.
Back for the Netflix revival? According to TVLine, YES!
5. Liza Weil (Paris Geller)
As well as appearing on Bunheads, Weil has become a Shondaland regular post-Gilmore Girls. Following appearances on Grey's Anatomy and Private Practice, Weil had a six-episode arc on Scandal, and is now a series regular on How to Get Away With Murder.
Back for the Netflix revival? There's no word yet. Maybe time to start a "Bring Paris Back" petition?
6. Keiko Agena (Lane Kim)
Agena has appeared regularly on TV over the last eight years, in shows such as Castle, House and Scandal . She was also in Transformers: Dark of the Moon.
Back for the Netflix revival? We don't know yet. *cue worried expression*
7. Melissa McCarthy (Sookie St. James)
If you don't know who Melissa McCarthy is, then you've obviously been off the grid a very long time. Heading up films such as Bridesmaids, Spy, and the soon to be released Ghostbusters, McCarthy has been attempting world domination since Gilmore Girls. With a clothing line, and a million movies in the pipeline, she might just achieve it.
Back for the Netflix revival? McCarthy doesn't get a mention in TVLine's report, so we're guessing it's all down to whether she has time in her schedule.
8. Jared Padalecki (Dean Forester)
Padalecki has become a total fan favorite as Sam Winchester in Supernatural .
Back for the Netflix revival? According to TVLine, allllllll of Rory's love interests will be back.
9. Matt Czuchry (Logan Huntzberger)
Czuchry has been in The Good Wife since 2009 as Cary Argos, and, before that he spent a year on Friday Night Lights. Boy, are we glad he's still on TV every week.
Back for the Netflix revival? See above. Smiley face right here.
10. Milo Ventimiglia (Jesse Mariano)
Ventimiglia has not stopped working since Gilmore Girls, appearing in four seasons of Heroes, voicing video game characters and being in several episodes of Gotham .
Back for the Netflix revival? YASSSSSSSSSSS.
11. Yanic Truesdale (Michel Gerard)
Truesdale has been working solidly on Canadian TV since Gilmore Girls ended.
Back for the Netflix revival? We hope so!
12. Sean Gunn (Kirk Gleason)
Gunn appeared in Guardians of the Galaxy, and is due to reprise his role for the sequel.
Back for the Netflix revival? Surely, Stars Hollow wouldn't be the same without Kirk?
13. Edward Herrmann (Richard Gilmore)
Sadly, Herrmann passed away in 2014. With recurring roles on Grey's Anatomy and The Good Wife, Herrmann will forever be a TV legend, and sadly missed for the reunion.
Hopefully, in the next few days we'll find out more: hell, everyone is tweeting about a reunion! Revisiting these characters has only made me more excited to find out where they all are, eight years on. Rory Gilmore is probably President of the World at this point. And, without a doubt, Lorelai Gilmore is still the queen of everything. Please let the rumors be true!
Images: Warner Bros. Television; Giphy (12)