The 'Royals' Jasper & Eleanor Are Close IRL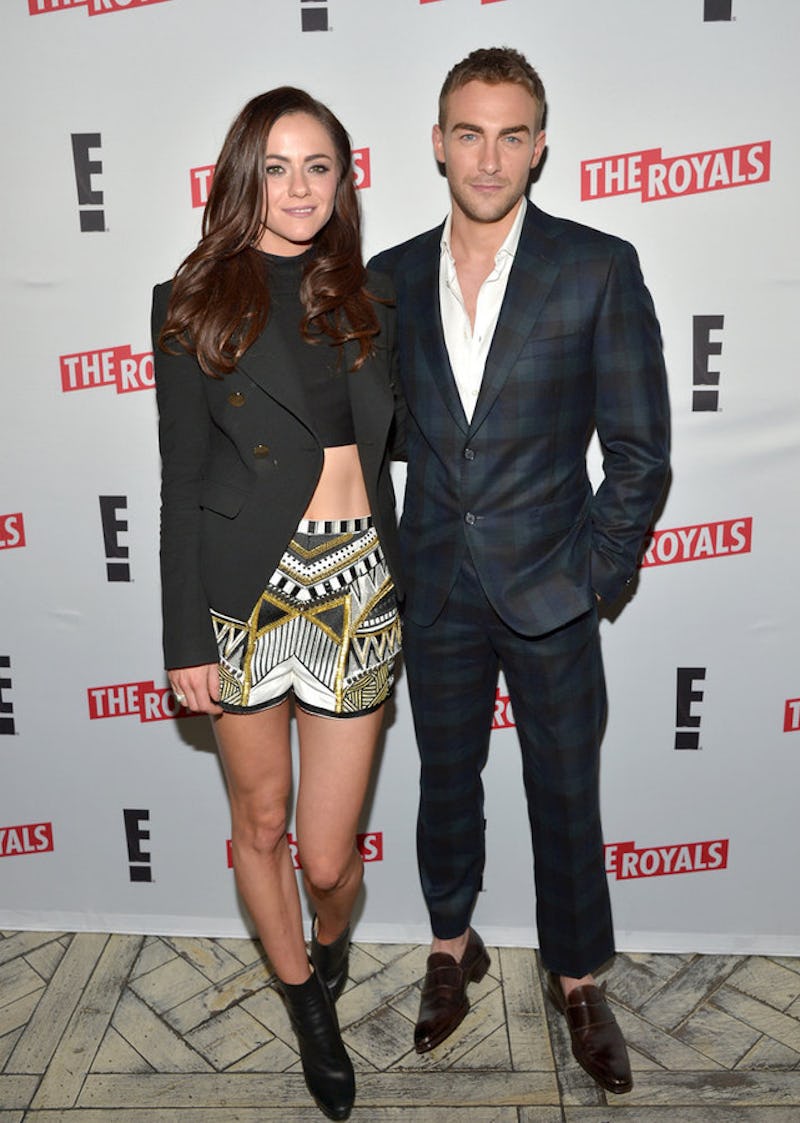 Just like the fictional tabloid D-Throned, fans of the E! show The Royals love their gossip. And in what will surely become a tradition every time a new season of The Royals begins or ends, it's time to start theorizing whether or not Alexandra Park and Tom Austen are dating in real-life. As of the Season 2 premiere of The Royals on Nov. 15, Eleanor and Jasper have already flashed some onscreen chemistry again, but do their actor counterparts share the same spark? It's not the first time these two have had fans wondering about their coupledom offscreen.
On the show, Team Jeleanor is going through a rough patch as Jasper is finally ready to devote himself to Eleanor, but Eleanor is understandably not too interested since he slept with Queen Helena — her mother — last season. And that's before we even mention the appearance of Eleanor's on-again, off-again flame Beck at the end of the Season 2 premiere episode. (Of course, now Beck decides to leave his wife for good.)
If Park and Austen are a real couple, I hope they'd have a lot less obstacles than these two face on the show. But obviously, the most definitive source in the investigation on whether or not these two beautiful people are more than just friends is the all-knowing Instagram.
Around the time of the Season 1 finale, all social media signs pointed to Park and Austen being just best friends. And over a month ago, Park posted a video with Austen in which she described him as her "best." "Best" what? Friend? Guy? Boyfriend? Coworker? Let the rumor mill swirl.
Before I get too ahead of myself, there was substantial evidence back in April pointing to Park dating Luke Cheadle, which was pretty much confirmed with Cheadle's now-infamous handbag-holding post about Park.
But since that post eights months ago, Cheadle hasn't shared anything else about the actress. And the last post about Cheadle that she shared — wishing him a happy birthday — was sweet and clearly romantic, but is now six months old.
Even when Cheadle and Park were more "definitively dating," Park still shared a lot of photos of Austen, but the intensity does seem to have gone up a notch once Season 2 started filming.
Take, for example, this photo that she posted in which they are almost (just almost!) linking arms while enjoying beers on a boat.
And then there's this sexy beach picture, in which they are most definitely touching.
This Instagram photo love is not one-sided either, as Austen also likes to highlight his time with Park. Though it should be noted that more recently, his photos look more platonic than the ones Park shares. Much of his recent Instagram appears to be The Royals themed, like this recent photo of them wearing similar outfits that their boss, Director of Scripted Programming and Development at E! Kate Hoenigsberg, posted.
Another adorable work-oriented photo he shared is of the pair getting their makeup done onset. And because of their body placement, this one is much better for dating gossip, obviously.
Finally, Park and Austen's real-life banter was recently documented by Bustle's own Associate TV Editor Martha Sorren in a game of guessing the movie titles in emoji with The Royals cast. And whether these crazy kids are dating or not, they (with special guest Prince Liam actor William Moseley) sure seem to be having a fun time together. (I'd also like to emphasize at this time how much I adore Park.)
While fans of Jasper and Eleanor probably wish their favorite real life duo would just come out and say they are dating (I mean, what a waste of those selfies, if they're not!), this pair is going to leave fans in suspense. And why shouldn't they? Park's character Princess Eleanor always has her personal life in the tabloids, so let's give the actress some privacy. (Even if she sure makes it hard with those gossip-fueling Instagrams.)
Image: Charley Gallay/E! Entertainment