Pryce Could Be A Murderer On 'The Royals'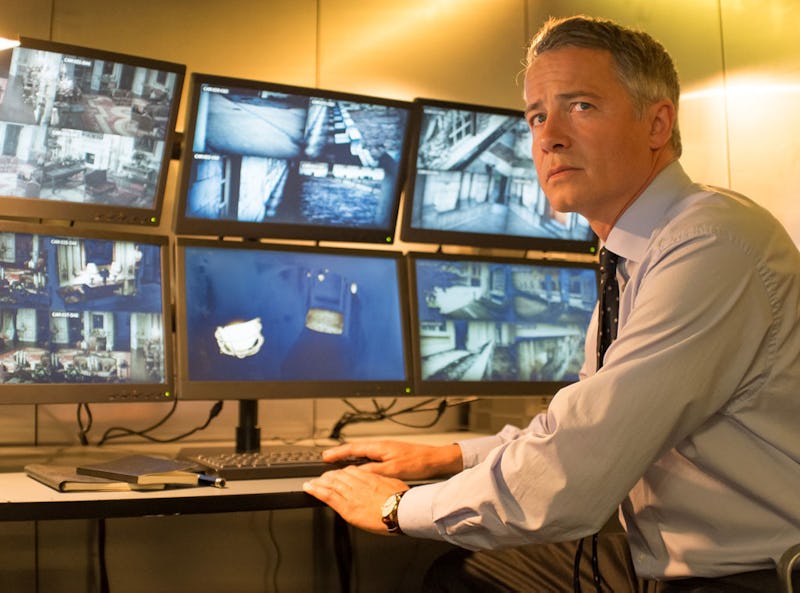 Liam's main Season 1 love interest, Ophelia, may be absent from Season 2 of The Royals , but her dad is taking a prominent role on the E! show. In the Sunday, Dec. 6 episode, "What, Has This Thing Appear'd Again Tonight?," Ted Pryce was revealed to have murdered King Simon. As the head of security for the royal family, Pryce was not even on my suspect list, but as the head of security for the royal family, he totally should have been. This is The Royals after all — and almost every character has a secret agenda.
Pryce has had a more interesting storyline since his daughter stopped being a regular on the show, with his dead wife appearing as a vision to him in his office. She offered her husband words of wisdom and encouragement, while fans of the show got to be baffled by her new appearance.
As Pryce may or may not be losing his mind, Jasper decided to ask Prince Liam if he could get Pryce involved in the hunt for the meaning of Domino and its connections to the death of King Simon. Of course, Liam agreed since Pryce is a good man and I thought, "Yeah, you know what? Pryce is a good man," which within the hour proved too good to be true. Jasper showed Pryce the Domino necklace that Prince Liam had found left on his body and Pryce kept it a secret that he knew about the Domino symbol. After Jasper left him, Pryce then discovered an address that was on the back of a Domino card. (Note that The Royals Twitter account was cleverly taken over by Domino for the Dec. 6 episode.)
When Pryce got to the mysterious address, a flashback revealed just exactly how Ophelia's mom died — she was shot in an assassination attempt on King Simon. And instead of Ted protecting his wife when the shots were fired, he did his duty and protected the king.
Uh, this is some pretty serious stuff and I can't imagine that Pryce would have ever wanted — let alone have been allowed — to stay on as head of security. (Also, I'm pretty sure the protection that the real British monarchy has wouldn't let the security detail's wife hang about.)
But anyway, when he entered the abandoned building listed on the Domino card, red lights were turned on to show the menacing symbol. And then more lights appeared saying, "You are not alone."
Pryce left the building and, while in the parking garage, an unknown man approached him, presumably someone involved with Domino. Then the big reveal came ... that Pryce is the one who killed Simon.
Actually the exact exchange between the men went like this:
Pryce: "It was you, wasn't it? You killed Simon."
Mystery Man: "No, I didn't kill the King of England. But we both know, you did."
So, is Pryce, that good man, actually a killer? While he did somewhat have a motive to kill Simon because of how his wife died, I feel like there has to be another twist. Pryce specifically says "Simon," while the mystery man says "the King of England" in their exchange. Maybe I'm being hopeful, but perhaps that means that Pryce killed the Domino's "King of England" since the current royal family and Domino have been offing each other off. Helena and her mother, the Grand Duchess, pretty solidly insinuated that their family and the Domino group are in a deathly battle where they kill people from the other's group, so I know the whole story isn't being revealed yet — including how Prince Robert died.
Queen Helena tells her children in the below promo video for the Dec. 13 episode that, "Your father's murderer has been found." But considering Liam and Eleanor are not even supposed to think Simon is their legitimate father (I, like Liam, think he is though), I don't know what to believe anymore. And until I have more facts, I'm not ready to condemn Pryce.
Image: E!