Weird Fashion Items I Wish Were Still Trendy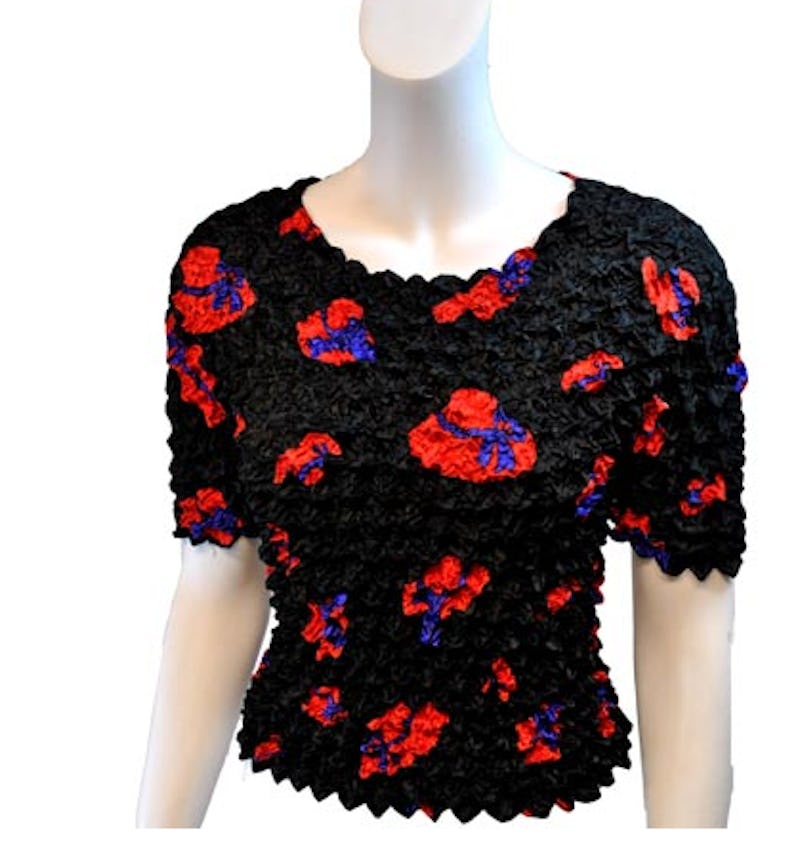 I'm a sucker for style. But as much as I love gushing over popular trends and covetable must-haves, I also have some unpopular opinions about more peculiar looks. Frankly, there are a lot of weird fashion items from our collective past I wish were still trendy today. Even though I realize I may be alone in some of these wishes, I'm certainly not going to apologize for finding redeeming qualities in stretchy shirts and velour track suits.
Over the thousands of years that humans have been wearing clothes, there are bound to have been a few hits and misses. To me, however, it's the misses that really stand out in sartorial history. A normal human might cringe when they see toe socks or bucket hats, but I have no interest in normality. And it's pieces like those unfortunate misses that really make me appreciate what fashion is today. After all, the items you might be calling unnecessary or absolutely absurd are likely to lead us to the trendy, popular ones of today because fashion, like the rest of the world, evolves. Plus, who doesn't have a good memory of wearing leg warmers?
Here are 13 weird fashion items that I wish were still trendy today. They're the perfect throwback material and they'll hopefully help you appreciate just how far we've come while lamenting all we've lost in equal measure. As for me, I could never really deny a pair of gaucho pants.
1. Toe Socks
Full Toe Scrunch Knee High Grip Socks, $16, toesox.com
Just in case your toes weren't warm enough in regular socks, the fashion world graced us with toe socks. They're fabulously stylish, IMO, albeit ridiculously difficult to put on correctly. But hey, at least each and every one of your toes will feel appreciated!
2. Leg & Arm Warmers
Long Cuffable Scrunchable Leg Warmers, $14, sockdreams.com
Honestly, I don't really understand the utility of leg warmers or arm warmers as compared to the classic socks and long sleeve combo, but there's no denying they've got some swag to them. And not just for an '80s-inspired workout video trainer Halloween costume, either.
3. Popcorn Shirts
Satin Red Hat Popcorn Shirt, $9.95, popcornshirtwholesale.com
It was the (actually more legit) one size fits all blouse that blew everyone's minds back in 2002. I'm not going to lie to you: I was a fan in elementary school and I still love the ruched, undone look today. No matter how weird a tiny blouse that becomes huge with stretching is, the spectacle is incomparable.
4. Ashton Kutcher-esque Hats
OG Patch Red, $39, vondutch.com
Ever wondered what happened to Von Dutch after the trucker hat trend of 2006 faded out? Believe it or not, it's still a functioning fashion label selling the same old hats. There's no telling if the Ashton Kutcher-approved trucker hat will ever come back in style, but it'll always remain among my favorite weird fashion trends.
5. Bucket Hats
ASOS Bucket Hat In Tie Dye, $22, asos.com
Perhaps thanks to Rihanna and chic menswear bloggers, I have finally started to see the bucket hat surface after far too long a hiatus. And thank goodness for that; because their weird yet distinguishable and round design will always be effortlessly cool and totally quirky. Here's hoping for a total comeback.
6. Velour Track Suit
Juicy Couture Glittery Logo Pleated Hoodie, $29.99, kohls.com
My younger self dreamed of wearing a Juicy Couture track suit so I could channel my favorite pop stars. It hasn't happened yet, but at least I get to remind y'all of their amazing flawlessness.
P.S. If you watched The Simple Life , you know you wanted one of these, too.
7. Tube Tops
ASOS The Crop Bandeau Top, $6, asos.com
If there's one person who could pull off tube tops, it was Carrie Bradshaw. Some might argue that they were horribly basic and just, well, confusing. A piece of round fabric that's expected to stay in place? But if Carrie wore them, that has to mean something.
8. Cowboy Boots
Durango Ole '66 Cowboy Boot, $199.95, dsw.com
Having lived in Tennessee for three years, I realize that cowboy boots aren't as uncommon as one might assume. That being said, they've certainly been neglected for a while in the sartorial scene around the rest of the world. It's OK, cowboy boots. I still love you.
9. Banana Hammocks
Smiffy's Men's Borat Mankini, $11.86, amazon.com
I think most Millennials can recall the days when such swimwear was a thing in the '90s. But then, for some odd, totally mysterious reason, it disappeared. It's too bad, really. Such a fascinating piece.
10. Cone Bras
L6001 Maitresse Bullet Bra, $55, whatkatiedid.com
I think that Madonna would agree with me when I say cone bras are effortlessly sexy and cool. Who wouldn't want their breasts to look this bullet proof? I cannot fathom why we place so much focus on boring breast support. But these will never not be cool. Right, Madonna?
11. Cargo Pants
Dickies Women's Relaxed Fit Cargo Pant, $24.99, academy.com
Ahh, cargo pants. The trousers that have pockets for everything. Imagine a world in which you didn't have to carry a thing in your hands, and you could fit everything — from your wallet, to your lunch, to maybe even a small car — all in your pockets. This, my friends, is a world where cargo pants are still trendy.
12. Zip Off Pants
Sahara Convertible Pants, $64.50, rei.com
Another weird yet redeeming fashion item is the cargo pant's ugly cousin, zip-off pants. You know the ones: The bottoms that are an odd hybrid between shorts and pants via a hidden zipper at the knees. For all those times when you knew you'd be both too cold for shorts and too hot for pants in a single day, theses babies were there to rescue you.
13. Gauchos
BCBGeneration Pleated Gaucho Pants, $39, bloomingdales.com
The word "gaucho" brings back some fond fashion memories for me. Back in middle school, I was all about the wide leg, capri-style pant that felt like sweatpants, only more lightweight. Some might say culottes are the prettier, trendier way of saving gauchos, but I think the power is in the original get-up-and-go pant.
Yep, these items are certainly weird. But I will never cease to appreciate them. So excuse me while I go watch The Real World in my Von Dutch trucker hat and Juicy Couture track suit.
Want more style tips? Check out the video below, and be sure to subscribe to Bustle's YouTube page for more hacks and tricks!
Images: Courtesy Brands