What Men Vs. Women Want In Porn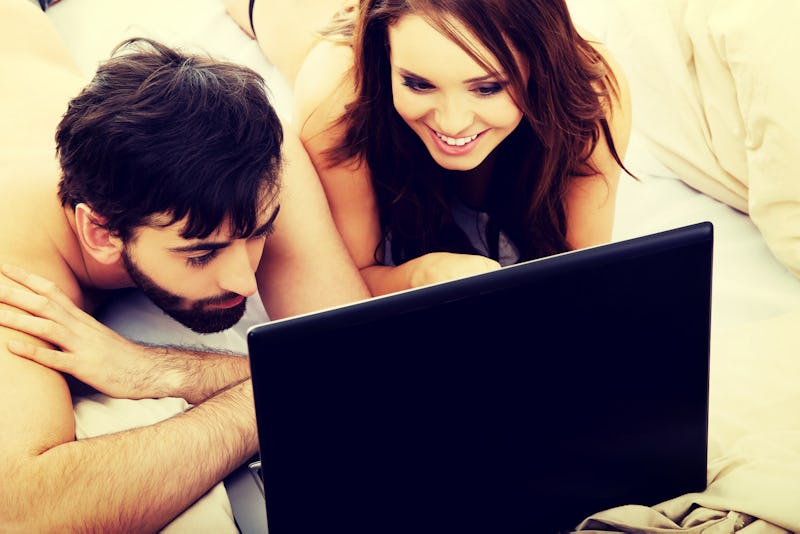 One of the most exciting things to come out of the end of every year is Pornhub's Year in Review. It's in extensive research by Pornhub, that leaves no stone unturned, that we get to sit back and see that when it comes to porn we're all the same. In other words, we're all watching it. What Pornhub found this year is that, similar to last year's 2014 Year in Review, not only do men and women prefer different porn, but they consume it differently, too.
Last year, Pornhub reported that 23 percent of their viewers were women and this year that percentage went up to 24. Granted, it's not a big jump, but it's still proof that with every year that passes, more and more women are embracing porn and owning their sexuality in the process.
According to Pornhub's 2015 Year in Review, hotter weather makes for greater interest in porn, at least when it comes to the ladies. Jamaica, at 44 percent, has the highest proportion of female visitors, with Nicaragua, Honduras, Ecuador, and the Bahamas rounding out the top five countries where Pornhub gets the most female traffic. Countries known for being colder, like Russia, Canada, and Sweden have percentages in the 20s when it comes to their proportion of female visitors, which is an interesting bit of insight.
But that's just the beginning of what Pornhub found when it came to women and porn. Here are five other findings from Pornhub's 2015 Year in Review.
1. Women Are More Interested In Searching Lesbian Porn While Guys Prefer To Keep It In The Family
While we already know that the search term "lesbian" always does well with women, once again putting it in the top spot for ladies, guys are more interested in family-related porn. In fact, searches for "step mom," "mom," and "step sister" all ranked higher than "lesbian" for guys, which didn't even make it into the top five.
2. Women Are Really, Like Really, Into Cunnilingus
When it came to specific searches by women that were compared to specific searches by men, the ladies were really focused on getting oral. In fact, the term "guy licking pussy" was searched 943 percent more by women than men, "man eating pussy," was searched 930 percent more, and "pussy eating orgasm" (best name for a band, BTW) was searched 782 percent more by women than men.
3. Women Also Like To See Their Favorite Celebrities In Action
As for searches in 2015 that were on the incline compared to years past, "real celebrity sex tape" jumped 1028 percent, with "massage hidden cam" at a 1014 percent increase. Rounding out the top three, however, with a 589 percent jump in searches was "man eating pussy," because, well, you know, cunnilingus and all.
4. Women View More Lesbian Porn Than Men
Not only do women search the term "lesbian" the most, but they view lesbian porn the most, too. While guys search "step mom" the most, what the end up viewing the most is "teen" porn. And to prove that women aren't totally obsessed with cunnilingus, when it came to what they viewed, as opposed to what they searched, "gay (male)" and "big dick," came in second and third spots. In contrast, guys had "big dick" and "ebony," in their most viewed second and third spots.
5. Kim Kardashian And James Deen Remain Favorites Among Women
Although she'd probably like to erase "porn star" from her resume, Kim Kardashian is still highly searched on Pornhub. In 2015, she was the most searched porn star by a long run, with Farrah Abraham coming in second, followed by Lisa Ann, and James Deen.
When it came to percentages at which specific porn stars were searched between the genders, despite the rape and sexual assault allegations against him, James Deen, who responded by saying the allegations are false, was searched 504 percent more by women than men. Although since the allegations didn't come to light until the end of the year, it will be interesting to see what effect, if any, they'll have on Pornhub in 2016.
Want more of Bustle's Sex and Relationships coverage? Check out our new podcast, I Want It That Way, which delves into the difficult and downright dirty parts of a relationship, and find more on our Soundcloud page.
Images: Fotolia; Giphy(5)