Why You'll Get More Matches During Storm Jonas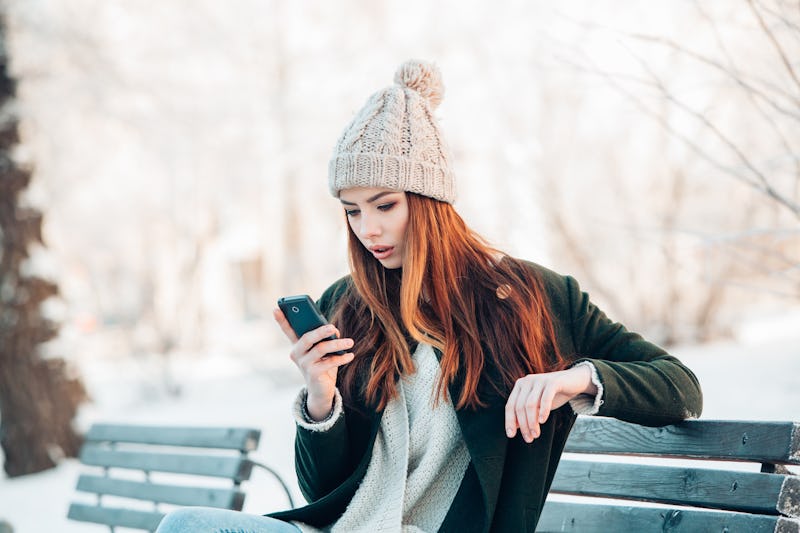 Meteorologists say that winter storm Jonas is going to hit New York on Friday, Jan. 22, but East Coasters won't just be affected by snow — they'll also be hit by a surge in online dating during Winter Storm Jonas …at least, if you use Hinge. Last winter, when winter storm Juno bombarded the East Coast in Jan. 2015, activity on the mobile app spiked 47 percent (!). Snow emergencies had been declared in six Northeastern states and thousands of flights were cancelled, but I guess dates were not.
On top of which, Hinge also found that, in general, winter is one of the best times to look for a relationship. With "Cuffing Season," when people like to pair up for the sole purpose of staying in during the frigid months, this doesn't surprise me.
So, whether people are into "Cuffing Season," want to want a non-cuff despite the arctic temperatures and wind chills, I think we can agree on one thing — they want someone to keep them warm, so to speak (and perhaps go ice skating or have a snowball fight with, too).
Apparently, when the snow comes, aside from stocking up on non-perishable food items, Hinge users will be stocking up on dates, too... at least, if last year's stats in the wake of Juno, below, repeat themselves this year.
1. Leading Up To The Storm, Activity On The App Spiked 27 Percent
That's a lot of people who don't want to be out in the cold — literally and figuratively — once the storm arrives.
2. On The Day Of The Storm, Surges Continued Throughout The Day, Spiking 47 Percent
Impressive, huh? Though I see the allure of daters not wanting to brave the cold alone. Misery loves company, right?
3. On The Day Throughout The Storm, The Average User Logged In Five Times Per Day
I was surprised this was so low, as I feel many people on dating apps check them all the time. In fact, there are several apps you can download that can track what apps you use and how often, like Instant. So, you can see once and for all how much time you really spend on your dating apps.
4. Men Are 15 Percent More Likely To Want A Relationship In the Winter Versus Other Seasons
With snow hitting much of the world these days, this is great news for people wanting relationships with men — as they're more likely to want love during this season. Bustle's Lindsay Tigar wrote about "Winter Date Ideas That Aren't Lame," so if you need some inspiration, look no further. This Match blogger in London had some ideas, as well, from going to the local pub to taking a winter walk.
5. Women Are 5 Percent More Likely To Want A Relationship In The Winter Versus Other Seasons
Other sites see more winters daters, too. "The winter months also bring out a 'coziness instinct,'" said Jessica Tom, community director for dating website How About We, the site where users suggest a date idea and see who's interested. "As it gets darker and colder, people want to find someone to warm up to." The site's membership rises 40 percent in January and February, and they see users propose dates like having a snowball fight, going ice skating, and meeting for hot toddies.
Winter, Spring, Summer, or Fall, there is no wrong season to date, but there's no harm in taking advantage of a winter storm.
Want more of Bustle's Sex and Relationships coverage? Check out our new podcast, I Want It That Way, which delves into the difficult and downright dirty parts of a relationship, and find more on our Soundcloud page.
Images: Fotolia; Giphy; Hinge