I Traded Outfits With My Bestie For A Week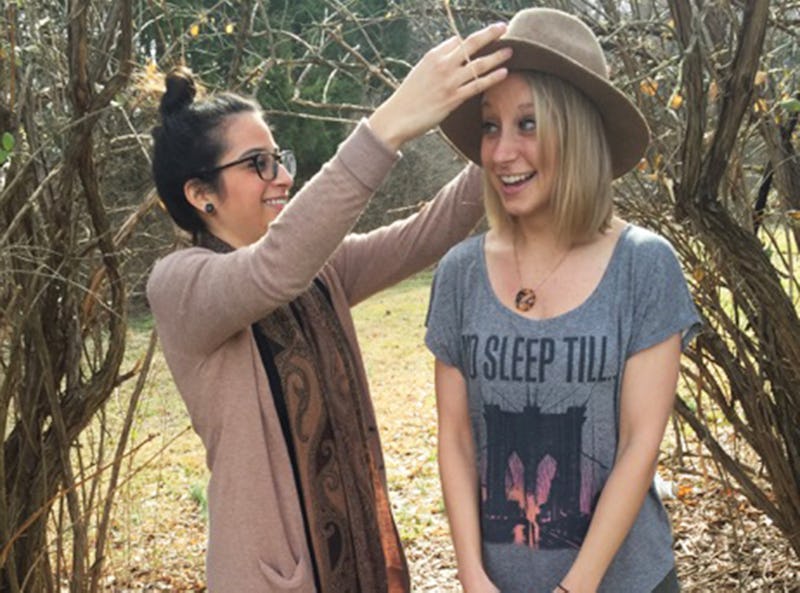 "Oh, I thought you were Carolina," my boss said, after she had seen the gray, cheetah print jacket out of her peripherals. For one week, my grandma-esque style got a major glamorous update when I traded outfits with my best friend — which included her grey, cheetah print jacket.
I actually did not know Carolina until seven months ago, when I moved to Louisville, Kentucky for a job. She is a graphic designer at the same magazine publishing company where I'm a writer, and we've gotten pretty close over the course of those minimal months. And though our personalities matched immediately (she's the Kimmy to my DJ, because she's the wittiest human I know) our styles are rather different. While my mother, and a few friends, refer to my style as more casual than chic, Carolina's daily look is the exact opposite. She's two years older and has a more chic than casual closet, filled with sophisticated-yet-trendy I often pick up at a store but abandon in favor of the oversized sweater and yet another pair of sneakers.
This experiment essentially gave me an insight into what life would be like if I did choose those sophisticated items for myself. And while some days during this experiment I was a little out of my comfort zone in her clothes, I actually felt like my work was better and I was accomplishing those sophisticated/adult-like tasks with much more authority.
Meanwhile, Carolina said she was super comfortable all week. Here's how it went down.
Day 1
We could not have picked out better outfits for each other on the first day. These outfits describes both of our styles to a T.
Me (my clothes on her): oversized, vintage sweater, lipstick, stretchy jeans and brown boots.
Her (her clothes on me): T-shirt, chic printed jacket, chunky necklace.
You know how in the A Series of Unfortunate Events, Violet would put her hair up every time she was about to invent something? Every time I slipped that jacket on, I felt like I was about to write the next Pulitzer Prize winning article. And, again, I would see that jacket while shopping, and possibly even try it out, but I would never have the guts to purchase it for myself.
Seeing this outfit on Carolina made me realize that it was actually more casual than I thought. While she said she felt very comfortable in the outfit (of course) and even loved that the sweater was vintage, I made a mental note to no longer wear this to any event where I needed to impress people.
Day 2
We're currently taking suggestions for our all-girl band name.
I loved this look. Not only am I obviously a fan of sweaters, but Carolina had me pair it with leggings. I was worried at first because I typically don't wear leggings unless I'm wearing an extra-long shirt, but I felt very chic in this outfit... and comfortable. I'm sure the dark lipstick she suggested also added to that trendy vibe.
And like I felt with Day 1, as soon as I saw this outfit on Carolina, I made a mental note that it is actually also more casual than I originally thought. While I am totally comfortable in my own skin, and my own clothes, I would have chosen Carolina's clothes over mine if all the pieces were hanging in my closet.
Day 3
I'm not sure I've ever loved a piece of jewelry more than I love Carolina's giant red necklace. It was yuuuuuge, and it was heavy, but I felt so sophisticated.
Day 3 gave me hope for my own style as well. Finally, seeing her in my favorite winter outfit affirmed me that I actually can and do know how to dress myself nicely. But, in her natural stylish ways, she perfected the outfit by included a top knot, which I never would have thought of for myself.
We both got a laugh after realizing our affinity for booties, leggings, lipstick and neutral colors. So maybe my style isn't actually too far from hers.
Day 4
Because we don't already spend enough time together, we recently started trying hot yoga. OK, Carolina is actually a yogini who's almost mastered the crow pose. I've recently began trying yoga and found it to be a lot harder than it looks.
We decided to dress each other for a hot bikram class, because you really can tell a lot about a person by what they wear to workout.
She dressed me in long Lululemons leggings and a dry-fit tank. I was a little worried about wearing yoga pants that clung to me in a 105 degree room, but it truly wasn't terrible. And because she's practically an expert in yoga, she stated that pants actually give her more of a grip. And she was so right!
But because I am nowhere near a yogini, but prefer higher intensity workouts, I dressed her in dry-fit yoga capris — the only yoga-like apparel I own — and a CrossFit tank, because it was the only true tank I owned and the room was sweltering. I almost felt terrible for making her wear such a grungy outfit to a sophisticated exercise practice. But then I remembered that our clothes are basically ruined because of the buckets of sweat we pour into them and I suddenly felt better.
Day 5
Aside from the killer hat, which we'll revisit, this was one of my favorite days because Carolina taught me a new way to roll my pants and I'm v excited about it for spring. But also because I got to wear a hat. I cannot count on my hands and toes how many times I've tried on hats in stores, but ultimately decided I will never be able to pull one off. So when I saw that she paired this outfit with the best music festival-going hat I'd ever seen, I felt a rush of nervousness and jitters — and ultimately, I fell in love. Her "Not Sleep till Brooklyn" shirt gave me major NYC-withdrawals (literally booked a ticket there because of it). So basically this day was filled with a lot of feels.
I also had strong feelings about Carolina's outfit. I loved how she did not tie the scarf around her neck, but instead laid it simply across her shoulders. And now I'm going to copy that technique. This scarf is actually my favorite and a little sentimental: I got it on a life-changing mission trip to East Asia, so it was a little difficult lending out. I watched her every move (and bite of breakfast and lunch in it) and decided she actually looks better in it than I do.
Day 6
Words cannot properly express how nervous I was about this skirt. Carolina is arguably the most quick-witted person I know, so part of me thought thought it was a cruel joke that she was asking me to wear the skirt in the middle of February. But don't misunderstand, I have been looking for a skirt just like this for about a month. I love the style. I just wasn't emotionally prepared for skirt season yet. Ultimately, this look gave off major '70s vibes and I was totally digging it.
This was Carolina's favorite outfit too. I put her in my "MC Hammer" pants I often forget about. They're cute because they're printed but they're as comfortable as sweatpants, which was perfect for a crazy day at work. She also had a difficult time giving them back to me.
Day 7
We finished the week strong: I made her wear pants that weren't jeans, and she added a bright pop of color to my look. If you were to open my closet door, you would find a single red shirt buried deep in a sea of neutrals. I'm not much of a color person, and I'm OK with that. Carolina, however, knows just how to play with color and I wish I had the same skill. I got so many compliments in this outfit and had a really difficult time letting this vest go.
Our co-workers asked if I styled this outfit together or if I had Carolina help me. It was actually all done by me, but after experiencing her style all week first-hand, I it took it as the highest compliment they thought this was something she'd pick out.
What A Week Of Wearing Carolina's Outfits Taught Me
It should be known that the day after this experiment was over, we both showed up to work in yoga pants and giant sweatshirts. Apparently, the convenience of not having to pick out my own clothes for an entire week made me completely forget how to dress myself like an adult.
But Carolina's style majorly inspired me. I respected her so much for taking fashion risks, and loved feeling empowered by the clothes I was wearing. Though I was sometimes out of my comfort zone, I learned that I can "pull something off" or I can take that fashion risk, instead of just wishing a certain piece of clothing would look good on me.
But that doesn't mean I'm giving up my vintage, oversized sweaters anytime soon.
Images: Hayli Goode (8); Giphy