The Huntzbergers Are Officially Back In Action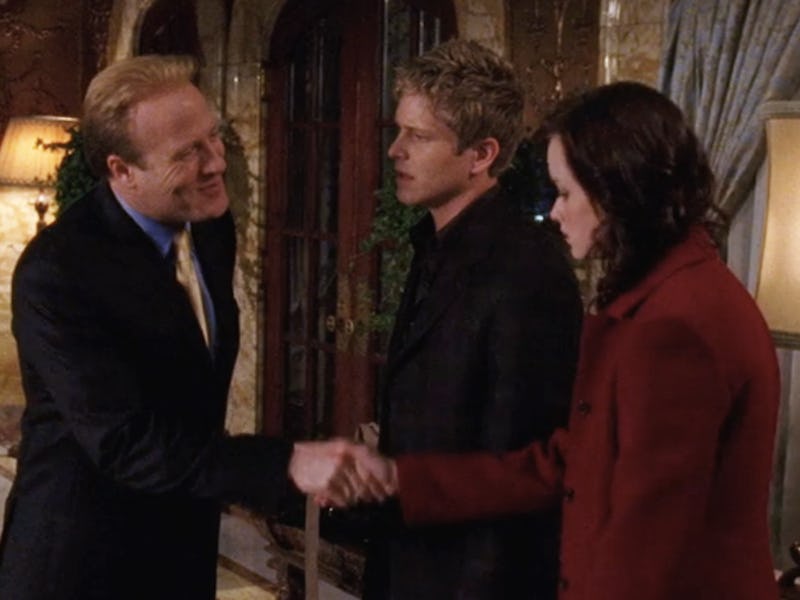 The behind the scenes Gilmore Girls revival pictures just keep on rolling in, and depending on your feelings about the Huntzbergers, you will either love or loathe this one. On Apr. 17, Gregg Henry, a.k.a. Mitchum Huntzberger, crusher of dreams, posted a photo of himself with GG creator Daniel Palladino and Logan portrayer Matt Czuchry on the Gilmore Girls set. The photo doesn't show the Huntzbergers in Stars Hollow, though — instead, they appear to be at The Ebell Club, which could be a pretty big deal.
Fans will remember the swanky club as the setting for Richard and Emily's vow renewal, Rory's society debut, and her first dance. When news first surfaced that the venue was once again being used as a shooting location for the show, my first thought was it must be the location for the now infamous revival wedding, but Mitchum and Logan are not dressed in wedding attire. The guys are looking very dapper in their suits, but they are definitely business suits, not tuxes.
So what could they be up to? Logan's role in Rory's life in the revival is still shrouded in mystery, but this latest picture has me wondering if a business proposition could be what brings Logan back into Rory's orbit. As you have likely heard by now, Rory is not working as a journalist at the onset of the revival, and might be teaching at Chilton. Has Mitchum's soul-crushing declaration that Rory would never be a journalist has come true? Let's hope not. Allowing Mitchum to be proven right is not something I am OK with.
Given the changes traditional journalism has gone through since the Gilmore Girls finale, it is possible that Mitchum's newspaper empire has faced struggles of its own. Perhaps he has now branched out into the realm of Internet media, and Logan is looking to bring Rory back on the team? He knows she is an ace reporter, hence her nickname, "Ace." Maybe The Ebell Club is playing host to a fancy party where Rory goes to network, and while there, she ends up running into the Huntzberger men.
Would it be awkward? Very, but it might be the push Rory needs to figure out what her next career move should be. There is no doubt that Logan would be surprised to see Rory is struggling to make a name for herself in the world of journalism, especially since he looks all business in the photo. A reunion could be just what both of them need to remind each other of who they used to be. With the Life and Death Brigade coming back, Rory and Logan may both be looking to get in touch with their college selves once more.
As for Mitchum, the only reason I want to see him again is so Rory can finally have the last word. Whether he is back for a wedding, to torment his son some more, or to pay his respects to Richard, he and Rory have unfinished business. Given the state of Rory's professional life, she may need a push to realize what she really wants — whether that is teaching, being a journalist, or writing the Great American Novel — and she needs to do it on her own terms. If she gets to tell Mitchum off in the process, then all the better. In omnia paratus, right?
Images: Warner Bros. Television; lookatthelights/Tumblr