11 Alternatives To The Too Faced PB&J Palette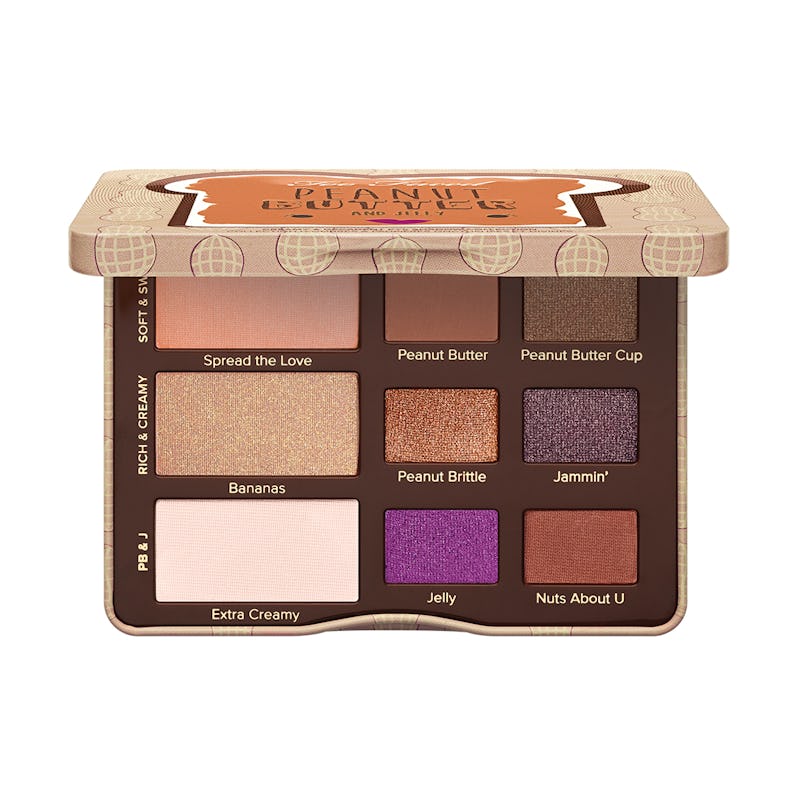 Too Faced's uber popular Peanut Butter & Jelly Palette has been restocked on the brand's website, but with the way this product has been going, there's no doubt it will sell out once again. Thankfully, there are some Too Faced Peanut Butter & Jelly alternatives to ease the pain of struggling to buy this bad boy. So if you can't get ahold of this gorgeous palette with this restock, have no fear — there are others with similar color schemes that will be a perfect addition to your makeup bag.
The makeup community went nuts for the Too Faced Peanut Butter & Jelly palette when it first came out, and for good reason. It features nine rich, beautiful shades in a creamy texture, with a mix of mattes and shimmers, and even smells like a delicious PB&J sandwich scent, courtesy of the cocoa antioxidants in the shadows (not to worry if you're allergic to peanuts however — the ingredient is totally absent from the palette). But even with this restock, it will inevitably sell out again because, well, that's what has happened in the past with this makeup gem.
But not all hope is lost if you can't get your hands on this palette. Other brands have some similar palettes with pretty neutral colors, pops of purple, and quality pigmentation. So even if the PB&J palette does sell out, your makeup collection won't have to suffer.
Peanut Butter And Jelly Eye Shadow Collection, $40, Amazon
Even though these options don't have the exact shades or textures, and even though they're not guaranteed to smell like a yummy PB&J sandwich (sigh), these are the best alternatives to the Too Faced PB&J palette.
Shimmer Strips Custom Eye Enhancing Shadow & Liner, $8, Amazon
The shimmering shades in this palette range from dark brown to light brown, with a bright purple to match. This Physicians Formula version of the brown-and-purple palette would be a perfect everyday go-to.
Wende's Contraband, $60, Amazon
Even though this palette only features six shades, one of them being turquoise, the overall tone bares resemblance to the PB&J palette. From deep browns to a few gorgeous purples, this palette would be great for storing in your handbag for touch-ups or day-to-night transitions.
e.l.f. Prism Eyeshadow, $7, Amazon
Talk about bang for your buck! This stunning palette is only ten bucks and features six gorgeous, creamy, shimmering shades. Plus, don't those colors look very PB&J inspired?
NYX Los Angeles Palette, $33, Amazon
This NYX Palette has those to-die-for PB&J colors, like that gorgeous purple and those versatile browns, but also has pretty grays and blues as well.
Limited Edition Tartelette Tease Clay Palette , $42, Amazon
The colors in this palette are just as pretty and cool as the PB&J ones, but a might more light and subtle for spring-wear.
Style Eye-Con No. 7, $78, Amazon
There's no denying these gorgeous Marc Jacobs purple shades would make for a very PB&J-esque makeup look.
Want more fashion and beauty tips? Check out the video below and subscribe to Bustle on YouTube!
L'Oreal Color Riche La Palette Nude 2, $8, Amazon
Imagine how many looks you could rock with this rich, deeply-colored palette? Answer: endless.
Nude Dude Nude Eye Shadow Palette, $32, Amazon
The concept behind this palette is so adorable and funny, it makes the gorgeous shadows that much better.
9. Pacifica
Sold Out
Pretty eye shadow colors, plus blush and bronzer and highlighter? You won't ever need another palette again.
Illuminance Creme Shadow In Wild Orchids, $9, Amazon
If you're partial to the purple shades in the PB&J palette, this collection may be for you.
It Cosmetics Naturally Pretty Vol 1 Matte Luxe Transforming Eye Shadow Palette, $50, Amazon
With 15 gorgeous shades, plus one that doubles as a highlighter, you can't go wrong with investing in this baby.
So if you're craving that PB&J and just haven't been able to get to the actual Too Faced Peanut Butter & Jelly palette, but sure to check out these options.
Images: Courtesy Brands