The Ideal Cast For 'Real Housewives: All-Stars'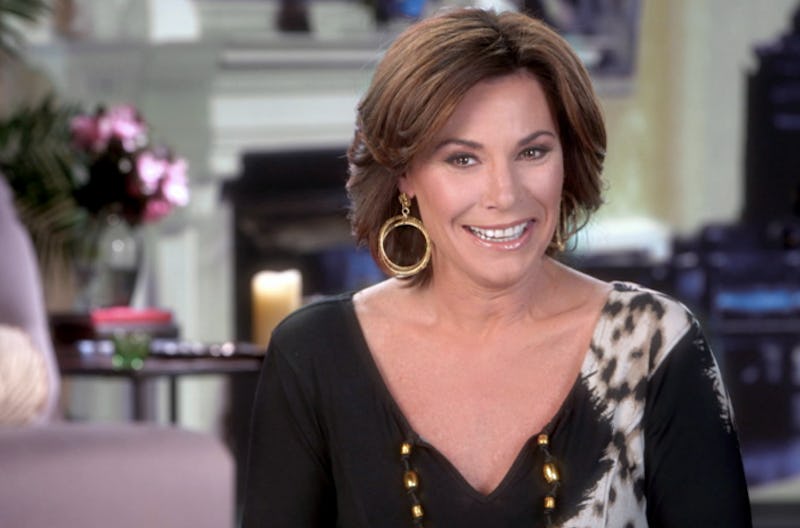 I cannot get enough Real Housewives. People say that there are too many cities and that it is all just the same show in a different location, but that could not be further from the truth. Every show is distinct and breeds different categories of Housewives. And this made me think, what if Bravo combined the best women from each city to create Real Housewives: All-Stars ? Of course I had to dream cast this dream situation.
First, some ground rules: I did not count the extinct shows from D.C. and Miami, and it is way too soon to give my imaginary all-star status to anyone from Potomac or Dallas. This leaves us with the five original series to pull from to cast for my hypothetical TV show.
It is pretty tough narrowing things down when there are so many amazing women on Real Housewives, but there are some important factors to consider. The women on an an all-star edition of Real Housewives should be women who have been on their respective shows for a long time, so they have enough experience to deal with all the drama. These cast members have to be ones who say quotable lines all the time and have the ability to throw shade. And, of course, these women to be able to stand up for themselves and hold their own in an argument.
These are the ladies who would make the cut if I had any sort of power at Bravo.
1. Tamra Judge
Tamra Judge may not be an original cast member on Real Housewives of Orange County, but she might as well be. She has become such an integral part of the show since her debut in Season 3. She is always involved in the most juicy story lines whether they actually have to do with her life or not. She is super open about everything and has shared details of her divorce from Simon Barney, her romantic journey with Eddie Judge, and even her past bouts with depression. Tamra is an open book who talks before she thinks and has some of the most quotable memes on RHOC. She also has a keen sense of knowing which Housewife to turn on and when. She is always on the right side of conflict.
2. LuAnn de Lesseps
LuAnn is perfect for this ultimate edition of Real Housewives for many reasons. First off, LuAnn only gets better with time because she is always evolving on Real Housewives of New York City. She throws some really good shade, but in a classy way. She always has something juicy going on in the romance department. (For instance, she's currently preparing for her wedding, which will double as a New Year's Eve party and birthday celebration for her fiancé.) LuAnn is always fun, but is still super polished as The Countess. And it just has to be said, but LuAnn is just so far from being considered uncool.
3. NeNe Leakes
NeNe's status on on Real Housewives of Atlanta is currently a little bit unclear. First, she quit the show because she was so done with it. Then she made surprise appearances during the Jamaica vacation episodes and the reunion during Season 8. But it just makes sense to include NeNe in this round up of Housewives. She is always ready to go. NeNe operates on all cylinders at all times. She is constantly bringing the sass and throwing the harshest shade. I would love to see NeNe interacting with these other women. It would be reality TV gold.
4. Teresa Giudice
I've said this a million times, but I stand by my claim that Teresa Giudice is Real Housewives of New Jersey. The show would be nothing without her. She brings the serious drama with her legal woes and her family feuds. Plus, she brings that lighthearted humor with all of her misunderstandings and mispronounced words She is totally over-the-top, yet very genuine. There is no way that the women from this franchise could be gathered without Teresa being present.
5. Lisa Vanderpump
Lisa Vanderpump is a really versatile Housewife. She brings that innocent entertainment with her abundance of pets and their issues — which of course means that her dog Giggy Vanderpump would also be a part of Real Housewives: All-Stars. She has a stable relationship with her husband Ken Todd. She knows how to throw shade and flip the script in any argument. Oh, and she is super rich. Lisa is the wealthiest out of all the Housewives. Plus, she has a British accent so that would be great to have around as usual.
Hopefully, Andy Cohen will take my suggestions seriously. It would be amazing to see all of these ladies on an all-star edition in some sort of neutral location, so they are all on equal footing. Could you imagine Tamra, NeNe, LuAnn, Teresa, and Lisa all on vacation together? It would be epic. Everyone knows how crazy the Real Housewives vacations get, so I'm sure it would be amazing television if all these women came together.
Images: Bravo; Giphy (5)