The Birthday Cake Frapp Is Back, Y'all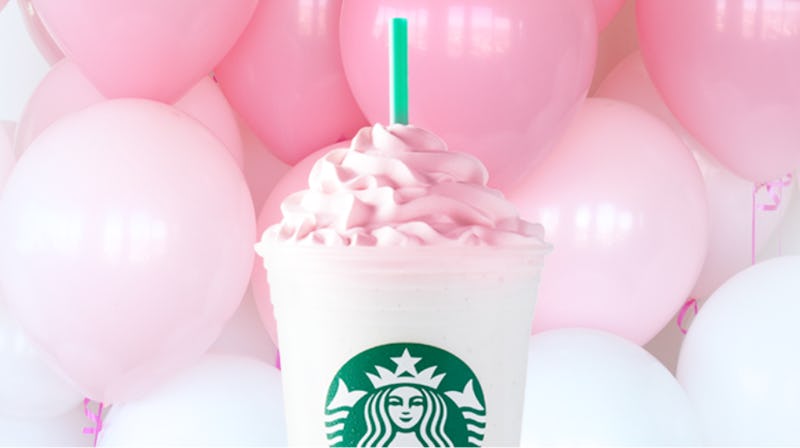 We've got a very important celebration on our hands here, people. In honor of the Starbucks Frappuccino's 21st birthday this year (it's a milestone, y'all), the Starbucks Birthday Cake Frappuccino is returning to stores, and honestly that alone is reason to celebrate. The drink arrives April 28 and will stick around through May 2, which gives you a whole weekend to get your hands on the festive frosty beverage before it disappears. No pressure, or anything, but you're probably gonna want to do this sooner rather than later.
Why, you ask? Because the Birthday Cake Frappuccino is freaking delicious, that's why. The drink became an instant favorite last year when it first made its Starbucks debut, and with good reason. The Frapp is made from a blend of vanilla bean and hazelnut flavors, which combine to taste exactly like a frosted funfetti birthday cake (aka the best kind of birthday cake on the planet). Plus, it's topped off with pink whipped cream, which makes this beverage not only all the more delectable, but ridiculously Instagram-worthy as well. It's pretty much dessert in a cup, and fans have been obsessing over it for a year now. I mean, look at this thing of beauty. How can you not?
The drink is a creme-based beverage, meaning it doesn't come with a coffee base, but if that's your jam go ahead and ask your barista to add it in. The beauty of Starbucks is that you can get pretty much every order customized to your liking. The cost of the Birthday Cake Frapp varies by market, but should run you between $4.25 and $4.95 for a tall, depending on where you live.
In the spirit of celebration, we're privy to another bit of news — in honor of the Birthday Cake beverage, Starbucks is also updating its new Starbucks Emoji Keyboard with a Birthday Cake Frappuccino emoji, so if you're the type who likes to show your excitement with a well-placed pictogram (Millennials, am I right?), make sure to download the keyboard, if you haven't already.
Personally, I'm having trouble believing that the Frappuccino has been a part of my life for a whole 21 years. The drink officially launched in the summer of 1995, but back then, you could only order it up in two different flavors: coffee, and mocha. Now, it seems like the sky is the limit. Earlier this month, Starbucks also brought back its popular S'mores Frappuccino (my favorite of the bunch, for what it's worth), and this year has experimented with everything from the Caramel Cocoa Cluster Frappuccino to a Wild Cherry Blossom flavor. Only time will tell what our little baby Frapp will be up to next. Man, they grow up fast, don't they?
Don't leave the Frappuccino hanging — go out and celebrate its birthday with a Birthday Cake Frapp. After all, who doesn't love a good, delicious party?
Images: Courtesy of Starbucks