13 Men Share What They Get Off To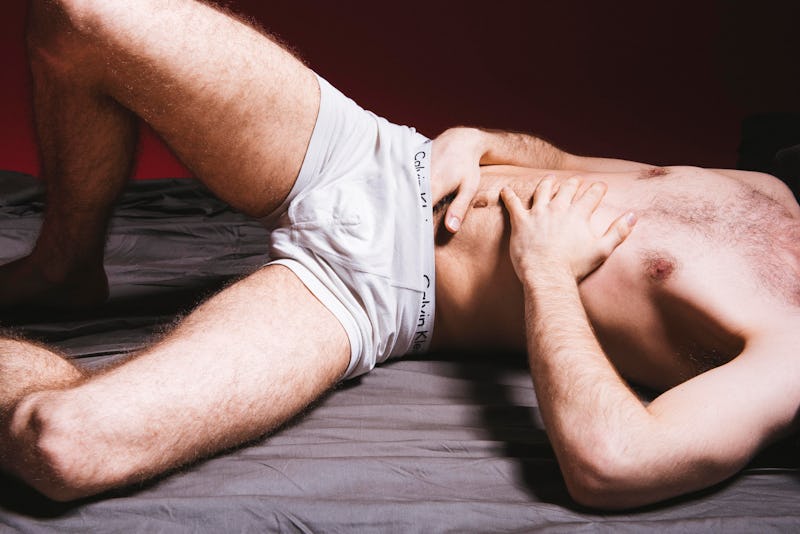 Just about every coming of age movie throws in at least a scene or two about men's masturbation habits. From Fast Times at Ridgemont High to American Pie, pop culture has gone out of it's way to make it known that men love to masturbate. Unlike the taboo around female masturbation, we're pretty used to hearing guys talk about how (and how often) they do it.
In a 2016 study of 1,566 female students and 1,452 male students between the ages of 18 and 22 published in the Journal of Sex Research, 98.9 percent of male participants say they've masturbated at some point in their lives, starting at around 12 to 13 years old. (BTW, the amount of women who have masturbated was not too different!) And hey, more power to them, since masturbation has a ton of health benefits. Regular masturbation has been found to decrease erectile dysfunction and premature ejaculation. It's also been shown to lower the risk of prostate cancer in men.
So what is it that guys are getting off to? Sure, there's a ton of material out there. Women masturbate to everything from sexy music to memories of their ex. But when I spoke to 13 men about what they like to masturbate to, the answers were way more varied than the typical internet porn. Read on to see what they had to say. But first, check out our video on sex positions for lasting longer in bed:
1. Steve, 28
Aubrey Plaza's sex scene in Ned Rifle. And that GIF of her touching herself in nothing but a T-shirt and panties.
2. Kevin, 26
My go-to is poking around on The Porn Dude until I find something that speaks to me. I've found stuff on there that I had no idea existed or that I'd be into, like porn comics.
3. Luke, 28
My girlfriend woke up late the other morning and was running around to get ready. At one point, she was wearing nothing but this lace thong while she was putting her hair up. I jerked off immediately after she left, and have thought about how good her ass looked in that moment whenever I need something to think about to quickly get off to.
4. Tim, 29
The only good thing about my ex was her willingness to send me nudes. She had an incredible body, so she loved to show off her 'squat booty' or whatever body part she was feeling proud of that week. I've got enough material to beat off to and not get bored to last me to my next relationship, god willing.
5. Sam, 22
There's this really hot cashier at the grocery store by my house, and I get off to all these scenarios of me banging her after hours. One time, I jerked off in the parking lot after she bagged my groceries.
6. Skylar, 27
I watch a lot of lesbian porn. I picture myself interrupting it, and having the two women fight about which one is going to get to have me first.
7. Paul, 32
My college girlfriend used to wait for me in my dorm room after class. More often than not, I'd walk in on her touching herself, smiling this wicked smile at me and pulling me in to finish her off. I still get off to that memory.
8. Chip, 24
My boss is drop dead gorgeous and always wears these really tight skirts. I have a whole bank of extremely dirty scenarios that I would love for us to find ourselves in around the office that I beat off to on the regular.
9. Chris, 26
There's a couple in my apartment complex who are always having sex, but you never hear the guy, only the woman. She's loud enough for me to pretend that she's in bed with me, and that I'm the one making her moan and gasp with pleasure, so that's usually what I get off to.
10. Mike, 30
Kim Kardashian's sex tape. I'm sorry. But I'm not sorry."
11. Matt, 29
My ex-girlfriend had a smoking hot friend whom I wish I had met before her, if we're being really real. There was one night that the friend and I shared a cigarette back and forth, and I was so turned on watching her suck a drag out of something that had just been in my mouth. I jerked off thinking about how much further we could have taken things well after my relationship with my girlfriend had ended.
12. Simon, 26
I've got a few go-to videos that get me to where I need to be without fail. One of them involves this pirate ship scene.
13. Salvatore, 26
My older, very married co-worker. One time at a company happy hour, she got way too drunk and complained to me that her husband never goes down on her anymore. So as you can imagine, all of my fantasies involve her begging me for it, and me making her come so hard when I do. And then her f*cking my brains out to return the favor.
Images: Andrew Zaeh for Bustle; Giphy