The Opening Message That Leads To Marriage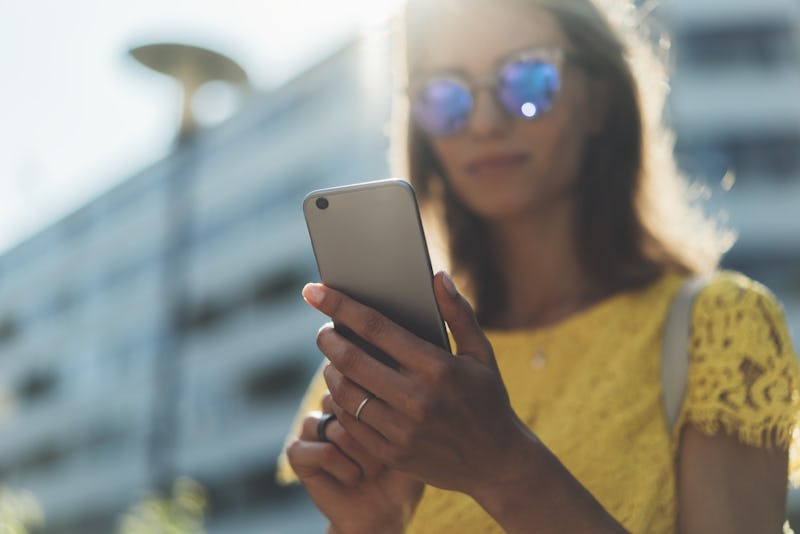 More and more people are meeting their partners online these days, and even their future husbands and wives. So what is the first message that leads to marriage? Lucky for you, dating site Plenty Of Fish surveyed 1,100 former users from the U.S. who married partners they met on the site. "I think the underlying point the findings are proving is that singles should stick with it when it comes to dating," Shannon Smith, communications manager at POF, tells Bustle. "All of our couples who met on PlentyOfFish were once going through the ups and downs of looking for love, as well."
Read more: 50 Example Sexting Ideas You Can Use Right Now
According to a Pew Research Center study from 2015, 15 percent of those surveyed have used a dating site or app. With all the new dating apps and sites being constantly created, that number will only continue to increase, I think. I also believe it's a lot more than 15 percent, since not everyone cops to meeting someone through their phone or laptop. Also in the Pew study, 41 percent of Americans said they know someone who dates online — which is way more than that 15 percent stat, right?! — and 80 percent of online daters said it's a good way to meet people.
The Pew findings also revealed that five percent of people who are married or in a committed relationship said they met their partner online. Interestingly enough, 29 percent of those surveyed reported that they know someone who's met a long-term partner or spouse through online dating (versus that five percent stat from the study). So, perhaps it is more popular than people let on and the stigma gets in the way of people admitting it. Personally, I know almost 20 couples who have met and married via various sites and apps, and I'm sure you know some, too.
First and foremost, POF's study found that you shouldn't wait around for someone to message you first — just message them! Forty percent of respondents took control and sent the first message. I hear that. Why not? Some apps, like Bumble, make the female write to the male first (and either person can write first in same-sex courtships)… and within 24 hours. No wasting time there. You don't want to just collect matches, you want to meet them. Plus, POF found that 34 percent of women had sent the first online message to their partners (hint, hint, ladies), while 53 percent of men had messaged first.
As for POF's other research results? Here were the top five most-to-least popular first messages that led to walking down the aisle.
1. Be Specific And Highlight Something From Their Profile
Yep, 17 percent of those surveyed received a message that was about something specific in their profile, 12 percent of men and 18 percent of women. Think about your own online and phone-app dating experience — do you respond more to people who mention something from your profile (aka, they actually read it), or ones who send the same message to everyone?
Dating Coach Evan Marc Katz agrees on specificity in his blog post titled Knock 'Em Dead — Write Introductory Emails That Get Responses . He suggested finding the most interesting tidbit in his or her profile, "the thing that sounds like it couldn't have been written by anybody else in the world," said Katz. "It might be how she hates pigeons. It might be how she was once a foot model. It might be how she doesn't know how to program her TiVo. Whatever it is, take her quirky tidbit and turn it into your pickup line."
2. Say, "Hey, What's Up?"
While I'm not a huge fan (or even a little fan) of this run-of-the-mill, "Hey, what's up?" message, it seems to work for some — so much so that 15 percent of POF survey respondents ended up marrying someone who wrote this in their first message to them, 11 percent of men and 16 percent of women. I know some people say that it doesn't matter what someone says in a message — if you like them, you like them, and there's plenty of time for more fleshed out sentences in future messages, yes?
Shannon Smith, communications manager at POF, agrees with giving the "Hey, what's up" messages, and people, a chance. "Some people know immediately when they've found the right person, and for others, it takes a while," Smith tells Bustle. Open your mind and look past an underwhelming first message, or a preconceived 'type' of person you want to date — you may surprise yourself!"
3. Ask Them Something About Themselves
In POF's research, nine percent of people asked someone about themselves, nine percent of men and nine percent of women. See? It's just like #1, being specific to each person — this time, in question form. After all, #2, the "Hey, what's up?" is so broad and anyone can write it (which saves time, yes, but still). Plus, do they mean what's up in life? Work? This weekend? The answer possibilities are endless. But asking questions tailored to "X" person means, once again, that you've read their profile and genuinely want to learn something that sets them apart from other people, what makes them them. And, in essence, why you two would make a good match.
4. Bring Up Mutual Interests Or Compliment Their Photos
There was a tie for fourth place between bringing up mutual interests and complimenting someone's photos — eight percent of those surveyed used these methods when messaging someone for the first time. Mutual interests are great conversation-starters, not to mention pretty important when it comes to compatibility, and you can bond over your love of scuba diving or Game of Thrones. Five percent of men and nine percent of women said their partner brought up mutual interests in their first message.
And regarding complimenting their photos, there's the "You're so hot" kind of way, but you can also do it in a "Love that picture of you hiking! Was that in Yosemite?" way too. Five percent of men and nine percent of women said their partner complimented their profile images.
Wondering what other messages were? You can check out the full chart below.
Images: Fotolia; Giphy (2-6); PlentyOfFish (7)