This Is The First Date That Leads To Marriage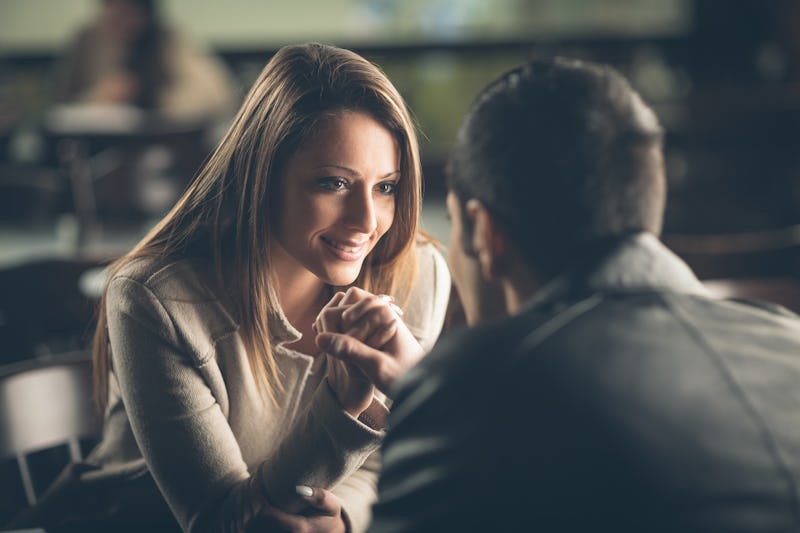 For anyone who dates online and goes on a lot of first dates, you may be wondering, what kind of first date leads to marriage? (And do they really?!) Meaning, will a coffee date do? Or a drinks one? Or dinner? Or does someone have to pull out all the stops and go above and beyond what any other date would do? This is going to be a date they won't forget, they may say to themselves. Or, does someone opt for the opposite since they're dating like it's their job, and all those dates add up, so it's coffee dates from here on out?
PlentyOfFish figured this out, by surveying approximately 1,100 former heterosexual POF users in the U.S. who met — and married someone — they met on their site. Not only does POF have success stories you can read about, but lots of other dating sites and apps do, too, like Match and Tinder. (Personally, I know almost 20 couples who have met and married people they met on POF, Match, Tinder, OKC, etc.) So, if you're wondering what kind of first date leads to marriage, as well as what married couples who met online think about soulmates and love at first sight, look no further. But first, check out the latest episode of Bustle's Sex and Relationships podcast, I Want It That Way:
1. The First Date That Leads To Marriage Is…
Coffee? Drinks? Dinner? Something else? If you guessed "dinner," you're right. POF gave study participants a list of over 20 options, asking what their first date activity was — and dinner won. Going for a walk was the next most popular, followed by meeting for drinks or coffee. So, despite elaborate dates that dating shows, like The Bachelor or the old, beloved Blind Date , portray, simplicity seems to be key. Plus, a walk is free — though bringing along a picnic would be a fun addition.
"Dinner" worked for married couples who met on Match, too, like Erica and Chris. "We met at a restaurant in Downtown Disney and from the moment we saw each other, there was an instant connection," Erica told Match's blog. "Both of us had smiles from ear to ear. Our dinner ended up lasting quite a while, but we still didn't want to end the night. We ended up having almost a 6 hour date, filled with joy and laughter. We both talk about it now as the best first date we have ever had. I honestly don't think I ever enjoyed myself that much on a first date, or many other dates before that for that matter."
2. This Is Who Fell For The Other Person Faster
If you thought women… wrong! As far as the first date was concerned and who fell for the other faster, men did. Seventeen percent said they fell in love at first sight, versus 11 percent of women. Both of those numbers seem high, though I'm a big believer in "love at first sight," so I'm glad I'm not the only one. However, overall, 40 percent of those surveyed said they knew they'd met "The One" after just a couple weeks (40 percent of men and 41 percent of women). And 29 percent knew they met "The One" on the first date (25 percent of men and 30 percent of women).
"What really surprised us the most while analyzing our couple's responses was just how romantic these married men were," Shannon Smith, communications manager at POF, tells Bustle. "Almost one in five guys reported falling in love with their current partner at first sight, and were smitten harder and faster than their female counterparts. The vast majority believe in soulmates!"
​3. Speaking Of "Love At First Sight," What About Soulmates?
Do you believe in soulmates? Former POF users certainly do. The study found that 76 percent believe in soulmates (72 percent of men and 78 percent of women).
4. How Do You Know Someone's Your Soulmate?
Ah, if only finding a soulmate were as easy as it sounded, right? You could just check off boxes of traits you'd want in one, like: gets my sense of humor; compassionate; if their TV froze and got stuck on one show, they'd watch Portlandia forever. But, for real, how does one know when they've found a soulmate? In the POF research, 42 percent of respondents said it was about having a shared connection that they couldn't explain, while 23 percent said it's having a partner who's your BFF. (I'd hope so!) This was followed by 14 percent of people who said the top trait that makes someone their soulmate is they "share similar beliefs and core values." Cheers to that!
5. Their Best Piece Of Advice To Those Who Are Online Dating
A whopping 44 percent of people said, "Forget about having a type, and follow your heart." I hear that, especially when so many people say "opposites attract" and then you actually see that in action, people dating someone they didn't expect to want to date and, somehow, it just works. In the POF research, 23 percent would have told themselves it'll all be worth it in the end. And, 22 percent of people said they wished they'd allowed themselves to have more fun.
Images: Fotolia; Giphy ; PlentyOfFish