15 Wedding Makeup Tutorials For Non-Brides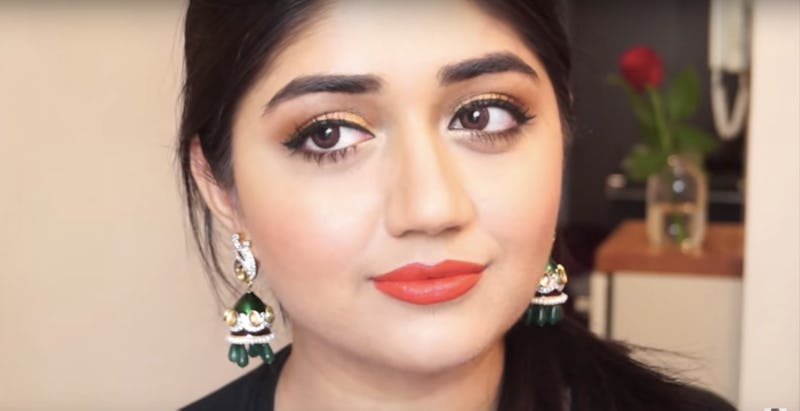 I've only ever been to one wedding, so ever since my sister got engaged and made me the maid of honor, I've made it a point to study up. Being the beauty-obsessed person I am, the first thing I researched was wedding makeup tutorials perfect for the non-bride. Call me selfish (my sister's used to it), but I was curious to know what beauty looks would be original and unique for me to sport, while remaining appropriate for a formal nuptial.
In my research (aka watching hours of tutorials on YouTube), I found that the basic wedding look is soft, pretty, and mostly natural. Avoiding bright colors, harsh contouring, and any out-there trends seems to be the standard, but that doesn't necessarily mean your makeup has to be boring. As you'll see in the tutorials to follow, any of these looks can be jazzed up in unique ways to reflect your own personal style, while still being ideal for the occasion. The best part? They're just really beautiful makeup looks by talented, informative YouTube MUAs that non-brides could rock any time of year.
So whether you're a bridesmaid, the maid of honor, a guest, or someone with no immediate plans to attend a wedding, here are 15 gorgeous beauty looks to experiment with. From glowing skin to glistening eyes, be prepared to add these tutorials to your "favorites" on YouTube.
1. Long-Lasting
Weddings are typically all-day affairs. So if you're looking for a long-lasting foundation with a bronzy, shimmering eye look, Teni Panosian has the perfect wedding guest tutorial for you. Her full-face look focuses on reinforcing makeup with powders, sprays, and primers so you won't have to worry about your makeup moving or sweating when you're at the event. Just wait until you see that expert blending. What a beautiful shimmering eye look.
2. Matte
Yes, Kelly Strack's tutorial is for brides. But her take on bridal beauty hits the nail on the head for a classic and beautiful look that could be perfect for anyone attending a formal event. With helpful tips for the day of, like how to avoid flash-back face (opt for foundations without SPF) in photos, as well as a stunning, soft look with matte shadow shades, Strack's detailed tutorial breaks it down step-by-step so any guest or bride can feel gorgeous on the special day.
3. Drugstore
KathleenLights does the impossible with this tutorial by creating a stunning wedding look with a, wait for it, drugstore budget. Using products you can find at your local pharmacy along with affordable brushes, this look is totally gorgeous, wallet-friendly, and customizable whether you would want to add winged liner, sparkling highlight, or a brighter lip color. Be prepared to fall in love with her soft yet glistening look that your bank account will absolutely adore, too.
4. Glam Hair & Makeup
If you're looking for a one-stop tutorial for wedding guest hair, makeup, and outfit inspiration, Senay Bostancioglu has you covered. Her video factors in all the bases. From her gorgeous wavy hair, to the flawless face, and a pretty outfit, this look is perfect for the glam-at-heart who want an elegant and alluring visage for any occasion.
5. Blushing
Stunning curly hair and a pink makeup look? The KG Lifestyle's wedding guest tutorial goes over both with every step taped on camera. While her tutorial may seem complex, it's anything but. With a few basic steps and some informative pointers, you too can create a similarly fun and pretty look.
6. Jewel Toned
This tutorial from Asian Beauty Secrets' channel uses jewel tone shades that are beyond pretty for a wedding. But as Mia will tell you, you can swap the colors and adjust the steps however you choose in order to create a gorgeous look that won't overshadow the bride. With expert tips on how to form dimension with your lips and how to carve your face with contour, Mia's tutorial is a must-watch.
7. Glistening Eyes
If you aren't already familiar with Carli Bybel's makeup tutorials, get ready to binge watch her channel. She's über-talented and creates gorgeous looks, and this "Get Ready With Me" video for a summer wedding is no different. Bybel shows viewers how to get creative with colorful shadows, while keeping things subtle and pretty for the occasion. Plus, glitter eyeliner. Need I say more?
8. Bright
Trying to avoid the matte, neutral colors most wedding guests opt for? If so, check out Kaushal Beauty's tutorial for an Indian wedding guest look. Just be mindful that you're only using the look in non-appropriative contexts (for instance, if you're invited to an Indian wedding that specifically requests all guests adopt traditional garments).
9. Bronzy
LustreLux shows her viewers how to achieve a bronzed, metallic gold eye look with shadows you probably already have in your collection: matte brown, matte nude, and gold. Top it off with some eyeliner and wispy false lashes (that is, if you want to), finish off your foundation, and you've got yourself a simple yet stunning, formal event makeup look.
10. Metallic
You really can't go wrong with a sexy, golden eye for a formal event. Ankita Srivastava of Corallista documents her take on a metallic eye with pigmented gold shadows and a beautiful orange lip to match. Every step and product is detailed in the video, thus creating a gorgeous golden look.
11. Winged Out
If you're a winged eyeliner person, have no fear. There are wedding guest-appropriate looks out there featuring dramatic yet chic winged-out eyeliner and shadow. Check out NatalieBeautyyy's makeup, hair, and outfit video for a perfect matte, dark, winged eye look paired with sleek hair and a chic floral dress.
12. Natural
Don't be afraid to admit it: If you actually want that natural, myself-but-better makeup for a wedding event, then embrace it. If you're not much for makeup, or just prefer something light for a big event, ZenaDramaticAddict has you covered. Her glowing eyes, flawless skin, and nude glossy lip look is a gorgeous default when you want a simple but pretty visage.
13. Timeless
MUA Artist and BECCA Cosmetics collaborator Jaclyn Hill calls this bridal makeup tutorial "timeless." And once you see how gorgeous she looks in matte shadows, soft shading, and pink tones, you will probably agree with her. Hill may have created the look with a bride in mind, but there's no denying it's a stunning creation for anyone attending a wedding, prom, or other formal event.
14. Halo
Who wouldn't want to look angelic for a wedding party? Manny MUA creates a beyond gorgeous warm halo eye makeup tutorial with creamy shadows and some expert blending. Even though this look isn't specifically made for a wedding guest, it's an extraordinary creation for any party on your agenda in the weekends to come.
15. Seasonal Lip
Karima McKimmie's wedding guest tutorial covers all your bases in order to create a dazzling makeup look. She'll teach you how to make your eyes shine, how to apply lashes flawlessly, and what lip color to wear depending on what season your event is taking place (hint: there's a dark and bright lip option). Personally, I think this look is so gorgeous that I may even recreate it myself to don to the office.
Hopefully these talented MUAs and detailed tutorials can inspire you and help you create a gorgeous look of your own.
Image: Ankita Srivastava, Corallista/YouTube (1)