Tess' Baby Might Have The Raddest Name Out There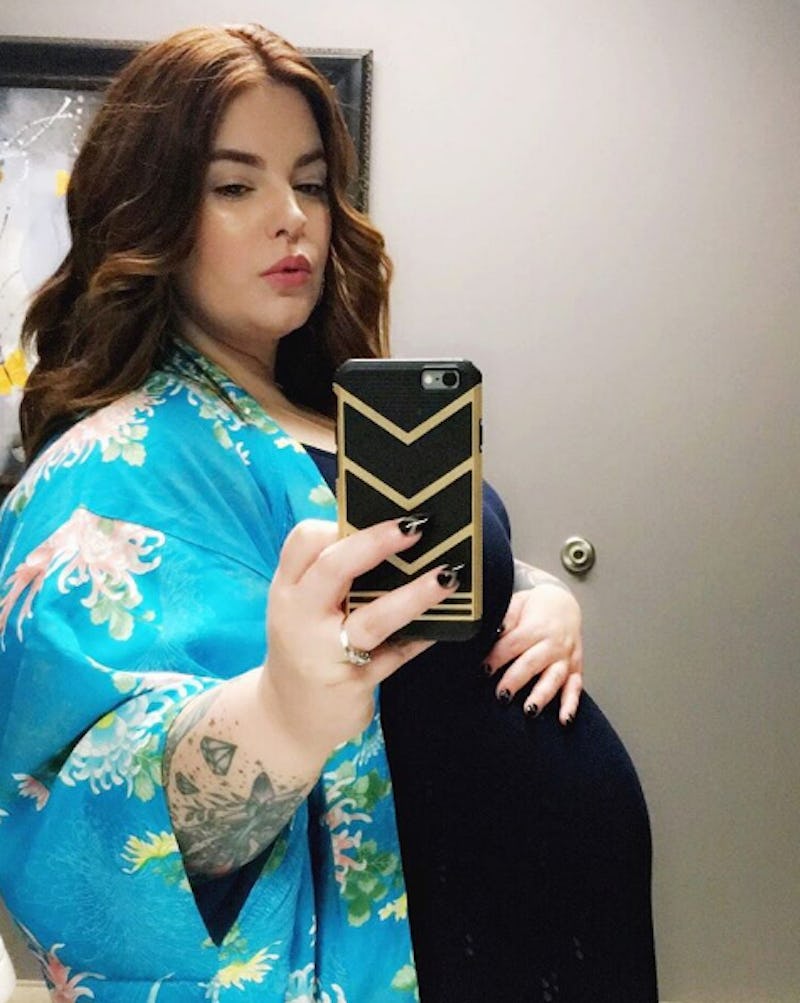 As reported in a People exclusive, Tess Holliday gave birth to a baby boy on June 6 with husband Nick Holliday, and he's absolutely perfect. But what does Bowie Juniper's name mean? It was obvious that the Holliday's were going to pick a badass baby name, simply because they totally rock. But baby Holliday's name is on another level entirely. With a name like that, I suggest you prepare yourselves for the awesomeness that is to be the human Bowie Juniper Holliday. Just let those three combined words sink in.
Isn't it the most perfect, unique, and spellbinding baby name you've ever heard? If you're someone who wants kids, I'm almost certain it'll make you want to scrap the baby name list you've been amassing for years and start over. Bowie Juniper is a name that sends a shiver down my spine due to the insane otherworldliness it emulates.
It's definitely a bold move to call your kid "Bowie," particularly considering that the late and great David Bowie tragically passed away only in Jan. 2016. However, I cannot think of a better way to commemorate the legend than to name your child after him. I think it's safe to assume that Tess and Nick must have been huge fans of David Bowie, given that at the time of Bowie's passing, Tess openly mourned his loss over social media.
IMO, naming your child after a star you adored is much like naming them after a beloved grandfather or aunt. Some folks feel closer to musicians than they do members of their own families. Instead of naming your child after a long-distant relative you never met, it makes sense to honor someone who played a huge part in your life.
It's also worth noting that although David Bowie was often referred to as "Bowie," this was in fact his stage surname. His real name was David Robert Jones. Even so, it takes some guts to name your kid after a celebrity — particularly one so beloved on a global and timeless level.
Tess and Nick also chose "Juniper" as the middle name their first child together. According to baby names site Name Berry, using Juniper for a boy was rare for a long time, but it's risen in popularity as of late. Name Berry reported, "Over 400 baby girls were named Juniper in 2013 versus fewer than 10 boys." The name Juniper is associated with nature, so perhaps this could be a rather subtle yet beautiful link to David Bowie's song "Nature Boy," which featured in the Moulin Rouge! soundtrack.
Whatever the reason behind it, there's no doubt that with a name like Bowie Juniper Holliday, this precious little chap is sure to do amazing things someday, much like his namesake.
Image: tessholliday/Instagram