8 Biggest Tumblr Ships In YA Lit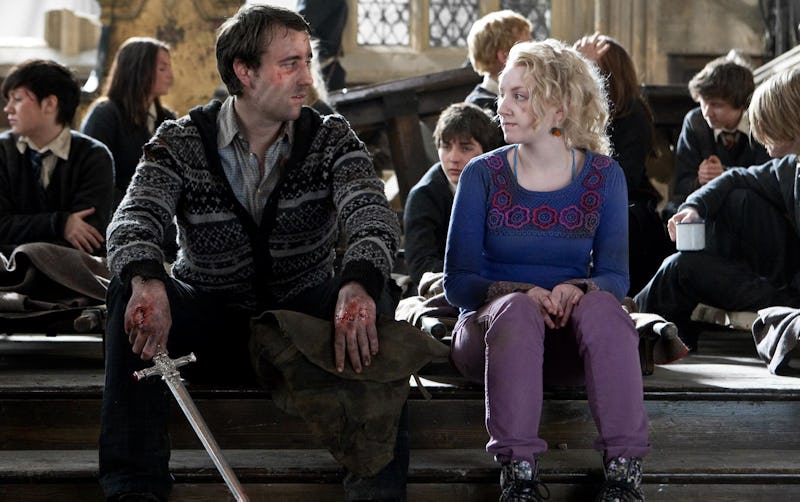 As someone who reads a lot of YA fiction, I'm always grateful for Tumblr, because I know there will be someone out there who shares my ships. After all, it's a terrible feeling to finish a book and to immediately want to discuss everything about it, only to find that none of your friends have read the book.
Luckily, even the most obscure fandoms find a home on Tumblr, and there is a treasure trove of fanart, fanfiction, and just plain old emotional venting about plenty of young adult literature. Obviously, a majority of this centers around which characters you need to get together.
Some couples from Tumblr ships are canon, and get together at some point in the series. Thank goodness. Other ships, sadly, only exist in head-canon. But Tumblr gives them a life together, so we can all be grateful for that.
Remember back in the day, before the internet was a "thing," and before Tumblr even existed? You'd pick out a book and finish it in an afternoon, quickly becoming obsessed with the characters. Maybe even two in particular. But then, you'd realize that you had no outlet for your ~emotions~. This is no longer the case, because all you have to do these days is search for the ship name in question — and Tumblr's got your back. Here are some of the biggest Tumblr ships in YA lit:
1. Percy And Annabeth From Percy Jackson And The Olympians
Ship Name: Percabeth
Percy and Annabeth were, in my mind, end goal from the very beginning. Of course, nothing makes a great ship like a long buildup, and Tumblr has had plenty of time to obsess over this one. A Tumblr search of Percabeth will result in lots of cute fan art, and of course, beach-themed wedding planning for this couple.
2. Alec and Magnus From The Mortal Instruments
Ship Name: Malec
These two had electric chemistry in the Mortal Instruments book series, and that chemistry is also present in the Shadowhunters television show. And it's pretty much driving all of Tumblr crazy.
3. Feyre And Rhysand From A Court Of Thorns And Roses Series
Ship Name: Feysand
At first, it seems that Tamlin and Feyre are endgame in Sarah J. Maas's A Court of Thorns and Roses. And then Rhysand comes into the picture. Tumblr loves a villain-turned-love-interest, and the chemistry between Feyre and Rhysand is undeniable. Need proof? Just search "feysand," and you'll see all kinds of beautiful fan art dedicated to this ship.
4. Johanna Mason And Katniss From The Hunger Games
Ship Name: Joniss
Ah, non-canon ships. They may be heartbreaking, and yet we set sail anyway. There are plenty of Katniss/Peeta shippers and a few lingering Katniss/Gale shippers, but the true Hunger Games ship of Tumblr is obviously Johanna and Katniss.
5. Cinder And Kai From The Lunar Chronicles
Ship Name: Kaider
From the beginning, Linh Cinder and Kai had obvious chemistry in The Lunar Chronicles. But throughout the series, they have their ups and downs (betrayal, kidnapping, arguing — oh my!). In the end, though, Tumblr loves a dramatic ship, and this one definitely fits the bill.
6. Mare And Cal From Red Queen Series
Ship Name: Marecal
It looked as if Mare would be torn between two brothers in the YA fantasy Red Queen . Without betraying any spoilers, Tumblr sided with Cal. I recommend giving this one a read if you're curious as to why...
7. Maxon And America From The Selection Series
Ship Name: Maxerica
Kiera Cass's The Selection sets up a love triangle between protagonist America Singer, her childhood sweetheart Aspen, and Prince Maxon. Tumblr prefers Maxon, as evidenced by a quick search of the ship Maxerica.
8. Neville And Luna From The Harry Potter Series
Ship Name: Nuna
There are so many Harry Potter ships on Tumblr. We can't possibly be expected to choose just one, but personally, I'm a fan of the Neville/Luna ship. Just look at these two. Why argue about whether you prefer Harry/Hermione or Hermione/Ron, when you can stare at these two adorable kids who are so obviously meant for each other?? This ship may not be canon, but I'll always be on board.
Images: Warner Bros (1), Giphy (8)