How Much Are The 2016 Olympics Team USA Uniforms?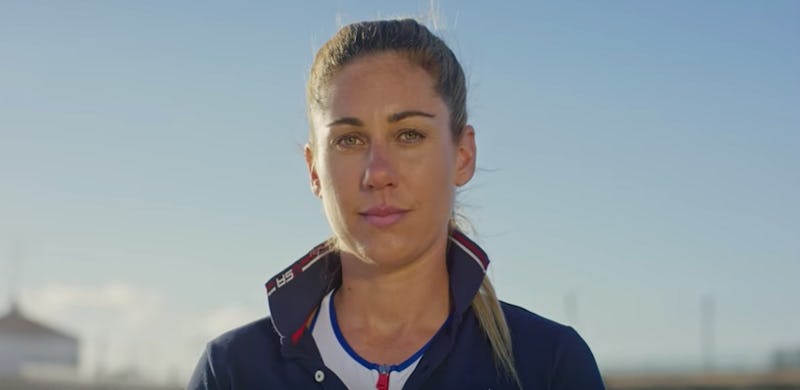 So you're all set for the Rio 2016 Olympic Games – you've got your friends coming over for the Opening Ceremony and your favorite snacks are stockpiled for the big day. However, if you're lacking a patriotic outfit, you might be asking yourself: How much are the Team USA Uniforms? You've likely been too busy preparing everything else that you forgot about what you're going to wear come August 5. Whether you're going out with friends to watch the Opening Ceremony and your fave events, or you're couch surfing in your joggers, you'll probably be interested in the cost of the official Team USA Olympics uniforms.
Of course, you can always buy official Team USA merchandise to cheer on your sports heroes and heroines, but considering Ralph Lauren designed the 2016 Team USA Olympics uniforms, you might want to go down the official attire route. Any folks who are into fashion and sports will likely want a piece of the commemorative action, because at the end of the day, there's only one Rio 2016 Olympic Games.
But, you're probably thinking that official Team USA memorabilia will cost an arm and a leg – especially considering this year's Olympic uniforms were made by fashion giant Ralph Lauren – am I right? Well, you might be surprised to learn that these threads are actually pretty reasonable.
Team USA Ceremony Striped Tee, $79.50, ralphlauren.com
Take for instance, the Team USA Ceremony Striped Tee, which comes in at just under $80. Now, I don't know about you, but I would go so far as to say that's pretty affordable for a designer T-Shirt and when you think about it, super reasonable for a piece of sporting history.
Team USA Ceremony Twill Short, $98.50, ralphlauren.com
The next cheapest clothing item from the collection is this pair of shorts, which would make a perfectly pristine addition to your summer wardrobe. Clocking in under $100, I believe you're still getting remarkably good value for money, all things considered.
Team USA Ceremony Striped Belt, $98, ralphlauren.com
If you want to go all matchy-matchy, you can get a preppy, striped belt in red, white, and blue to match the shorts. If you buy both items, you still won't go over $200 – unless postage and packaging to your destination (if you're buying online) nudges you over the threshold.
Team USA Ceremony Wrist Strap, $98, ralphlauren.com
Jewelry more your cup of tea? You'll be pleased to know you can snap up a Team USA wrist strap for under $100.
Team USA Ceremony Oxford Shirt, $145, ralphlauren.com
If you're after something a little more Ralph Lauren, you can opt for a classic Oxford shirt which Team USA will wear at the closing ceremony of the Rio Olympic Games. Designer lovers will be happy to learn it's even got Ralph Lauren's signature pony on the front and you can choose from white, blue, or red shirts.
Team USA Ceremony Women's Shoe, $350, ralphlauren.com
Folks who really want to push the boat out can do so in these boat shoes that were, "Designed to be worn by Team USA during the opening and closing ceremonies of the 2016 Olympic Games..." Although $350 may seem pretty steep for a pair of shoes, in comparison to other designer footwear, they're actually not expensive.
To help make customer's lives easier, the Ralph Lauren website has labelled these items as "Closing Ceremony Uniform" which is not to be confused with items from the "Official Team USA Collection." Of course, there's every chance you'll spot an athlete in items from the latter line, but if you're wanting to ensure you're rocking the exact same threads as your fave athletes, your safest bet is to stick to the Closing Ceremony Uniform. Other stores, such as Macy's stock Ralph Lauren Team USA apparel, but prices may vary.
You best place your orders fast, as the Opening Ceremony will be here before you know it!
Images: Ralph Lauren/YouTube (1); Ralph Lauren (6)