What A 'Bachelor' Season With Chase Would Be Like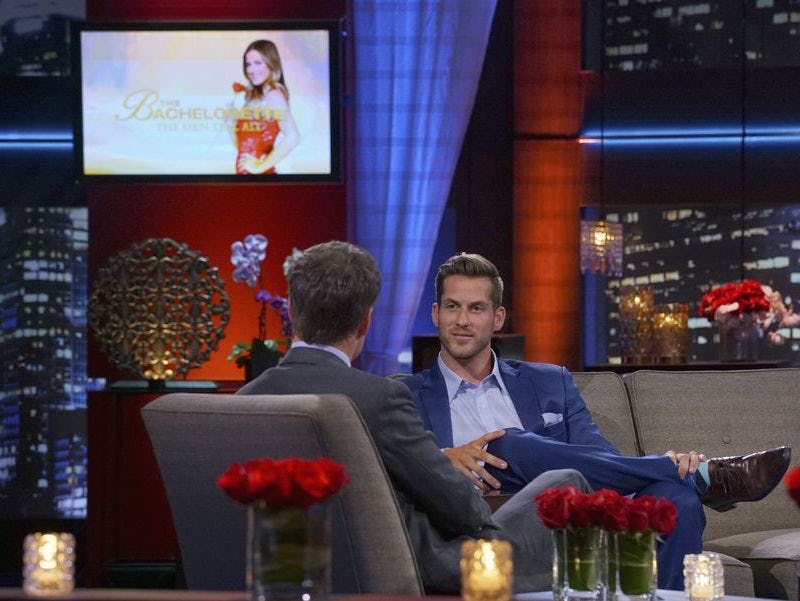 With an endorsement from the Bachelorette herself during After the Final Rose, Chase from JoJo's season could be the next Bachelor. Although ABC has made no formal announcement on who will be at the helm during the next season of The Bachelor just yet, JoJo and the rest of Bachelor Nation know it most likely will be either Chase or Luke — JoJo's third and fourth chosen guys. Although he's not the most ideal when it comes to the charisma that is needed for The Bachelor, out of JoJo's final four, Chase McNary proved he is the most acceptable human to date. Yeah, my favorite out of her top four may be a bit on the boring side, but when you think about what Chase's season of The Bachelor could be like, I think you'd be surprised how willing you'd be to watch Chase as the next Bachelor.
While I found Ben Higgins to be utterly dull — not to mention, often not honest with himself — during his season of The Bachelor, other people somehow found his season to be entertaining and endearing. Well, if that can happen for Ben, then I have faith that Chase could win over some viewers who are hesitant to see him as the Bachelor. First off, he's easier on the eyes than Ben (this could be considered subjective rather than fact, but I'd disagree) and he also had moments from JoJo's season (and on his social media) that show that he'd have a decent go at it on The Bachelor — even if he's not a big emoter.
So if you're on Team Chase like me, or are in need of a conversion, check out these eight things that Bachelor Nation could expect out of Chase as the Bachelor.
Less Emotions
Bachelor Ben was an emotional guy who showed the audience some serious tears and while Chase eventually showed his wide range of emotions to JoJo, he was notably a lot less forthcoming when it came to his feelings overall. So it almost goes without saying that Chase would keep his cards close to his vest as the Bachelor — at least in the early episodes. Although that may not sound like good TV, mysterious men aren't intriguing for nothing.
More Real Talk
While some may note it as his most unbecoming moment on The Bachelorette, his genuine outrage at JoJo sending him home during their overnight date was refreshing. If he was angry at the fact that it was his fantasy suite date, then that's tremendously not OK, but I mostly interpreted it as he was vulnerable after telling JoJo that he loved her and so he lashed out. Not only was pissed off Chase in his ride home one of the most amusing versions of Chase, he came back and gave a pretty decent and sincere apology. I prefer a guy that would react like Chase than many of the other men from The Bachelor or The Bachelorette who don't even seem capable of real emotions.
Mellow Cocktail Parties & Rose Ceremonies
Whether you view it as a lack of emoting or just boring, there's no denying that Chase is typically mellow AF. (Just forget that aforementioned freak out about the fantasy suite.) Imagine how chill he'd be during the cocktail parties while the contestants try to gain his attention and if he did break down like JoJo did during a couple rose ceremonies, the moment would be completely unexpected.
Energetic Women
Speaking of how Chase would handle the rose ceremonies, to balance Chase's coolness, you'd need women who are just a tiny bit more dynamic. That means there'd be some real gems in the early episodes. You gotta have amusing contestants going after the Bachelor and with Chase, the showrunners would have free rein when it came to casting. They just better give my boy Chase some legitimate women pursuing him too.
A Lighthearted Chase
Once Chase was super comfortable with JoJo, you saw him being silly. He'd be the one in the driver's seat on The Bachelor, so Chase's fun side may come out sooner since he'd be without the pressure of competing against multiple guys for one woman.
A Date Involving Lions
Think I'm kidding? Well then, you've clearly never looked at Chase's Instagram account. The man is in love with lions and it would truly be a missed opportunity not to have a date where he got up close and personal with these majestic cats. The Bachelor has gone to Africa before, so they could do it again. And if it's not in the budget for the next season, the show could always send Chase and a date to a big cat wildlife sanctuary. Seeing Chase get giddy about his beloved animal would show a completely different side of him, plus, a lion date with Chase has gotta be less awkward than JoJo, Alex, and the horse during the gaucho date in Argentina, right?
Surprise Moves
Remember when Chase randomly showed up to a rose ceremony with zorbs for him and JoJo to play in? It was probably the first time Bachelorette fans got a sneak peak at Chase getting a little weird, but it was a fun and unexpected move. To maintain an entire entertaining season, Chase would need to do more stuff like that.
A No-Nonsense Attitude
Chase was always a more mature presence on JoJo's season and because of that, I don't think he'd tolerate too much drama as the Bachelor. While in the early stages of the season, a little unnecessary drama is totally necessary, I think he'd end up sending any woman who was causing too many issues in the house home without too much hesitation.
Of course, unless Chase actually becomes the next Bachelor, fans will never know what his season could be like— but I think this list proves that Chase has some Bachelor life left in him yet.
Images: Byron Cohen, Adam Larkey/ABC; Giphy (4); TrueLoveBeginsWithALimo/Tumblr (3)