11 Of Chloë Sevigny's Best & Quirkiest Looks Ever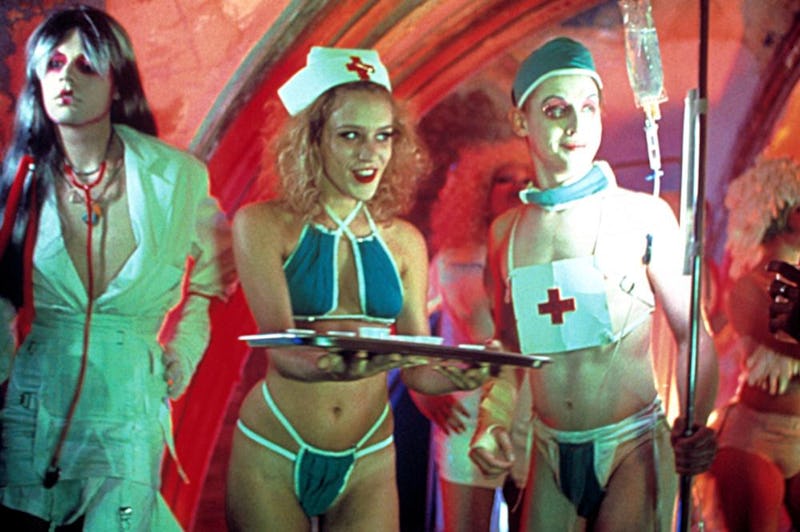 There's a reason Chloë Sevigny was once dubbed the coolest girl in the world by The New Yorker, and it's not just her uncountable number of amazing outfits. The actor, model, muse, and all-around cool gal earned her status by appearing in indie filmmaker and then-boyfriend Harmony Korine flicks at the tail end of the '90s. With her blonde crop in Kids, bleached brows in Gummo, and don't-give-an-eff-attitude capturing the attention of Sonic Youth front-woman Kim Gordon (who took a teenage Sevigny under her wing while she was interning at now-defunct teen mag Sassy) it's really no wonder she took home such a title.
Fast-forward over 20 years and Sevigny is still killing the style game in her 40s. With endless fashion campaigns under her belt — including perfume advertisements for Chloé, appearing as the face of Miu Miu twice, and her own label in collaboration with Opening Ceremony — the actor is as much of a fashion industry darling as she is a Hollywood starlet.
With more recent roles in American Horror Story revealing that she's just as comfortable on the small screen as the silver one, Sevigny is truly a master of all mediums. But it's her taste in clothes that has really caught my attention over the years. Always following her own path as opposed to the trends, Sevigny cemented her style icon status long ago, and here are 11 of her most memorable looks to prove it.
1. Secretary Chic
While most of us consider our work-wear wardrobes clothing that should be left behind after we finish the 9-to-5 grind, Sevigny proved that "smart-casual" doesn't have to be boring, bland, or basic.
2. The Barely-There Bra
This cute embellished bra was more Golden Girl than the looks we usually see Sevigny sporting, but the yellow tones of the outfit paired with her iconic blonde locks and super cute summer tan looked amazing nonetheless.
3. Channelling David Bowie For Miu Miu
Starring as the face Miu Miu 16 years after her first campaign for the label, this maximalist outfit saw Sevigny draw inspiration from the Ziggy Stardust era of David Bowie, with a slicked-back mullet and baby blue eyeshadow.
4. Her American Psycho Power Suit
Epitomizing '80s power-dressing, Sevigny managed to make dull brown and OTT shoulder pads seem cute and covetable.
5. Her Marilyn Moment
Channelling Marilyn Monroe via '80s Madonna, Sevigny can clearly pull off Old Hollywood Glamour just as effortlessly as her off-duty, effortless cool New York uniform.
6. The Oversized Shirt
Sevigny clearly knows that sometimes it's best to keep things simple, and this look has me rummaging at the back of my wardrobe for boyfriend shirts to steal from my other half.
7. As A Club Kid In Party Monster
Appearing alongside Macaulay Culkin as a club-kid sidekick, this skimpy nurse costume and scarlet pout serve as perfect Halloween costume inspo.
8. Appearing In Her Own Fashion Show
Once an it girl, always an it girl. Despite designing the garments, Sevigny appeared in the New York Fashion Week presentation for her feminism-fueled, '60s female liberation-inspired collaboration with Opening Ceremony.
9. Rocking Bleached Brows In Gummo
Bleached eyebrows may have been tried and tested by anyone who is anyone in 2016 (I'm Looking at you, Kim Kardashian), but Sevigny was the original barer of barely-there brows, sporting the look in Harmony Korine's Gummo back in 1997.
10. As A Mormon Housewife In Big Love
After building her reputation as the go-to gal for all things quirky, Sevigny opted for a role as straight-laced as they come, playing a Mormon housewife in the HBO series Big Love. However, her wardrobe was still on point, with countless pretty floral dresses and plenty of varieties on those hair braids.
11. Sporting A Perm
Her long, straight blonde locks may be iconic, but where many would cringe at the thought of a tight curl perm, Sevigny made the look seem effortless.
If this article proves anything, it really should be that Sevigny is the woman who can pull off anything in the style game and still look amazing. From the mousy housewife aesthetic to the riotous club kid one and even a poodle perm to boot, she can truly do it all.
Images: Miu Miu (1); Lions Gate Films (1); Strand Releasing (1); Fine Line Features (1); Anima Sola Productions (1)