Christina Grimmie's Music Video Is Devastating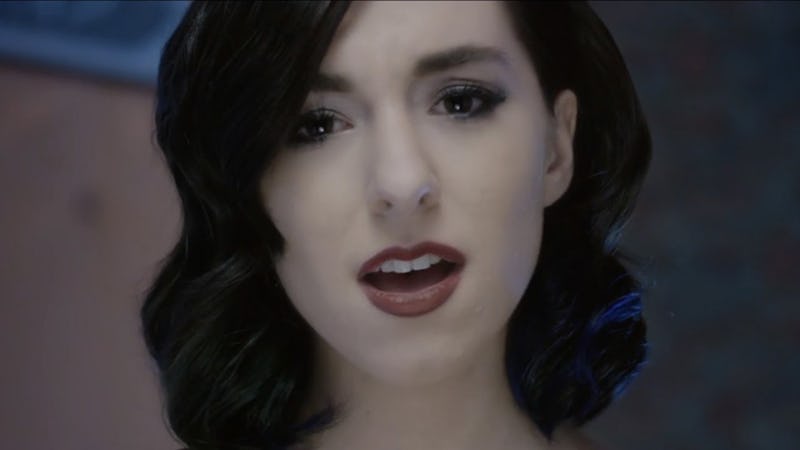 When the supremely tragic news of The Voice star Christina Grimmie's death was announced back in June of this year, it wasn't just fans of the unique singer who felt bereft, but the music industry as a whole. Touching tributes to Grimmie were delivered from artists like Adam Levine, Selena Gomez and Justin Bieber, all of whom recognized how truly remarkable a talent she was, and how tragic a loss her death was to the music industry. Though her clearly blossoming career was cut short far too early and far too young, her family are thankfully, and touchingly, releasing her final work on a four track EP. The first song from the EP was released on Thursday in the posthumous music video for Grimmie's "Snow White," and it's absolutely breathtaking.
Teasing the strong caliber of music to be expected from the EP, titled The Ballad Of Jessica Blue, the song is a stunning ballad that showcases what an exceptional talent the singer was. The music video, too, which begins with an adorable cut scene, also shows how utterly charming and imminently watchable Grimmie was, proving that she may have had the potential to flex a range of talents which went beyond her music.
Luckily for fans, the entirety of The Ballad Of Jessica Blue will be released in four music videos (with the second, "Anybody's You," being released on August 18). From the vibe provided by the retro styled "Snow White," there also seems to be potential for the next three music videos to share a narrative link between them all, proving Grimmie as an ambitious artist with an exciting creative vision.
The release of this posthumous material, and the sheer quality of it as proven by "Snow White," also highlights that Grimmie's life was ended right at the onset of a bright, burgeoning career. It's absolutely heartbreaking to imagine what other music, performances, and career opportunities could have been waiting in her future, considering how commanding, versatile, and hardworking an artist she was. Grimmie was the sort of musician, and overall performer, who seemed to be dearly committed to her art and, most importantly, passionate about developing it on her own terms.
You need only re-watch Grimmie's legendary performances on The Voice to witness how supremely driven, skillful, and confident she was as a performer. Her musical style had a unique cadence all of her own — she never strived to emulate anyone, even when singing established hits like Miley Cyrus' "Wrecking Ball" or Katy Perry's "Dark Horse." And when she was singing alongside stage swamping talents like Ed Sheeran and Levine, she was able to command the audience's complete attention, and even distract them from the stars she was singing with.
Grimmie was a one-of-a-kind talent, and "Snow White" is certainly proof of that. Though it's easy to imagine the song sitting comfortably in albums by artists such as Ariana Grande or Selena Gomez, "Snow White" sounds effortlessly like Grimmie's own brand thanks to her very particular vocal range and delivery. It has a familiar pop style, sure, but those vocals mark the song, and Grimmie's talents, out as being that little bit beyond your average hit. It showcases an artist who's aware of her own potential, confident to push it, and excited to be experimenting with her own skill base.
It's easy then to consider that Grimmie's future career could have been full of fresh experimentation and surprises. Her own personal singing style may have seen her surpassing the standards of her pop contemporaries and carving out a career for herself which was defined by uniqueness and a playful spirit — the signs of any true star. Furthermore, considering how confident and playful she is in front of the camera in the music video for "Snow White," it also feels as though there could have been potential for Grimmie to make a transition to acting or even musical theatre in her future. Something which we'll hopefully see a little more of in the next three music videos from the EP.
These are painful things for any fan of the singer to speculate over. However, the posthumous release of The Ballad Of Jessica Blue will celebrate Grimmie in the way she deserves. These music videos, which will continue to be released between August and September this year, will help to continue keeping her spirit alive in the most fitting manner possible — by celebrating her love for music, and her irreplaceable delivery of it.
Images: zeldaxlove64ChristinaGrimmie/Youtube