Cheap Fake Blood For Scary Costumes This Halloween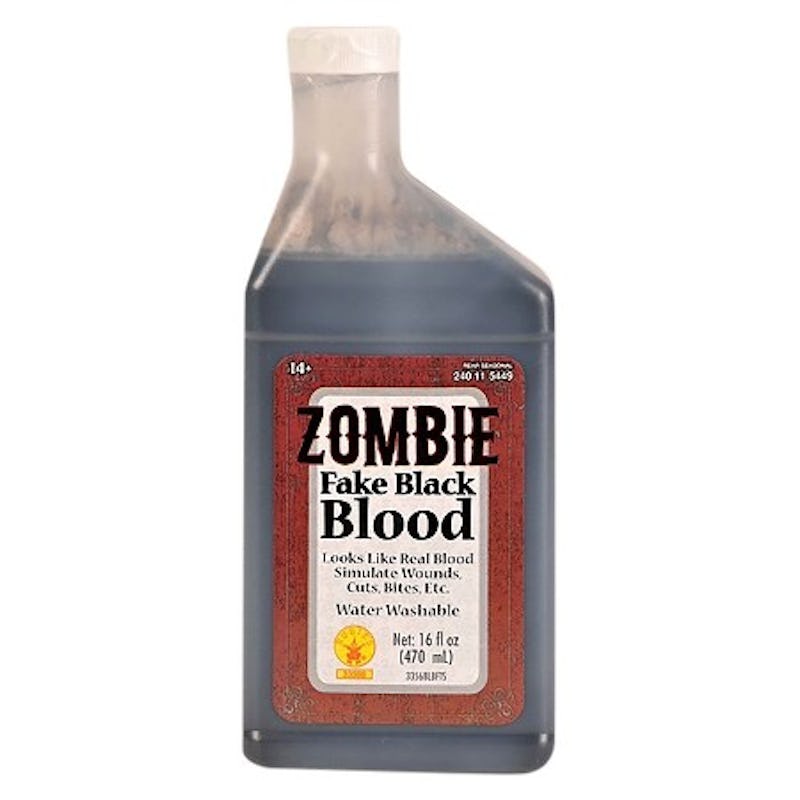 Fake blood is up there amongst the Halloween costume essentials; along with black lipstick, white face paint, and animal ear headbands. A spooky costume is incomplete without an oozing wound or a macabre mouth, so if you're a gore loving gal, cheap fake blood is likely on your Halloween costume shopping list. Even if you prefer your costume to look cute rather than seriously scary, a touch of faux blood is enough to give it that creepy edge it may be lacking.
TBH, there isn't really a Halloween costume that wouldn't benefit from a splash of fake blood. This gruesome liquid is a vital part of a vampire's attire, a zombie wouldn't look the same without the gore, and fake blood would be the scarlet icing on the cake when dressing up as a deceased version of [insert your fave celeb here].
Unless you're into pulling pranks, Halloween is the only day of the year you can truly embrace your dark side, so you may as well go all out with lashings of fake blood. However, as you use it so rarely, fake blood isn't something you'll want to spend a fortune on, so here are some cheap fake blood options that will leave you with change from a $10 bill. Because axe-wielding murderers, terrifying ghosts, and creatures of the night can be frugal too!
1. The Vampire Blood
Vampire Blood Tube, $4.21, amazon.com
Hardcore vamp fans – who are still crying over the endings of both the Twilight series and True Blood – probably enjoy recreating their favorite pop culture moments by dressing as a vampire every single year. Fanged ladies of the night (and their victims) will definitely need a tube of vampire blood, although I'm not entirely sure what makes it especially vampiric.
2. The Scab Blood
Bloody Mary Fake Scab Blood, $5.50 – $19.99, amazon.com
Serious horror fans may want some blood that'll look like the real deal. This gross-sounding "Scab Blood" will likely do the trick and then some!
3. The Glam Blood
Blackheart Beauty Fake Blood, $2.92, hottopic.com
Folks looking for a more glamorous option will be blood-lusting over this tube with metallic accents – it would look rad in anyone's makeup bag.
4. The Blood Gel
Kangaroo Vampire Blood Gel 1Oz Bottle, $8.95, amazon.com
"It drips... It clots... It stays in place..." That's one product description that hits the nail in the coffin.
5. The Blood Capsules
Adult Liquid Blood Capsules, $3, target.com
Liquid blood capsules provide an eternity of gruesome gags and make the perfect party trick.
6. The Blood Spray
Adorox Halloween Vampire Zombie Horror Fake Blood Spray, $4.99, amazon.com
Create horrific splatters galore with a bottle of fake blood spray.
7. The Blood Filled Syringe
Toy Cubby Fake Blood Needle Syringe Pens – 24 pieces, $8.54, amazon.com
Make your party guests faint as you provide them with a gift of a fake filled syringe, or carry one around with you all evening to freak out passers-by.
8. The Zombie Blood
Adult Zombie Pint Black Blood, $6, target.com
Newsflash! Not all blood is red. When it comes to the decaying undead, you'll need some black blood of course!
9. The Dripping Choker
Women's Blood Drip Choker, $5, target.com
If the thought of getting all messy and potentially ruining your pristine makeup makes your blood boil, try this dripping choker on for size! It'll make taking your makeup off that little bit easier at the end of the night.
10. The Trio Of Different Blood Types
PaintGlow Halloween UV Fake Blood & Blood Gel Pack, $8.50, asos.com
Nobody will care whether your blood type is AB+ or O- when you've got a tube of UV fake blood. It's the perfect accessory to flaunt while pulling the "Monster Mash."
11. The Bloody Knife
Halloween Fake Knife Blood Horrible Scary Tricky Prop Halloween Supplies, $6.99, amazon.com
Give everyone a fright when you pull out your shamanic "knife" and start reciting mumbo jumbo AKA a pretend blood ritual. It's probably best to keep this trick for an adult audience if you've got kids, otherwise you could run the risk of being woken up every single night for the next few weeks.
Becoming a temporary member of the underworld is super easy when you've got a vial of fake blood to hand. The thrifty cost means you don't have to sell your soul to afford it either – which is always a bonus!
Images: Courtesy Brands