Easy Halloween Costumes Centered Around A Tank Top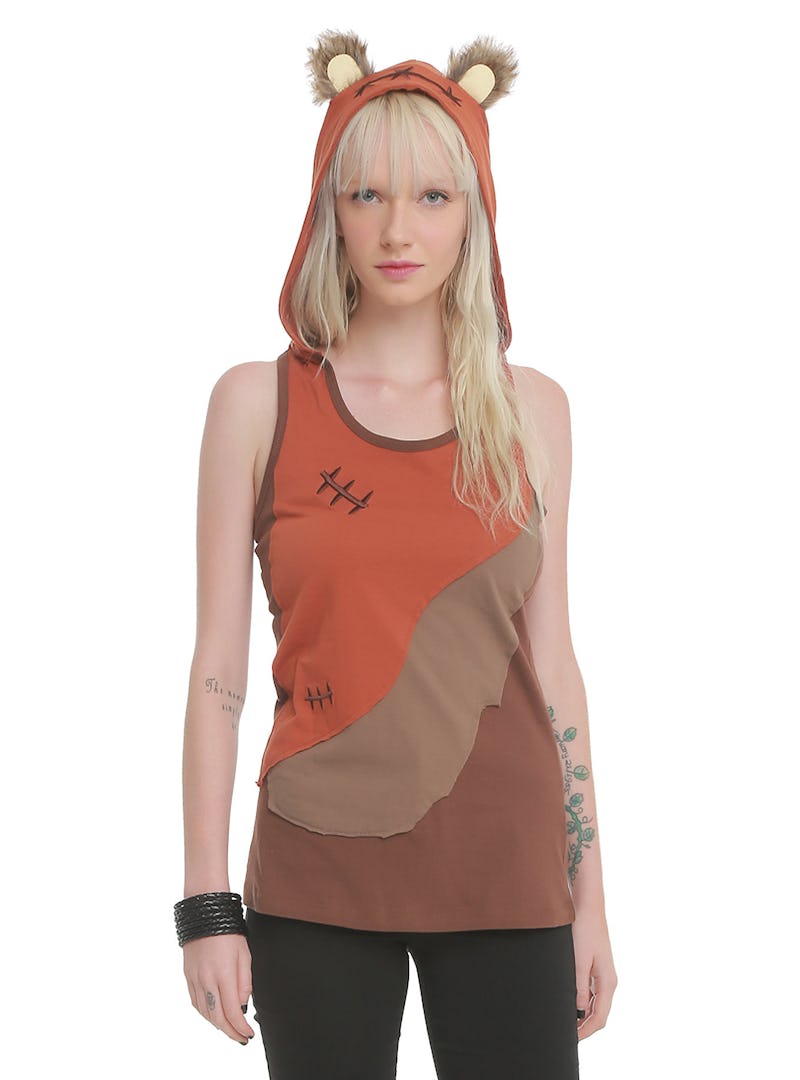 Ready-made Halloween costumes are super convenient and look awesome if you're really pushing the boat out. But, for those who are way too chill to rock a head-to-toe eerie ensemble, Halloween costumes with a tank top could be your ticket to a stress-free All Hallow's Eve.
The thing is, many pre-packaged Halloween costumes don't actually come in regular dress sizes; they are sometimes a "one size fits all" outfit, or they may be labelled in generic sizes like "M" for "Medium." This is problematic because, of course, every body is different and one area of your bod could be larger or smaller than another. In addition to this, many store bought Halloween costumes lean towards the feminine and flirty side, with tiny skirts, matching stockings, and skintight fits, which are nice if you like that kind of thing, but hellish if you don't.
There's also not a lot of room for personalization when it comes to generic Halloween costumes – you could end up seeing multiple folks rocking exactly the same costume as you. Granted, this could happen if you pick a Halloween themed tank top, but at least you have the creative freedom to personalize the rest of your outfit. So here are some tank tops to theme your Halloween outfit around – so you can go as low key or crazy as you want to!
1. Wednesday Addams
Iron Fist X Ash Costello Bat Royalty Be Afraid Girls Tank Top, $28, Hot Topic
Wednesday Addams wannabes will love this creepy tank top with a cutesy Peter Pan collar. Pair it with your favorite black jeans and some black lipstick and you're good to go!
2. Buzz Lightyear
Disney Toy Story Buzz Lightyear Girls Hooded Tank Top, $32, Hot Topic
Transform into everyone's favorite space ranger with this seriously cool Buzz Lightyear inspired hooded tank top.
3. Harry Potter
Harry Potter Mischief Tank Top, $35, Torrid
Grab your spectacles – or a pair without lenses if you don't need glasses – and draw yourself a lightening bolt scar for the easiest Harry Potter costume ever. Bonus points if you find yourself a piece of black material that will work as a cloak!
4. A Pumpkin
Halloween Tank Top, $20, Amazon
Do as little or as much as you want with this tank top – wear it with some pants for a laid back look, or paint your face like a jack-o'-lantern to fit the theme.
5. A Member Of Ghostbusters
Ghostbusters Tank Top, $35, Amazon
Bag yourself a pair of painter's overalls and a water gun to complete this Ghostbusters inspired look.
6. A Witch
Witch Please Tank Top, $19, Amazon
For some simple, sassy vibes, wear this tank with a pair of hot pants this Halloween, or pair it with a black hat, a witchy wig, and a broom if you want to put more effort in.
7. Harley Quinn
Suicide Squad Collection Burn After Use Tank Top, $17, Amazon
With the popularity of Suicide Squad released earlier this year, it's safe to say that you'll see more than a couple of Harley Quinn lookalikes come Halloween. However, if you're a fan of this psychotic femme fatale too, go down the less obvious route and wear this quirky "Burn After Use" tank instead of her trendy blue and red garb.
8. A Skeleton
Cheap Monday Skull Logo Tank Top, $35, Asos
There's something pretty cool about rocking an androgynous, skeleton costume on Halloween. Go even edgier with this creepy skull tank top, rather than the bare bones pieces everyone else is sure to be wearing.
9. The Cheshire Cat
Cheshire Cat Tank Top, $35, Torrid
Pair this top with some rad Cheshire Cat themed makeup to give everyone the creeps this year.
10. A Pokémon Trainer
Pok é mon Go Pokéball Tank Top, $18, Amazon
Shrug on this shirt, pop on a backwards baseball cap, and go to a Pokémon Go meetup. Because, is there really a better way for a single, twenty-something to spend Halloween?
11. An Ewok
Star Wars Her Universe Ewok Hooded Tank, $21, Amazon
Become the most adorable Star Wars nerd in your neighborhood in this super cute Ewok tank top.
Compiling a costume has never been easier since the rise of Halloween themed tank tops. So if you're short on time, money, or patience, bag yourself a tank top and enjoy your Halloween party in maximum comfort!
Images: Courtesy Brands