A Timeline Of Brangelina Tabloid Rumors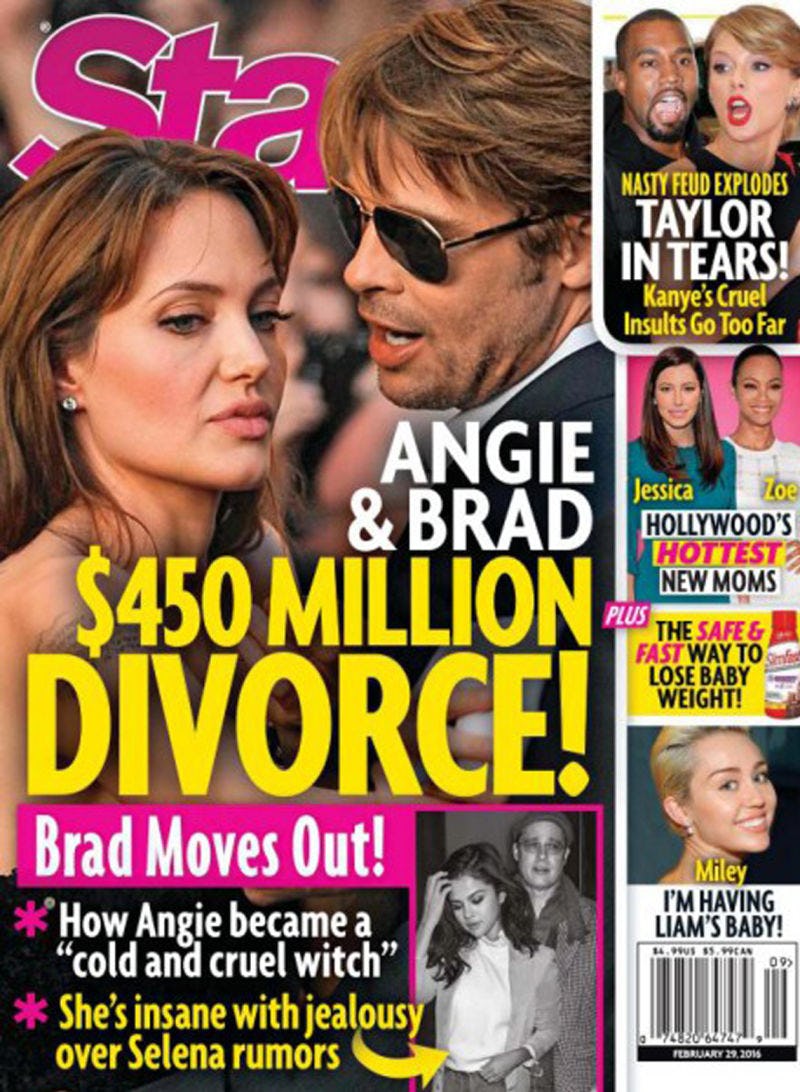 Unless you've somehow managed to avoid screens and people this week, then you've undoubtedly heard by now that Brad Pitt and Angelina Jolie are divorcing after two years of marriage and more than 10 years as a couple. Jolie filed for divorce from Pitt on Monday citing irreconcilable differences, and though tabloid rumors about Brad Pitt and Angelina Jolie would have us believe the couple is splitting up over Brad Pitt's alleged affair with his Allied co-star, Marion Cotillard, Jolie's lawyer, Laura Wasser, says otherwise. In fact, Wasser reportedly told Reuters on Tuesday that Jolie filed for divorce from Pitt with her family's well-being in mind. According to Wasser, "This decision was made for the health of the family."
For his part, Pitt has not responded directly to any rumors of cheating, but in an official statement released exclusively to People, Pitt said, "I am very saddened by this, but what matters most now is the well-being of our kids." Pitt continued, "I kindly ask the press to give them the space they deserve during this challenging time." Cotillard, for her part, issued a lengthy response denying the allegations and making it clear that her partner, Guillaume Canet (with whom she has a five-year-old son), is "the man of my life, father of our son and of the baby we are expecting."
As a childless 26-year-old whose longest relationship to date lasted about four years, I can't imagine what Jolie, Pitt, and their six children must be going through right now. But if Jolie is truly divorcing Pitt to keep her family happy and healthy, then I say good for her, good for him, and good for their kids. Yes, it's a bummer when a loving relationship as seemingly real, adventurous, and beautiful as theirs expires — but this isn't the first time a mother has filed for divorce from her husband with the well-being of their family in mind, and it won't be the last. Moreover, it's not like the couple hasn't been through their fair share of hardships.
So instead of mourning the end of one of our society's most envied relationships, let's be adults about this, and accept the fact that love and a history together isn't always enough to keep a couple from calling it quits. Oh, and let's look back on some of the juiciest, sweetest, most ridiculous, and sometimes factual (gasp!) tabloid highlights of Brangelina's relationship since it allegedly began back in 2005, just to keep it all in perspective.
2005: Rumors Fly That Angelina Jolie Was The Reason For Brad Pitt & Jennifer Aniston's Divorce
I would love to leave Jennifer Aniston out of this whole thing, I really would, but it's just not possible to write any kind of Brangelina timeline piece without discussing how it all got started. And as anyone who has followed Brangelina at all knows, Angelina Jolie freely admits that the couple fell in love while filming Mr. and Mrs. Smith back in 2004. The above image, which graced the cover of W magazine in June 2005, was particularly controversial. The pics were snapped in March of 2005, which was the same month Aniston officially filed for divorce from Pitt.
It wasn't until spring 2005, after Jennifer Aniston officially filed for divorce from Pitt, that the now-infamous Brangelina started seeing each other openly. Unfortunately, every magazine out there spun it as a homewrecker story. Case in point.
2006: Rumors About How Much Money Shiloh's Pictures Cost Abound
OK, so this "rumor" turned out to be legit. In January of 2006, all the tabloids, including People magazine, lost their sh*t when Pitt and Jolie revealed they would be expecting their first biological child, Shiloh, in the summer. Rumors circulated that pictures of Shiloh "could fetch $5 million," but according to New York Magazine, People actually paid $4.1 million for U.S. rights. Hello! reportedly paid $3.5 million for U.K. rights. (Pitt and Jolie donated the proceeds to charity, of course.)
2007: Jolie Adopts Pax As A Single Parent, Breakup Rumors Spread
Sadly, since Jolie adopted Pax as a single parent — because local, Vietnamese adoption laws didn't allow unwed couples to adopt together — rumors spread that the couple was headed for splitsville. Instead of focusing on this clearly false rumor, Jolie had this to say about her decision to adopt: "I have four children now, and caring for them is the most important thing for me at the moment. I am very happy to be their mother."
2008: More Breakup Rumors Circulate
Poor Brangelina. The year 2008 saw plenty more breakup rumors for Pitt and Jolie, claiming ultimatums and separations were the culprit. According to my research, the two paid these rumors no mind, issuing no statement. In reality, the biggest thing to happen to Brad and Angelina's relationship in 2008 was the birth of their twins, Knox and Vivienne.
2009: Rumors Spread That Brad Cheats With The Couple's Nanny
In 2009, The Daily Mail reported that Jolie had allegedly slapped Pitt after she, "caught Brad on the bed in the twins' room rubbing the back of their female employee." Jolie was, of course, painted as The Crazy Jealous Partner for this supposed freak out. Neither the couple or their representatives commented on the rumor, however, and their relationship went on to last another seven years after this alleged scandal. So while we can't no for sure either way, it's more than likely that this story was total crap.
2010: Rumors Continue To Spread About Brad Cheating With Jennifer Aniston
In October of 2009, a number of reports claimed that Jennifer Aniston and Brad Pitt met up in a hotel room to discuss Pitt's alleged misery in his relationship with Jolie. This rumor persisted for some time, resulting in the February 2010 magazine cover featured above. Pitt and Aniston never commented on the rumor, however, and it was never proven to be true. Plus, this was actually the year Anniston met her now-husband and Wanderlust costar, Justin Theroux.
2011: Wedding Rumors Abound
According to Elle magazine, in November of 2008, Angelina addressed rumors of a Jolie-Pitt wedding this way: "It's not [that important]. We jumped into being a family first and that seems like the biggest commitment you could make anyway. It doesn't feel like anything is lacking." Additionally, Brad reportedly told People in July of 2011 that he and Jolie wouldn't wed until marriage equality was a nationwide thing, saying, "Angie and I will consider tying the knot when everyone else in the country who wants to be married is legally able." Despite this crystal clear denial, rumors of an upcoming wedding spread like crazy in the summer of 2011.
2012: Rumors Spread That Jolie Cheated
Back in 2012, the tabloids switched from accusing Pitt of cheating to attacking Jolie for allegedly doing the same thing. Evidently, Star reported (via Hollywood Life) that Jolie allegedly confessed to having intermittently cheated on Pitt throughout their whole relationship, starting all the way back in 2005, supposedly with one of Jolie's, "ex-lovers." The reports were never confirmed, however, and sources close to the couple allegedly told Gossip Cop, "the couple is happy and the alleged 'bombshell' fight is '100 percent false.'"
2013: Jolie Undergoes Preventative, Double Mastectomy & Tabloids Chill Out A Little Bit
In May of 2013, Angelina Jolie wrote an op-ed for The New York Times about why she chose to undergo a double mastectomy. The surgery was a preventative measure that Jolie felt compelled to take because doctors told her she had an 87 percent risk of developing breast cancer. Although her choice certainly incited sexist trolls to say some pretty disgusting things about Jolie's body, the tabloids were surprisingly kind to her (for once) about the whole ordeal.
2014: Divorce Rumors Start Up Again
Although 2014 was actually the year Pitt and Jolie tied the knot at their gorgeous French Chateau, some tabloids still wanted us to believe this was the year the couple would part ways. But according to the couple's statement to People in September of 2014, this particular era of Brangelina was "a very happy time for our family."
2015: Rumors Spread That Brad Pitt Had An Affair With Selena Gomez (No, Really)
Yes, you read that right. In 2015 and 2016, it was alleged that Brad Pitt and Selena Gomez had struck up a forbidden romance after working together on Pitt's film, The Big Short. This rumor, which was even deemed, "The Best Rumor of 2016" by Complex, has never been confirmed. Because it's ridiculous.
Moreover, while a source told The National Enquirer that Jolie, "blew a gasket" when she saw Selena's now-infamous Golden Globe Instagram with Pitt, as far as I can tell, neither Jolie, Pitt, or Gomez have commented on their alleged love triangle.
2016: Rumors Abound About The Cause Of The (Now Real) Divorce
Since Brangelina's divorce announcement on Monday, multiple sources have theorized that Angelina Jolie filed for divorce from Brad Pitt because of his bad behavior. TMZ has cited sources who claim that Jolie allegedly felt Pitt has, "an anger problem" which she believes has become, "dangerous for the children." The same source stated that Jolie is allegedly "fed up" with Pitt's penchant for, "weed and possibly alcohol." On top of all that, an unnamed source told Page Six that Jolie filed for divorce because Pitt allegedly fooled around with his Allied costar, Marion Cotillard. (As we saw above, Pitt has not commented on the allegations, and Cotillard has denied them.)
However, People now has a source that claims these rumors are bogus. In regards to the rumor that Pitt has a dangerous anger problem, People's source had this to say: "Brad has always been stricter. He has wanted the kids to have more structure. Brad will get frustrated sometimes and yell at the kids. Angelina always had a more relaxed attitude when it came to the kids. She definitely never yells."
Whatever the case may be, it appears that both Pitt and Jolie are trying to keep this whole thing as amicable as possible for the sake of their children. Hopefully their wishes will be respected, but I doubt it.
Images: W magazine, People, InTouch, Star, US Weekly, National Enquirer