11 Cool Blonde Wigs For Halloween 2016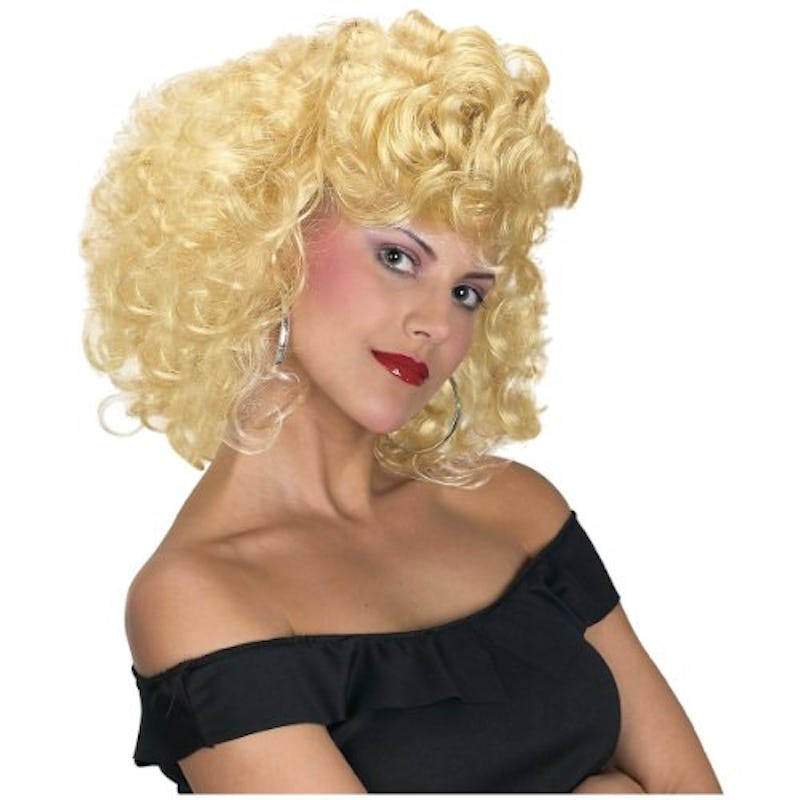 Pretending to be someone else on Halloween is all part of the fun. If you can't let your hair down and play make believe on Oct. 31, when can you? If you're thinking of becoming a blonde this year, you'll want to discover the best blonde wigs for Halloween that'll completely transform your look and elevate your costume to the most flaxen new heights.
Rocking a blonde wig on Halloween is also a great way to try a different shade on for size. If you've been thinking about drastically changing your hair color and you've never been blonde before, an awesome blonde wig will help you decipher whether this hue is for you, or whether you'd rather choose a different shade off the spectrum. You certainly wouldn't be the first to give blonde hair a trial run through the use of a wig — Kendall Jenner sported a blonde wig during the Balmain show at Paris Fashion Week earlier this year, plus Shay Mitchell flaunted a wig at the iHeartRadio Much Music Video Awards this summer.
There are a ton of Halloween costumes that would look epic with a blonde wig, so choose your favorite blonde bombshell and pick your a faux mane from the best blonde wigs for Halloween.
1. The Eleven Wig
UPTOP Hair Synthetic Full Wig For Young Women, $13, Amazon
Fans of cult Netflix series Stranger Things can become Eleven this Halloween to make a cool, indie reference to their favorite new show.
2. The Marilyn Mane
Marilyn Monroe Wig, $75, Etsy
Vintage vixens will love donning this realistic Marilyn wig come All Hallow's Eve to become one of Hollywood's most glamorous gals.
3. The Xtina Wig
Christina Aguilera Wig, $145, Etsy
If you prefer to be a more modern blonde bombshell, dress as Christina Aguilera in "Lady Marmalade" this Halloween to make all your tween dreams a reality.
4. The White Wig
Halloween Premium Long White Wig, $10, Claires
A long, white wig has the potential to accompany a range of different costumes, from galactic space babe to snow queen — your options are endless!
5. The Rapunzel Wig
Rapunzel Wig With Detachable Braid, $290, Etsy
This Rapunzel wig, based on Disney's Tangled, seems a little pricey at first glance, but when you think about how much "hair" you're actually getting, it's pretty good value!
6. The Daenerys Wig
Women's Renaissance Queen Wig Blonde, $10, Target
There's a lot of Game of Thrones inspired scope for this thrifty wig; choose to become the Mother of Dragons or metamorphose into vintage Cersei Lannister. Only one will win.
7. The Sailor Moon Style
Sailor Moon Tsukino Usagi Cosplay Wig, $34, Etsy
This is a wig that interprets "yellow hair" literally, and Sailor Moon fans will adore this quirky wig that will make a welcome addition to their cosplay closet.
8. The Platinum Bob
Asos Halloween White Faux Hair Wig, $25, Asos
No-fuss cool girls can pop on this wig as they leave the house, taking their Halloween costume from rad to rad-iculously good looking.
9. The Sandy Wig
Cool Sandy Wig, $18, Amazon
Sandy from Grease is a classic Halloween costume — and an excuse to rock that black spandex jumpsuit that doesn't get enough action. This wig perfectly completes the Sandy look, just in time to graduate from Rydell High.
10. The Cinderella Style
Deluxe Cinderella Film Inspired Lace Front Wig, $125, Etsy
The best thing about this super realistic Cinderella inspired wig is that, when you wear it, you don't have to be home by midnight!
11. The Harley Quinn Wig
Blonde Wig With Detachable Pink & Blue Pigtails, $10, Hot Topic
Of course, no collection of blonde wigs would be complete without a Harley Quinn style — here look is blonde hair with pink and blue in it, and it's one way to go blonde with an added wild twist.
Even if you don't necessarily believe that blondes have more fun than anyone else, it's hard to deny that these blonde wigs could be the foundation of a kickass Halloween.
Images: Courtesy Brands