These 'Housewives' Friendships Were A Disaster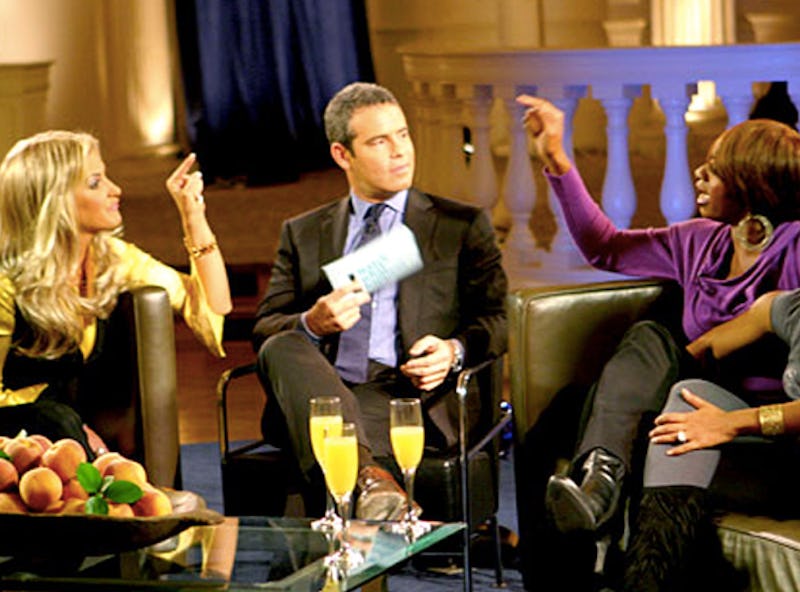 If you are anything like me, then you've seen a lot of ups and downs in the Real Housewives franchise over the years. With all of the episodes in so many cities, the relationships between the ladies are constantly changing. There are some that I can't help rooting for, and then on the opposite end, there are plenty of Real Housewives friendships that were a total disaster.
Don't get me wrong, a lot of these relationships made for some great television moments, but then there are others that were just way too tough to watch. Nevertheless, all of the major moments have been documented and rehashed time and time again.
From the best friends turned enemies to people who just shouldn't have tried to be friends in the first place, fans have witnessed quite a bit over the years. Some of these women didn't know how to cope when their supposed BFF started to gain fame and success. Other ladies have been at odds over business deals gone wrong. And then there are some women with such a long history that they can't help associating with each other even though it seems like the very last thing that either of them should be doing.
1. Teresa Giudice & Jacqueline Laurita
When Real Housewives of New Jersey first started airing, Teresa and Jacqueline were BFFs who were more like family. They stuck by each other through the table flipping and weave pulling, but these two have broken up and gotten back together more times than I can keep track of. They have hit below the belt with the insults and now it seems like there's no going back for them since Teresa has aligned with her sister-in-law, Melissa Gorga.
2. Bethenny Frankel & Jill Zarin
This is a throwback for the longtime Real Housewives of New York City viewers. Jill and Bethenny were besties — then Bethenny went from a struggling natural foods chef to a rich entrepreneur with her Skinnygirl empire and Jill felt all kinds of left out. It was alleged that Jill tried to get Bethenny off the show by asking the other women not to film with her, which Jill denied. Bethenny ended their relationship when she famously told Jill to "get a hobby" when Jill tried to get their friendship back on track.
3. Lisa Vanderpump & Brandi Glanville
At first, I thought the friendship between Lisa Vanderpump and Brandi Glanville was so random. Brandi was the youngest person in the Real Housewives of Beverly Hills cast and she was definitely the most unfiltered. And then on the opposite end of the spectrum was the dignified Brit, Lisa, but these two had a tough alliance. Then their friendship started to crumble when Brandi said LVP was manipulative, and then Brandi slapped Lisa in Amsterdam. Now, Brandi isn't a Housewife, so it seems like Lisa won this war.
4. Tamra Judge & Gretchen Rossi
As soon as Gretchen and Tamra met on Real Housewives of Orange County, there was an instant air of competition between the two. Things got worse when Tamra accused Gretchen of cheating on her dying fiancé during a reunion episode, which Gretchen adamantly denied. Then the two of them somehow became friends and turned against Vicki Gunvalson and Alexis Bellino. They even had friendship bracelets and Gretchen threw Tamra's bachelorette party, but then they ended up hating each other again for no real reason other than the fact they were just super competitive with each other. Thankfully for Tamra, Gretchen is no longer a cast member on the show.
5. Kim Zolciak & Kandi Burruss
I though that Kim and Kandi had such a cute bond on Real Housewives of Atlanta, and I absolutely loved it when Kandi did her thing to turn Kim's song "Tardy for the Party" into a total jam. They even went on tour together, and I was living for the performance footage. But their friendship fell apart when Kandi claimed that she was not paid what she should have been for helping Kim with the song and a legal battle ensued, but the case was dismissed by the judge. (Kandi told Us Weekly at the time, "Kim really didn't win. That was just one level of it. Now it goes back to other levels of the court and it's still going on," but there haven't been any reported updates since the case was dismissed.)
Not only that, but Kim got offended by comments Kandi made in regards to Kim not going on the group's Africa trip. Kandi also claimed that she told Kim that she wanted to name her next baby "Kash" and got pretty miffed when Kim gave that moniker to her second son. Kim denied stealing the name, of course. Basically, the friendship went from adorable to a mess real quick.
6. Vicki Gunvalson & Shannon Beador
Shannon Beador was the RHOC cast member who stood by Vicki Gunvalson the longest with all of her Brooks Ayer-related drama last year. Then, she found out that Vicki told other people about David Beador's then-secret affair when Vicki's brother's girlfriend, Rhonda, blurted it it out during the Season 10 finale, so Vicki then admitted to talking about it. Plus, Shannon feels that Vicki owes her more than an apology for the whole Brooks mess, and Vicki thinks that Shannon is just holding a grudge. Now, in the current season, Vicki is claiming to know some secrets about Shannon, so it's safe to assume that these two have not made up.
7. Dorinda Medley & Sonja Morgan
It just seems like these two would be best friends. They're two blondes who love to party in New York City, so I just figured they would be tearing up the social scene together. It's honestly kind of unclear what exactly broke them up, but Sonja was extremely offended when Dorinda did not invite her to her Berkshires house. Dorinda claimed that she was trying to protect Sonja from drama with the other ladies, but Sonja wasn't buying it. I thought that drama had subsided, but then Sonja accused Dorinda of doing drugs at the reunion, which Dorinda denied, and these two have been talking trash about each other in the press ever since. Dorinda insisted that Sonja was "never" her friend in her Bravo blog entry. Sonja referred to Dorinda as "a total fake" during a Watch What Happens Live appearance. I can't wait for the inevitable fights that will go down next season.
8. NeNe Leakes, Shereé Whitfield, & Kim Zolciak
It's impossible to look back on the golden era of Real Housewives of Atlanta and not include the holy trinity that was NeNe Leakes, Kim Zolciak, and Shereé Whitfield. Almost every time two of them had issues, it always had something to do with the third one. It was pretty much always a disaster when these three got together (i.e. the Shereé wig pulling incident), but it was always epic to me. No matter what happens, I will always ship this trio.
9. Kenya Moore & Phaedra Parks
The tension between Phaedra Parks and Kenya Moore was meant for reality TV. Right off the bat, Phaedra was offended by Kenya's flirtatious rapport with her husband, Apollo Nida, on that group trip to Anguilla. Then, they joined forces when Phaedra asked Kenya to help her and Apollo produce a workout video. They did not work well together and Kenya ended up making a video of her own. Then there was that whole fabricated love triangle with Apollo, Phaedra, and Kenya. And even though that was officially resolved when Apollo admitted on the show that he lied about Kenya trying to hookup with him in LA, Kenya and Phaedra still aren't the best of friends and have thrown some delicious shade at each other.
10. Jacqueline Laurita & Danielle Staub
During the first RHONJ season, Jacqueline was caught in the middle between Danielle Staub and the rest of the cast — most of whom were actually related to Jacqueline. Jacqueline tried to be friends with with everyone, but eventually she had to pick sides. Danielle took Jacqueline's daughter, Ashlee, to court when she pulled her hair at a country club (Ashlee ended up having to pay a fine), and Jacqueline had no choice but to be enemies with her former pal.
11. Lisa Vanderpump & Lisa Rinna
Lisa Rinna came on RHOBH as a friend of Lisa Vanderpump's, so I just assumed there would be a solid #TeamLisa thing, but that is not how things ended up. Long story short, Rinna called LVP manipulative and claimed she tried to control the story lines on the show to her own benefit. Of course, Lisa V denied all of this multiple times and claimed that the ladies were just ganging up on her. Rinna ended up screaming expletives and telling LVP to "own it" during an insanely dramatic reunion last year, so I'm interested to see how the Lisas end up getting along next season.
These disaster friendships made great TV, but I'm sure it must have been tough for the ladies to relive these harsh moments over again. As we all know, the Real Housewives relationships are constantly changing, so this could all be outdated in five minutes. I guess we just have to take a cue from Bravo king Andy Cohen and "watch what happens."
Images: RealityTVGIFs/Tumblr (9)