'Real Housewives' Friendships That Sadly Ended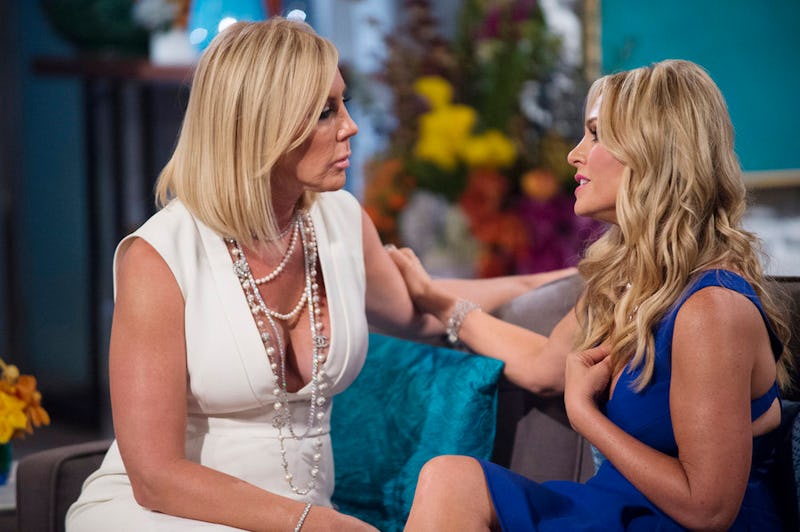 Not all friendships last and the end of friendships is something Real Housewives fans have experienced throughout the years with some of their favorite Housewives duos. On more than one occasion, viewers have watched Real Housewives friendship breakups that have actually been pretty heartbreaking. Even though fans of the franchise don't know the women personally nor have they gotten to know them on a first name basis (well, maybe some of them have, but I certainly haven't), it's still easy to get attached to certain friendships and hope that nothing ever tears them apart. Sadly, that's hard to prevent in the land of Real Housewives.
Usually, some kind of drama ensues which then launches into a heated battle. Said battle then transforms into something so massive that none of the Housewives can put it out in time to save the friendship. Eventually, the relationship ends and there's no going back to the times of fun, happiness, and smiles. If that's the case with one of your favorite Housewives friendships, I'm sorry for your loss. However, sometimes an unusual miracle does happen and the two Housewives who broke up find their way back to one another, salvage what's left, and rekindled what once was. And this outcome is a glorious thing to watch come to life, especially if you ship that friendship hard.
With that, let's rehash some of the biggest and most heartbreaking Real Housewives friendship breakups that have happened thus far.
1. Bethenny & Jill
They were basically the Thelma and Louise of the Real Housewives of New York City. Everything changed in Season 3 when Bethenny Frankel met her now ex-husband, Jason Hoppy. Things went from light and happy to extremely tense after Bethenny told her former BFF Jill Zarin "to get a hobby." After talking multiple times in attempt to get back on track, they realized they couldn't get back to the friendship they both once cherished deeply.
2. Sonja & LuAnn
RHONY Season 8 was a doozy, mainly thanks to LuAnn de Lesseps getting engaged to Tom D'Agostino Jr. When it was revealed that both Sonja Morgan and Ramona Singer once had a thing with Tom, well, LuAnn didn't take it well. Unlike Ramona who said she only went out on a few dates with Tom, Sonja claims they were lovers for over 10 years. (Meanwhile, Tom claimed to People in July 2016, "Sonja, I've known for years. The funny part is, although I've known her for years, we got together once, but she's on this kick that it was more than that.") All of that turned into one of the most dramatic fights in RHONY history. So much so that it made waves in Sonja and LuAnn's friendship. The Countess even called Sonja "delusional" at the Season 8 reunion, which proves how their friendship is going. They haven't officially "broken up," but they definitely aren't BFFs like they once were.
3. Brandi & LVP
Remember the good old days of Brandi Glanville and Lisa Vanderpump on Real Housewives of Beverly Hills? They were attached at the hip, but Brandi quickly severed ties after saying she couldn't deal with LVP's so-called manipulative ways. Things went from bad to worse when Brandi even slapped Lisa in a joking manner, but LVP didn't walk away laughing. Even though it seemed like they would find their way back to one another, they never did.
4. Teresa & Jacqueline
Teresa Giudice and Jacqueline Laurita, aka Lucy and Ethel, have had their fair share of ups and downs. When Real Housewives of New Jersey started, they were thick as thieves. Then, gossip started to spread, tabloid headlines surfaced about Teresa and her family, and they both started questioning one another. To make a long story short, their issues erupted into a huge blowout fight with no end in sight. Well, RHONJ Season 7 has shown Jacqueline and Teresa working toward a healthier relationship and it appears they are once again friends. Let's just hope it lasts this time around.
5. Lisa Rinna & LVP
The Lisas always knew how to have a good time together on RHOBH. Too bad that didn't last once Season 6 started. Like Brandi, Lisa Rinna started to also think LVP was manipulative in relation to all of that Munchausen talk surrounding Yolanda Hadid. This has to be one of the messiest fights yet these women have faced and it continued at the reunion when Rinna accused LVP of telling her to bring up Munchausen to keep the season exciting. LVP denied it, but Rinna stood by her claims. Let's just say that these two probably won't be friends anytime soon.
6. Vicki & Tamra
When you think of Real Housewives friendships, the OG of Real Housewives of Orange County, Vicki Gunvalson, and Tamra Judge definitely make the list. Over the years, they've had a lot of fights, but mainly when Vicki's ex-boyfriend Brooks Ayers came into the picture. Tamra never trusted him, which caused tension with Vicki. Then, when all the claims about Brooks allegedly faking cancer came to light in Season 10 (for the record, Brooks stands by his claim that he does have cancer), Vicki and Tamra were really at odds. But, like they usually do, in Season 11 they made up and remain friends. They'll probably continue to breakup and make up for years to come.
7. Gretchen & Alexis
Either you loved RHOC's Gretchen Rossi and Alexis Bellino or you didn't. Whatever the case, there's no denying they had a tight friendship, but that all went downhill when Gretchen kind of turned her back on Alexis in Season 7 during their trip to Costa Rica. Everyone, save for Vicki, confronted Alexis about being "pretentious", which led to a lot of tears from Alexis. No matter whose side you were on, it was hard to watch Gretchen back up the other women and not her friend. Then, during the reunion, Gretchen didn't have nice things to say about Alexis. It doesn't seem like they are close friends anymore, but Gretchen did support Alexis when she sent that email slamming Tamra's newfound love of God.
8. Kandi & Phaedra
They say you should never get into business with family or friends. Maybe that's what Real Housewives of Atlanta's Kandi Burruss and Phaedra Parks should've done when it came to Kandi's husband, Todd Tucker, producing Phaedra's workout DVD. Since that moment, tension creeped up between Kandi and Phaedra. Then, there was all that drama with Phaedra's estranged husband, Apollo Nida. Throughout Season 8, they tried to rekindle their once tight friendship, but the reunion kind of ruined that. It'll be interesting to see come Season 9 where they are in their relationship.
9. NeNe & Cynthia
They really are the tightest friendship to have ever graced RHOA, but all that changed in Season 7 when Cynthia Bailey burned NeNe Leakes' "friend contract" ending their friendship once and for all. Before that, things started going sour after NeNe called Cynthia's former husband, Peter Thomas, a b*tch in Season 6. Their friendship spiraled after with a lot of shade thrown by both of them. Don't worry, they made amends in Season 8 and now all is good — you know, until more drama hits the fan.
10. NeNe & Kim
If you've been with RHOA since the beginning, then you know how great of friends NeNe and Kim Zolciak once were. Sadly, their friendship came to an end after NeNe constantly criticized Kim's relationship with her former flame "Big Poppa" and then Kim chose to record "Don't Be Tardy For the Party" with Kandi over NeNe. They stopped speaking for years and focused on their own lives, but reunited in December 2014 on Watch What Happens Live. As Kim said, they are "cool" now.
Keep those fingers crossed that as each franchise of Housewives continues no more friendships fall apart — nor do any of the reconciliations go down the drain.
Images: Nicole Weingart/Bravo; Giphy (9); realitytvgifs/Tumblr