13 Ways To Prepare For The 'Gilmore Girls' Revival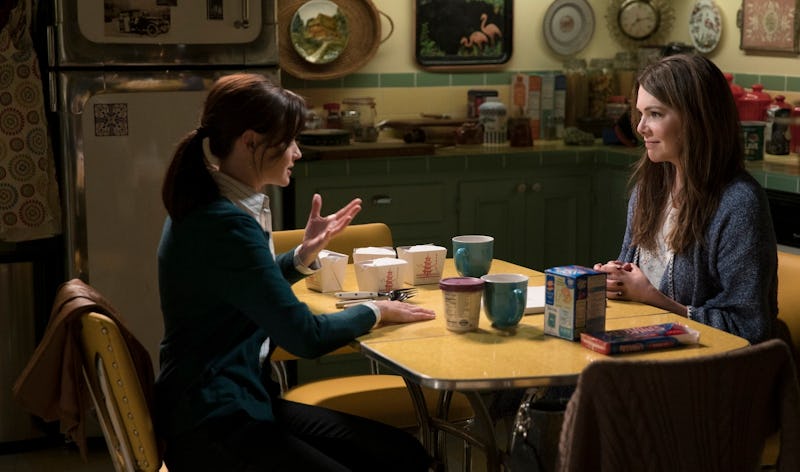 When you think about the date Nov. 25, it doesn't sound lightyears away. You won't be collecting your pension by then. But the Gilmore Girls Netflix revival is also not happening tomorrow. So excuse my rabid enthusiasm, but ever since the Gilmore Girls: A Year in the Life trailer dropped, I'm all out of patience. How the heck is anyone with a deep-seated commitment to the entertainment Sistine Chapel that is the Gilmore Girls supposed to make it through the next month without completely losing their mind? Nope, forget distracting yourself with anything else. I'd argue the most logical ways GG fans can pass the time would be to engage in as many Gilmore Girls-related activities as possible. Because nothing soothes the wound of a Stars Hollow-less world like a novelty Rory themed mug, trust me.
Honestly, no wonder I'm impatient. The trailer makes the revival seem like it would satisfy all un-itched Gilmore Girl scratches — whether Luke and Lorelai would ever function as a couple if they actually gave it a try, whether Rory would ever make it as a journalist, whether Hep Alien ever made it big. Believe me, the activities below are no true substitute for the Gilmore Girls revival, but they'll ensure you make it to the premiere date with your sanity intact. And what could be more essential than that?
1. Rewatch The Entirety Of Gilmore Girls
Whet your appetite for the revival by making sure you're up-to-date on every inside joke and nuance of the original series. According to Binge Clock, you'll need to set aside six days and nine hours to watch all of GG . Since you need sleep, that would be 12 full days of marathoning, but who has that sort of time? Spread it out over a month and finish the rewatch in time for the revival with your career and social life intact. Here's a handy guide from Bustle about how to fit in all of the Gilmore Girls highlights before revival.
2. Listen To The Gilmore Guys Podcast
In their own words, Gilmore Guys is a podcast in which "veteran fan Kevin T. Porter and newcomer Demi Adejuyigbe go deep into Gilmore Girls episode by episode." If you were really committed to the rewatch idea, this might be a nice companion piece, especially since Porter and Adejuyigbe have interviewed famous Gilmore Girls actors like Milo Ventimiglia, Scott Patterson, Kelly Bishop, Sean Gunn, Liza Weil, Liz Torres, and Emily Kuroda. If you want the inside scoop, this is where to get it.
3. Go Visit Real-Life Stars Hollow
Did you know that Stars Hollow is based on a real place? Washington Depot, CT. Showrunner Amy Sherman-Palladino told Deseret News that she visited the town while on a trip with her husband and was so inspired that she wrote some of the pilot while staying at the Mayflower Inn. She said,
"We went to a diner and everyone knew each other and someone got up and they walked behind the (counter) and they got their own coffee because the waitress was busy, and I'm, like, 'Is this out of central casting? Who staged this thing for me?'"
Anyway, if you're located even remotely nearby, a road trip to the real-life Stars Hollow could be a seriously fun IRL way of passing the time.
4. Jam Out To Hep Alien Songs
Hep Alien is, of course, Lane's band. They reunited in 2015 for a show at the ATX Television Festival. Not only did they cover Hep Alien's hits from show, but just to add a sprinkle of meta, they covered of the Gilmore theme song, "Where You Lead," originally performed by Carole King. The band also recently joined forces at the Gilmore Girls Fan Fest in Connecticut. (More on that later.)
5. Invest In Some Sweet Gilmore Girls Themed Items
Etsy is an absolute goldmine when it comes to cute Gilmore Girls- themed stuff. These adorable mugs (from HenryAndPenny) are ideal for the coffee you'll inevitably be drinking during your revival screening, right?
6. Watch An Alexis Bledel Movie That Bridges The Gap Between The Original Series & The Revival
Is it me, or is this film the worst-case scenario version of what could have played out after graduation for Rory?
7. Cook Delicious Gilmore Girls Style Food
There's a whole lot of resources, online and off, for channeling your obsession into your cooking. To start, there's the rather excellent Gilmore Girls Gourmet Tumblr and Gourmet Gilmores, which both do something similar: They offer recipes and background info about the food's connection to the show. If you really want to invest in eating like an inhabitant of Stars Hollow, then you should check out the new recipe book, Eat Like A Gilmore , which is currently enjoying a four-and-a-half star rating on Amazon.
8. Live Vicariously Through The Gilmore Girls Fan Fest
Maybe you didn't have a spare $200 lying around to attend the Gilmore Girls Fan Fest. Maybe you're not based in the U.S. But that doesn't mean you can't attend it retrospectively and virtually — check out what went down at the Gilmore Girls Fan Fest from Oct. 21-23 by browsing the #gilmoregirlsfanfest hashtag on Instagram and Twitter.
9. Read GG Fan Fiction
The internet is a beautiful place. Not just because of the cat gifs, but because of the Gilmore Girls fan fiction. Find the happy beginning you wanted for Lorelai and Luke or get inside Rory and Jess's heads. The revival isn't going to let you pick and choose the plot or character development you want, but this will.
10. Do One Better & Write Your Own Gilmore Girls Fan Fiction
Because you know Rory would approve. And why settle for short form? It can't be coincidence that NANOWRIMO 2016 and the Gilmore Girls revival are happening in the same month. Give the world that ambitious Stars Hollow novel it's been waiting for.
11. Dress Like Lorelai Gilmore For A Week
Bustle's own intrepid Hayley Saltzman already dressed like Lorelai, so what are you waiting for? Here's your excuse to upcycle all your old tie-dye and cut-offs.
12. Host Your Own Friday Night Dinner
Need inspiration? Look no further than this Gilmore-approved Friday night dinner guide by Bustle's Kelly Schremph.
13. Embrace Your Gilmore Girls Fever & Throw A Rocking Party
Easy! First, you're going to ditch the idea of cooking for it (so not Lorelai) and order a whole bunch of takeout — ideally cheesy pizza and Chinese food. Tape quotes on the walls, and if you're really smart, you'll plan a Gilmore Girls pop (culture) quiz in advance, using the Every Gilmore Girls Cultural Reference WordPress site for inspiration. Ask guests to come dressed up as any Gilmore Girls character of their choice. You can also make predictions for which original boyfriend Rory ends up with.
See? Doesn't the end of November feel closer already? May your life be as Gilmore-filled as possible until then.
Images: Netflix (3); Giphy (2); HenryAndPenny/Etsy; Warner Bros. Television (3); Bustle