Bustle's Editors On 'Hairspray' & That Ohio Bill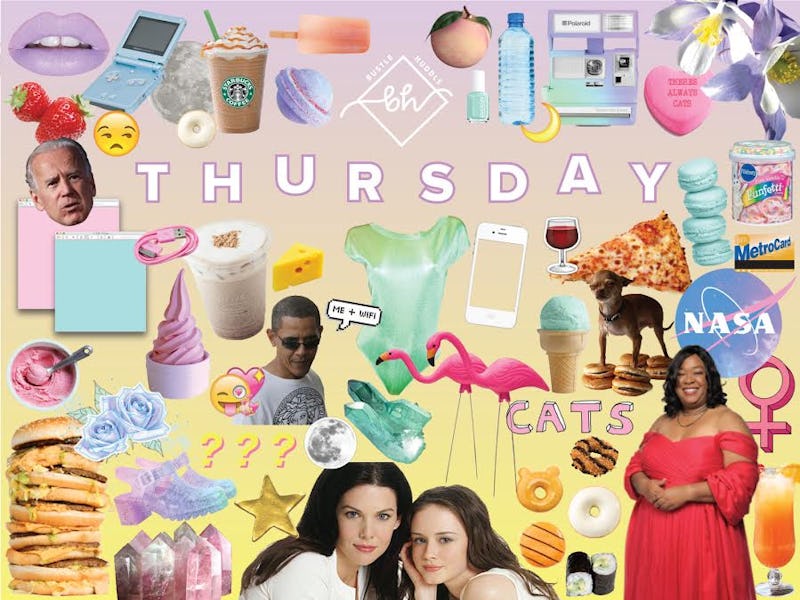 Can you believe it's already Thursday? This week started out slow, but the second half has practically sped by. The weekend is basically already here, so start making your happy hour and brunch plans now — and get ready to plan for the snow that's apparently going to come next week, at least if you're in or around New York. Eek.
Before you head to the grocery store to stock up on hot chocolate and winter-themed candles, catch up on all the news that had Bustle's editors talking about today, from Hairspray Live! to Donald Trump's meeting with Leonardo DiCaprio (yes, really).
NBC + Hairspray Live!
On Wednesday night, theater lovers everywhere rejoiced as Hairspray Live! aired on NBC. Starring Kristin Chenoweth, Ariana Grande, Jennifer Hudson and newcomer Maddie Baillio, the production caused a Twitter frenzy, for reasons both good — Hudson's performance of "I Know Where I've Been" — and the bad — that uncomfortable "unconscious" line.
Fun Fact: Although Hairspray Live! stayed mostly true to the dialogue and lyrics from the show, it did manage to add in a Hamilton reference, in the form of Link saying "I'm not throwing away my shot!" Lin-Manuel Miranda must've been one happy camper.
Ohio + Abortion
On Wednesday, it was announced that Ohio's "heartbeat bill" was passed by the House and the Senate, and is now awaiting Governor John Kasich's signature to be signed into law. The legislation is an incredibly restrictive abortion bill that would ban abortion after a fetal heartbeat can be detected, which can occur around six weeks into a pregnancy — i.e. before many women even realize that they're pregnant. Unsurprisingly, many people are outraged that such a bill is close to being made into law, and if you're one of them, here are a few ways to voice your concerns.
Say What?! On Wednesday, Donald Trump met with Leonardo DiCaprio to discuss climate change. The two talked for about 90 minutes, and the actor even gave the president-elect a copy of his climate-focused documentary, Before the Flood. It's unknown if Titanic came up, too.
Beauty + Trivia
Calling all beauty experts! Think you know all there is about makeup and hair? Take Bustle's ultimate beauty trivia game to test your skills and see if you're really as much of a self-care pro as you think, but be warned, it's super hard. But hey, that's part of the fun, right?
Deal of the Day: This 35-color eyeshadow palette from Morphe is a must-have for all beauty lovers, and it's currently just $22.99 on Amazon. Stocking stuffer, anyone?
Kim + Kanye
Breathe easy, Kimye fans. Although there were rumors that the superstar couple was considering divorce earlier this week, they've been debunked by none other than Kim Kardashian's BFF, Jonathan Cheban. The KUWTK star and self-proclaimed "Food God" told E! that the divorce rumor is "so funny to me because it's so not true," and that he even Facetimed the duo together right before doing his interview. Phew!
Toyko 2020: Huge news, cheerleaders. The International Olympic Committee just voted to recognize cheerleading as an Olympic sport, and while this doesn't guarantee that the 2020 games will feature cheer, the sport now officially can apply to be included. Hell, yeah!
Pantone + Color Of The Year
It seems that Pantone has taken note of the craziness that's been these past 12 months, as the brand's 2017 color of the year is all about "new beginnings" — i.e. starting fresh in January and leaving all that happened in 2016 way behind us. The color, "Greenery," was chosen for "evoking the first days of spring when nature's greens revive, restore, and renew. Illustrative of flourishing foliage and the lushness of the great outdoors, the fortifying attributes of Greenery signals individuals to take a deep breath, oxygenate and reinvigorate." In other words, sit back, relax, and welcome in a (hopefully) calm 2017.
Insta Alert: Instagram Best Nine, the photo collage that was on everyone's feeds last year, is coming back this holiday season, so start prepping your end-of-2016 tributes now. If you need a refresher, here's how to make an Instagram Best Nine and show off your most-liked photos of the year.
Today's WTF Moment: "Why does she always look like she's running in slow-mo?" — a line from the trailer for the new, Zac Efron-starring Baywatch movie, which apparently is full of meta references to the original show.
What To Watch: One of the year's most buzzed-about movies, La La Land, hits theaters this weekend, and you won't want to miss it. It opens wide on Dec. 16, but those in New York and L.A. can check out the star-studded musical in select theaters starting tonight.
Design: Chelsea LaSalle, Alyssa Foote