The Most Important 'Bachelor' Moment Of 2016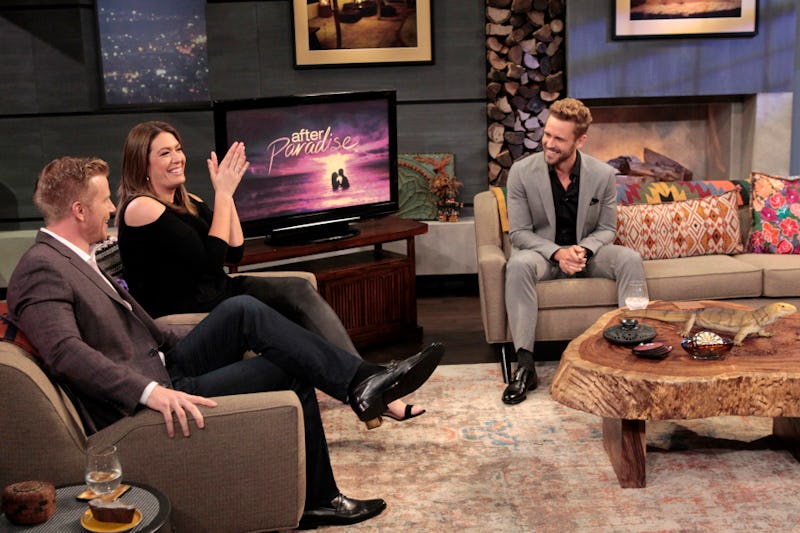 I have to say, this was a great year for Bachelor Nation. From all three shows in the franchise, to the stars' social media accounts, there have been plenty of memorable times. But, there is definitely one thing that stands out as the most important Bachelor Nation moment of 2016. Whether you loved this decision or hated it, you have to agree that Nick Viall's surprise selection as the Bachelor for Season 21 was the most pivotal thing that happened to the Bachelor franchise this year.
First off, Nick's selection varied from the Bachelor format that fans have grown accustomed to during recent years. Someone who was a contestant on the previous season of The Bachelorette has been the star for The Bachelor for the last several seasons. So, it would have made sense for Nick to be chosen after he was the runner-up during Andi Dorfman's season or even when he came in second on Kaitlyn Bristowe's season, but he was not present on JoJo Fletcher's season, so seeing him chosen as Bachelor definitely strayed from the expected formula.
All eyes for the upcoming Bachelor season were on JoJo's third place dude, Luke Pell, and maybe a little bit on her fourth place man Chase McNary. Even the previous Bachelor star Ben Higgins tweeted about those two guys just minutes before he was set to pass the torch to Nick during an episode of After Paradise. When someone who is truly ingrained in the Bachelor universe has no idea what is going on, then you know this was a major secret. (Or he was trolling everyone!)
Not only was the timing a little off for Nick to be the Bachelor, but it was also shocking that Nick himself was the person who was chosen. Personally, I've always been a fan, and I'm really kicking myself for not auditioning to be on his season, but even I have to admit that Nick has been extremely polarizing among Bachelor fans. After his battles with Josh Murray and competition with Shawn Booth, there were a lot of people who were not fans of Nick. Plus, there were obviously a lot of opinions about him appearing on three Bachelor shows.
The tide started to change in his favor though. The fandom got to see a different side to Nick when he appeared on the third season of Bachelor in Paradise. Not only did people get to check out his abs since he was shirtless most of the time at that resort, but he turned into the voice of reason for most of the cast, the hero against Josh Murray's angry tirades, and a truly sympathetic cast member. Almost everyone was rooting for Nick to finally find love, but Nick's relationship with Jen Saviano did not end with an engagement.
Even so, when After Paradise hosts Michelle Collins and Sean Lowe asked the next Bachelor to come out on stage, it was very shocking when the camera panned away and Nick was there instead of Luke. We all thought it was going to be Luke!
The franchise going against the usual pattern for selection, Nick's polarizing reputation, and the fact that it wasn't the guy who everyone expected really made Nick's Bachelor selection the most important (and shocking) moment for Bachelor Nation in 2016. And not a single episode has even aired yet. There is very high potential that something from Nick's season will end up being the most important Bachelor Nation moment for 2017. At this point, I wouldn't put it past him.
Image: ABC/Rick Rowell