'Southern Charm:' Before They Were Famous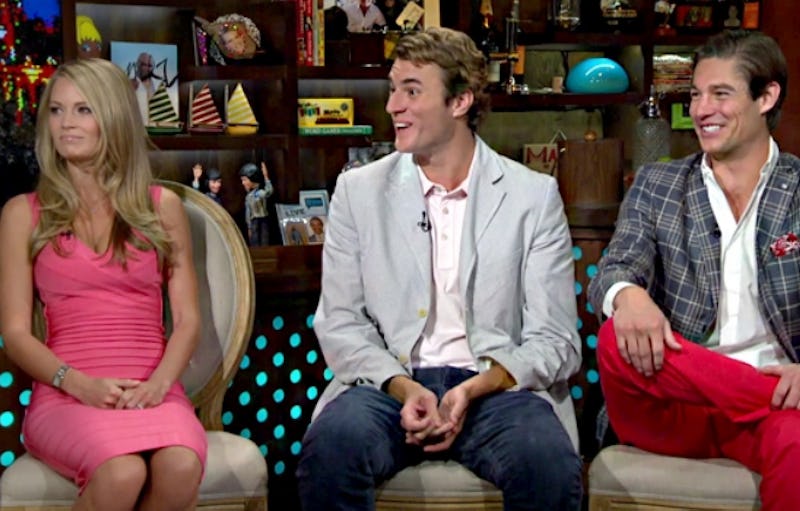 The debut season of Bravo's best new reality show may have already come to an end, but it doesn't mean I'm not clamoring for more information about the fascinating Southern Charm cast — especially when it comes to who they were before we officially met on-screen. Before they consented to having their entire lives — for better or for worse — documented last summer, the cast was doing their own thing. And after watching (and deeply analyzing) last week's post-season reunion show, it has occurred to me that I have no idea what any of them were up to before they, you know, starred on a Bravo reality show. Actually, these people literally showed up on TV and drank their way into my heart (and all of my free time) out of nowhere.
Which means it's time to do what any loyal (read: slightly crazy) fan would do: A little good old fashioned social media stalking. Because for a cast who loves drama as much as these guys do, there's sure to be some dirt lying around to dig up. And, believe me, after I finished digging, I wasn't disappointed. So who were Cameran, Shep, and the gang before their dirty laundry was out swinging in the southern breeze? I'll fill y'all in.
I now give you the Southern Charm cast before they were famous:
Cameran Eubanks
We already know Cameran was involved in a serious relationship — which resulted in an adorable, off-camera spring wedding — that she kept under wraps as far as Southern Charm is concerned. But did you know Cameran was also on MTV's Real World ? Yep: In 2004, a 19-year-old Cameran starred as one of the roommates in the first San Diego edition, so Southern Charm definitely wasn't her first foray into reality TV.
My favorite cast member — and, let's be real, yours, too — didn't tweet before her SC days, so I don't much else about her. Why do I feel like this is the reason she is the only person on the show who escaped relatively emotionally unscathed?
Shep Rose
Pre-Southern Charm, our resident playboy attended University of Georgia, and worked in commercial real estate. But that's not the information you want, is it? Nope. So let me help you out. According to his Twitter, he seems to travel just about anywhere at the drop of a hat — L.A. one week, Nicaragua to hit the waves with his friends the next. I. Am. Officially. Jealous.
He's also clearly got a sense of humor. I love him more and more by the minute.
Jenna King
Jenna is equal parts mysterious and cool, so obvs, I needed to find out what is actually up with this girl. Although her source of money — and the legitimacy of her big ass house in Charleston — is still up for discussion, her Instagram confirms what I knew about her all along: This girl appears to be a blast and a half to hang out with.
I may not be a huge fan of that tattoo on her butt (or is that an actual bruise?), but she does have a super adorable dog (below), and seems to go on a lot of adventures that I personally would love to be a part of. And, um, her nails could actually take an eye out.
Whitney Sudler-Smith
The coolest thing about Whitney is the fact that he's the reason Southern Charm is even a thing, and for that, I will be eternally in his debt. Before the show, he was also in a relationship with German celebrity Larissa Marolt, and they may or may not still be dating. As you might already know from watching the show, he also made a few independent films — a profession far superior to opening his own restaurant, according to his mother, Patricia, anyway.
Craig Conover
Besides being a huge fan of Planet Smoothie, Craig spent his pre-Southern Charm days traveling, especially to Jamaica, which he visits quite frequently. Craig deserves the lavish getaways a little more than your traditional Charleston trust fund baby — at least this baby works as a lawyer. Craig originally hailed from Delaware, but decided to stay put in Charleston after going there for law school and falling in love with South Carolina.
He also played baseball in middle school — pics, please — and word on the street is that the fine people of Charleston aren't crazy about him joining the cast, even going so far as to call him a yankee. Uh oh, them's fighting words!
Thomas Ravenel
We all know about Thomas Ravenel's sordid past, but obviously, I needed more details about his arrest, which has ended up affecting just about every inch of his life since. According to the Associated Press, here's what went down: Thomas was caught buying less than 500 grams of coke to share with others back in 2007, which we all know is a big no no. And the FBI got involved, too, so it was just as serious and dramatic as the show makes it out to be.
And, you know, since he didn't learn his lesson the first time, Thomas also scored a DUI last summer, which left him with a hefty (to us, anyway) $1,400 fine and a suspended license. Hopefully now that he's a dad, he's shaped up.
Kathryn Dennis
Who was this new mom before she hit the Southern spotlight? Your typical college-age girl in the south, predictably. In her pre-Thomas and Kensington days, Kathryn could be found Instagramming selfies, hanging out with her dog, and even modeling wedding dresses. Will we ever get to see her in one? Stay tuned for a potential Season 2, and keep your fingers crossed.
Images: Bravo (8)