Why Sandra Oh Deserves an Emmy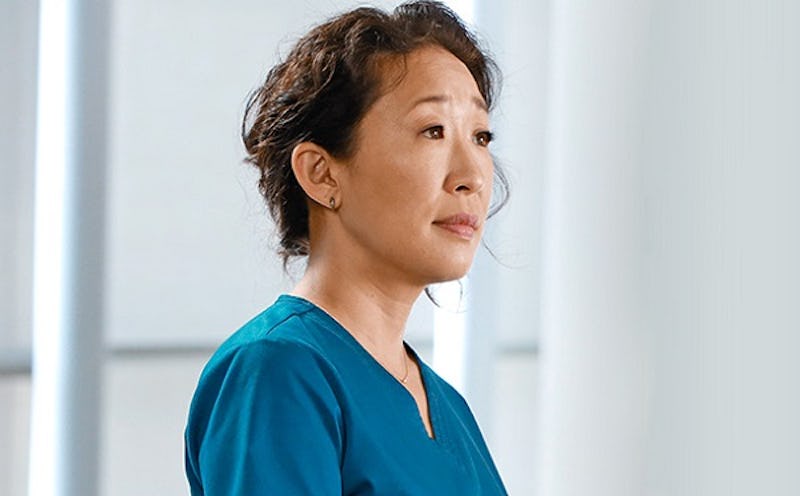 As any long-time viewer can attest, Grey's Anatomy has has its ups and downs over the course of its 10 seasons. For every incredible Shonda Rhimes-written monologue or game-changing guest star, there's been over-dramatic ferry crashes, unlikable doctors, or cringe-worthy musical episodes we're still trying to forget. Even those who us who still devotedly watch and love Grey's each week can admit that the show's had some struggles over the years, and if it weren't for those ratings, it probably would've been cancelled around the time Izzie started sleeping with ghosts. Yet despite its bumpy history, many of us have never been able to stop watching Grey's, for one big reason: the actors, and, in particular, the wonderful Sandra Oh.
During the 10 years she spent playing Cristina Yang, Oh accomplished something magical: she took a show about doctors and made it one about feminism. As Cristina, Oh navigated a world in which her female colleagues left their jobs to start families, forwent friendships for romance, and gave up their dreams, or at least pushed them aside. Cristina, though, craved none of that; yes, she wanted love, and friendship, and family, but most of all, she wanted surgery. To her, her career always, unarguably came first — and in a world, even a TV one, where women are expected to rearrange their priorities around the age of 30, Cristina's path was incredibly brave.
And without Oh, none of it would've mattered nearly as much. Oh has been one of Grey's strongest actors since the very beginning, but these past few years, as her character morphed into something of a feminist icon, her skill reached new levels. She made Cristina funny and likable and mean and frustrating all at once, without ever losing the viewer's affection or interest. It was a feat of acting, the powerful, affecting culmination of 10 seasons' worth of work.
It's impossible to imagine a Grey's without Oh in it, but starting in September, we'll have to try. This past year saw the actress' exit from the series, after a season in which she gave the best performance of her Grey's career yet. Whether Cristina was fighting with Meredith, figuring out her future with Owen, or reuniting with Burke while in Zurich, Oh was never less than astonishing. She made us care about Grey's in a way we hadn't in years, bringing us into Cristina's life and mind fully and ferociously. The show has been good for several seasons now; because of Oh's performance this year, it once again became great.
And it's only right that she should get recognized for her work. Although Oh is no stranger to awards shows — she and her Sideways castmates won a number of awards in 2004, not to mention the Golden Globe she got for Grey's one year later — it's been a long time since she's received any acknowledgment for her work. Grey's hasn't been nominated for a non-makeup Emmy since 2010, and People's Choice Awards aside, the last major nod Oh's received for playing Cristina was in 2009. Perhaps critics stopped paying attention to Grey's after season five, or they just decided that the show, and Oh, had had its turn in the spotlight already; whatever the reason, 10 seasons in, the series and its actors can reasonably be considered awards show underdogs.
It's time, however, to rid Grey's of that title. While the show itself may not yet be up to reclaiming its spot in the Best Drama race, its actors, particularly Oh, deserve to be recognized. They're what gives Grey's it's heart, and without them — Ellen Pompeo, Chandra Wilson, the always-underlooked Justin Chambers — the show wouldn't have been half as enjoyable as it was this past decade. And without Sandra Oh, it wouldn't have even been worth watching.
So, Emmy voters, don't pass over Grey's this year without even giving it a glance, like you've done so often in the past. There's a reason the series is still on the air after all these years, with such an enormous level of devotion from its fans, and her name is Sandra Oh. For 10 years, she's been giving Grey's her all; for once, the Emmys could deign to do the same for her.
Images: ABC