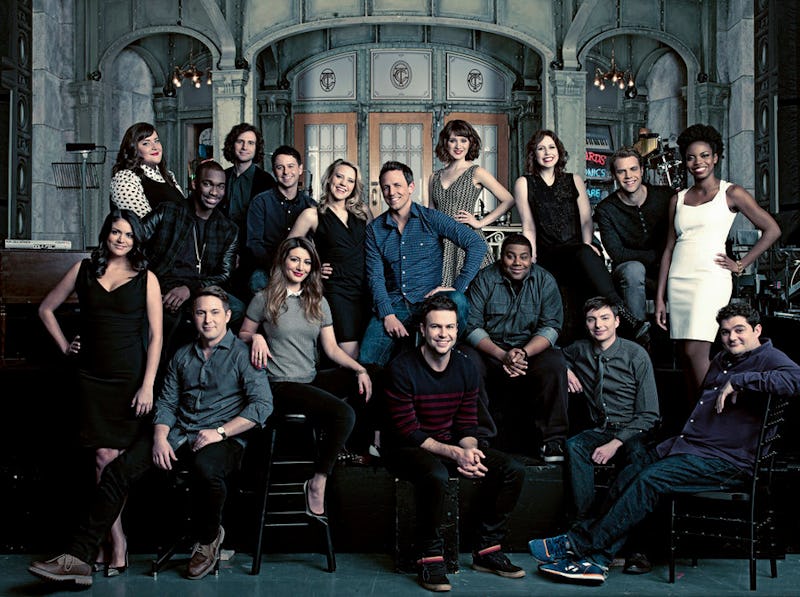 Mark your calendars, Saturday Night Live lovers — and even non-SNL lovers — because this season is sure to be a huge one. Saturday Night Live is celebrating its 40th season (yes, that means it's had 40 whole seasons), which is great news for longtime fans of the show, because that means we will probably get some really great hosts, characters, and (fingers crossed) cameos from past players and characters on the famed show. SNL Season 40 premieres September 27, with Chris Pratt kicking off the monumental season.
So as fans of the show, what can we expect "live from New York" on Saturday night? Last season, the show went through a ton of changes, with a new Weekend Update host and a handful of new — although barely used — cast members. This season, the producers continue to attempt to elevate the show by changing a few things. There will be new faces (that will hopefully get used in sketches, and no, I don't mean as background characters), a new host on Update, and even a new announcer Darrell Hammond — although the late Don Pardo's replacement isn't entirely new to the show since he's an alum.
But beyond that, here's what we can expect to see starting Saturday, September 27 on NBC:
Chris Pratt & Ariana Grande
As I mentioned earlier, Saturday Night Live kicks off its premiere with the absolutely perfect Chris Pratt. Pratt, who starred in the blockbuster hit Guardians of the Galaxy this summer, is sure to be an amazing kick off host. He is no stranger to comedy, as he plays Andy Dwyer on Parks and Recreation, which is heading into its last season this year.
Ariana Grande will join Pratt as the premiere's musical guest, which in the midst of the rumors about Grande's recent behavior, could be an opportunity for the pint-sized singer to make a statement on all the talk.
Sarah Silverman & Maroon 5
To all things great in this world, thank the SNL gods (aka Lorne Michaels) for having Sarah Silverman host the second episode of the season. While it would have been nice to have a woman kick off the monumental season, Silverman will definitely not disappoint as she hosts with Maroon 5 (as the musical guest) on October 4.
Darrell Hammond as the new announcer
If the name sounds familiar, it's because Hammond was a hilarious cast member on SNL from 1995 - 2009. He is filling Don Pardo's seat, as the legendary Saturday Night Live announcer passed away this August.
Michael Che as the new Weekend Update anchor
Recently, we learned Cecily Strong wouldn't be returning as an anchor for Weekend Update, but instead, would be replaced by Michael Che, a writer for SNL. Che joins Colin Jost for Weekend Update, but not everyone thinks removing a woman from Update was a great idea.
Pete Davidson joins the cast
At 20 years old, what were you doing? Probably not performing on Saturday Night Live, unless you're Eddie Murphy (who was 19 when he started on SNL). Davidson is one of the youngest performers to ever join the cast. He is a stand-up comic, who is from Staten Island, and from the looks of his Jimmy Kimmel routine, very funny.
Images: NBC; Giphy (2)