If Alicia Runs For Office, She Should Dump Peter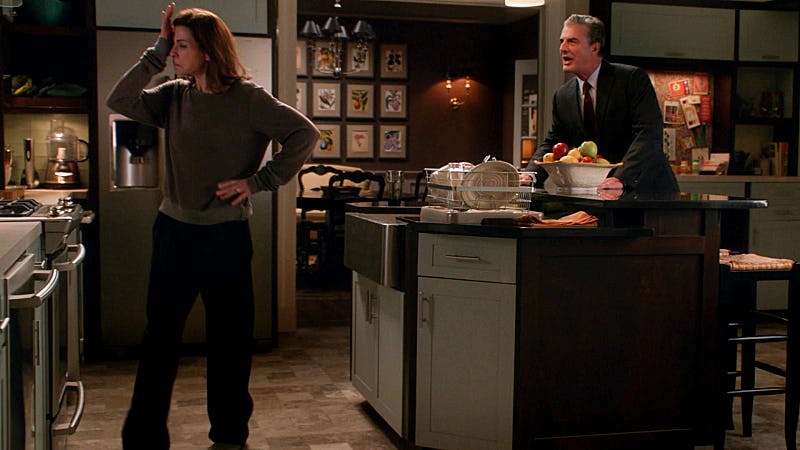 Although the question of whether or not Alicia should run for States' Attorney on Season 6 of The Good Wife is a divisive one, at least one thing is pretty certain: She will end up running sooner or later. There's no way the writers decided to drop that bomb as the cliffhanger of their stellar fifth season if they just intended for Alicia to shrug off the idea a few episodes later. The only question that remains is, when will she give in to Eli Gold's persuasion? It might be sooner than you think... and when Alicia finally announces her candidacy, it will have huge repercussions on her already shaky marriage: Alicia & Peter may finally divorce.
In last week's The Good Wife episode, "Trust Issues," a series of events pushed Alicia gradually closer to running for office. First, Eli Gold recruited Senior Advisor to the President Valerie Jarrett (playing herself) to call Alicia and express her enthusiasm about her candidacy. Then a real estate magnate showed up at the Florrick/Agos offices to offer to pay Cary's bail, which Alicia quickly sussed was a bribe for some quid pro quo once she (hypothetically) takes office. And finally, a poll was leaked testing Alicia's chances at the upcoming election — the results of which were very positive. Eli was behind the phone call and the poll (although he convinced her that her opponent, current SA Castro, was behind the poll). But it was the unprompted bribe that had the biggest effect on Alicia.
Robyn rightly pointed out that accepting the $1.3 million for Cary's bail would only be corrupt if Alicia intended to run for office, in which case the money would actually be a bribe. So since Alicia claimed she wasn't going to run, there should be no ethical problem taking the money. However, Alicia still refused to accept the check. This clearly indicated that, at least in a dark corner of her mind, the Governor's wife is considering the possibility of throwing her hat in the ring.
Still not convinced? Consider this: the fourth episode of Season 6 is titled "Oppo Research" — short for opposition research, which is when consultants for a candidate gather any information that might prove useful against an opponent in a bid for public office. If someone's going to be partaking in opposition research two short weeks from now, that can only mean that Alicia is about to officially enter the race for States' Attorney.
While a run for office will undoubtedly have ramifications for Alicia's nascent firm, it will also greatly affect a more personal side of her life: her marriage to Peter. Just imagine it — the Governor of Illinois and the States Attorney are husband and wife... in what world is that not a conflict of interest? For five seasons, Eli has striven to keep Alicia and Peter together, despite infidelity, mistrust, and a general lack of passion. But he may finally have to choose between protecting Peter's integrity by keeping the Florricks married, and getting Alicia elected successfully. (As in, without voter fraud.)
I would be 100 percent behind Alicia finally getting a divorce. (Because let's be honest, you guys — Peter is the worst.) She can finally free herself from the shackles of a man who would rather hire interns who don't wear panties than remain faithful to her. And (bonus!) it would free her up to finally date that dreamy Finn Polmar. However, the biggest roadblock to a divorced Alicia remains constant: the show's unfortunate title. How could it keep being The Good Wife if Alicia isn't a wife anymore? That would be like Grey's Anatomy with no Meredith Grey! Would they change the title to The Good Divorcée? Or would they simply have Alicia run back to the altar with the next man she meets?
Title issues aside, I'm hoping that Alicia finally stops standing in the way of her own happiness, frees herself from a toxic relationship, and takes her career to the next level by running for public office. After all, "Saint Alicia" is doing just fine on her own if Eli's poll was any indication; she doesn't need a man to help her anymore... much less a slimy one like Peter.
Images: CBS (2); Jeff Neumann/CBS