The 13 YA Books To Get You Through Winter 2015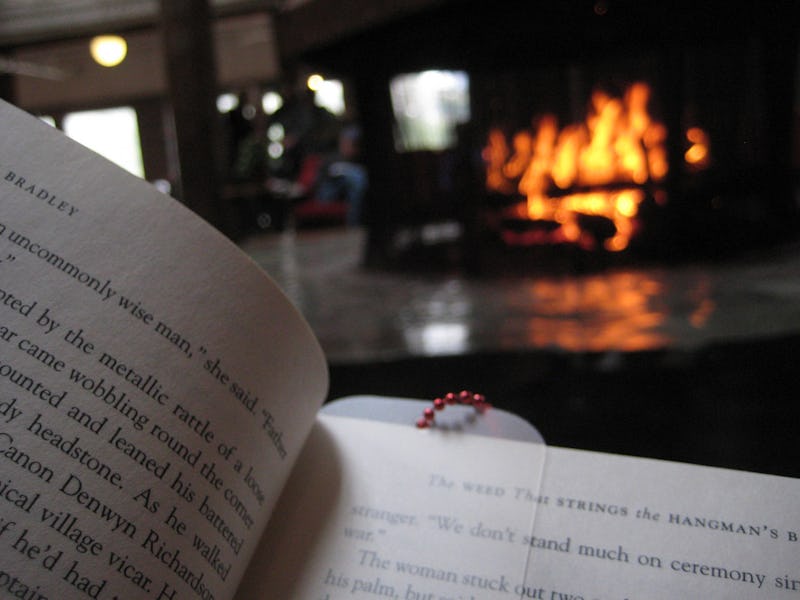 I've barely gotten over just how amazing 2014 was for young adult literature, and now I'm neck-deep in YA books coming out next year that I want to jump up and down about. So many of our favorite 2014 authors and books have follow-ups or sequels coming after the new year — Jenny Han, Danielle Paige, Cassandra Clare, Kiera Cass, Marissa Meyer, and I'm just rattling these off the top of my head.
And there are some buzz-worthy debuts coming to you, too. Plus some majorly esteemed young adult novelists who didn't have a 2014 release (we forgive you) are back in 2015 with books my hands are itching to grab. Heck, Judy Blume has a novel coming; it's adult fiction, but she'll always be our YA queen. There's even a rumor that John Green has his massively anticipated next novel coming. (Shh, don't jinx it.)
Essentially what I'm telling you is that not all of these books could fit on this list. Not all of these books could fit on two lists. And I've tried. I planned on doing the first six months in YA, but my head started spinning as the titles ramped up into the 20s and 30s count. In an effort to not overwhelm you, your calendar, or myself, this list will cover the first quarter of 2015, from January through March. So, it's really only scratching the surface.
Because it's just not possible to wrap my arms around every exciting upcoming release, tweet me what you're looking forward to in 2015! For now, here are 13 of the most anticipated YA novels of 2015 to get on your radar.
All The Bright Places by Jennifer Niven (Jan 5; Knopf Books for Young Readers)
It's gutsy to name-drop two of the hugest contemporary YA novels — of course I'm talking about The Fault in our Stars and Eleanor & Park — in your book marketing plans. But everything I've seen so far about Jennifer Niven's All The Bright Places makes me believe it can live up to the comparison. Violet and Theodore are both struggling with life, and they meet on the ledge of the bell tower at school and save each other. These opposites or eccentrics attract love stories are common ground in YA, but All the Bright Places shines, standing out from the rest.
The Ghosts of Heaven by Marcus Sedgwick (Jan 6; Roaring Brook Press)
What can't Marcus Sedgwick write? He can tell stories vast and insular, but he's going back to his Midwinterblood-style epic, spanning genres and time, with 2015's The Ghosts of Heaven . The book has four interlocking stories that chronicle creation, obsession, and madness from the Paleolithic era all the way into our future in space. It makes stops in every American Horror Story's favorite places: the witch hunts and a 1920s asylum, but the story defies expectations on every single page.
Audacity by Melanie Crowder (Jan 8; Philomel)
Dear all my fellow proud feminists: Write this name down in your fashionable day planner. You're going to need Melanie Crowder's Audacity, which is already buzzing all over the place. Crowder tells the real-life story of Clara Lemlick who started the largest strike by women in American history as she fought for equal rights and better working conditions — and the story is told in beautiful verse. You're not going to easily forget this one.
I Was Here by Gayle Forman (Jan 27; Viking Juvenile)
If you're like me, you've been patiently (and also not so patiently) waiting for Gayle Forman's next young adult novel. The time is finally here, and rumor has it, we won't be disappointed. In I Was Here , Forman blends a little mystery and first love into her tragic story of two best friends separated by one's suicide. She's able to keep the mystery fast-paced and thrilling, while also meditating on the reverberations suicide can cause through everyone who you knew.
Fairest by Marissa Meyer (Jan 27; Feiwel and Friends)
You'll have to wait until almost winter for Winter, but Marissa Meyer's Fairest should hold you through quite nicely. The book (with, by the way, a totally creepy cover) tells the backstory of the evil Queen Levana, the ultimate big bad of the Lunar Chronicles, and the foe of Meyer's versions of Cinderella, Red Riding Hood, and Rapunzel. We should always be on board with some more well-developed and kick-ass female protagonists, but Fairest also has the potential to delve into body image and beauty standards themes that could really resonate. After all, Levana is willing to do some seriously horrible things in order to ensure that she's the (yes) fairest of them all.
I'll Meet You There by Heather Demetrios (Feb 3; Henry Holt & Co.)
Heather Demetrios absolutely killed 2014 by releasing her debut YA novel, then releasing her second, and then, oh yeah, planning her third for early 2015. And in my humble opinion, I'll Meet You There looks like it could be the best yet. (And that's not just because the cover is straight-up GORG.) The book centers on an unexpected friendship (and hmm, perhaps loving relationship?) between two teenagers praying to get out of their dead-end town, after they meet working at a quirky local motel. But this is a thinking-person's romance, as it deals with poverty and soldiers returning home from war.
My Heart and Other Black Holes by Jasmine Warga (Feb 10; Balzer + Bray)
My Heart and Other Black Holes has the potential to be a doozy. Two teenagers, Roman and Aysel meet on a site called Suicide Partners, for people who plan to end their lives, but who don't want to do it alone. Together then plan their suicides, but while spending time together, they find a reason or two to stay alive after all. Will it be enough? And while books around this topic can tend to get preachy or indulgent, the word is Jasmine Warga handles the sensitive subject with grace and poignancy.
Red Queen by Victoria Aveyard (Feb 10; HarperTeen)
There's one major fantasy story standing out early next year, and it just happens to be a debut novelist: Victoria Aveyard's Red Queen already has lots of people talking. In Aveyard's world, the Reds are the peasants to the Silvers' elite class, who are bestowed with magical powers. But one Red, teenager Mare, is developing powers of her own, which embroils her in the king's palace politics. Once there, however, she aims to take down the Silvers. It promises top-notch storytelling, vivid imagery, and a breath of fresh air into some tired fantasy stories.
Mosquitoland by David Arnold (Mar 3; Viking Children's)
There's another debut that's starting whispers through the literary community, and that's David Arnold's Mosquitoland, about a young girl who hops a bus from Mississippi to Ohio to visit her sick mother, and who, like other great literary road-trippers, learns a whole lot about herself along the way. Arnold has already been chosen with nine other debut novelists for the ABA Indies New Voices list, and that's not an honor given lightly, so it's definitely a book to keep your eye on.
Vanishing Girls by Lauren Oliver (Mar 10; HarperCollins)
Lauren Oliver, you're spoiling us. After her adult debut Rooms and (one of my favorite books of 2014) her standalone contemporary YA novel Panic, Oliver is giving us even more to read with 2015's Vanishing Girls . Vanishing Girls centers on sisters (yay!) who are separated both emotionally and physically after an accident. When one of the sisters disappears on her birthday, coinciding with another strange disappearance in the news, the other goes looking for her. It's a thriller through and through, but it has enough heart to make you sincerely care about the characters.
Hold Me Closer: The Tiny Cooper Story by David Levithan (Mar 17; Dutton Juvenile)
David Levithan's Will Grayson, Will Grayson spin-off is finally, finally publishing in 2015. (I know, the wait hasn't been that long, but what can I say? It's going to be epic.) Hold Me Closer is actually an annotated script, and readers will remember it within the plot of Will Grayson, Will Grayson, written by the real star of the novel, Tiny Cooper. The fan favorite character is described as a "fairy tale giant" and I just know the book will be just as loud, fun, and proud as Tiny himself.
The Start of Me and You by Emery Lord (Mar 31; Bloomsbury)
Emery Lord blew readers away with one of the best debut YA novels of 2014, and we won't have to wait long for her highly anticipated follow-up, The Start of You and Me . All eyes are on lord to see if she can remake her novel magic (no pressure!), and the buzz seems to think that yes, yes she will. Fittingly enough, the story is a lot about second chances, and I'm thrilled to see that it will again have strong friendships at its core because, hey, the young adult world is always in need of great female friendship stories.
The Wicked Will Rise by Danielle Paige (Mar 31; HarperCollins)
In 2014 (and with a taste of the new series in 2013), Danielle Paige shattered all of our childhood memories with a Dorothy story that was far more Return to Oz than The Wizard of Oz. In Dorothy Must Die, the titular character is no longer a sweet little farm girl — she know rules Oz with iron-clad slippers, with Glinda, the Tin Man, the (not-so) Cowardly Lion, and (yes) even the Scarecrow by her side. In next year's The Wicked Will Rise, our Kansas-bred teenage protagonist Amy Gumm must complete her task of stealing the Tin Man's heart, the Cowardly Lion's courage, and the Scarecrow's brain before she can kill Dorothy — and we are going to have so much fun reading all about it.
Image: Selena N. B. H./Flickr