Who Was the Ultimate Celeb Cat Lady of 2014?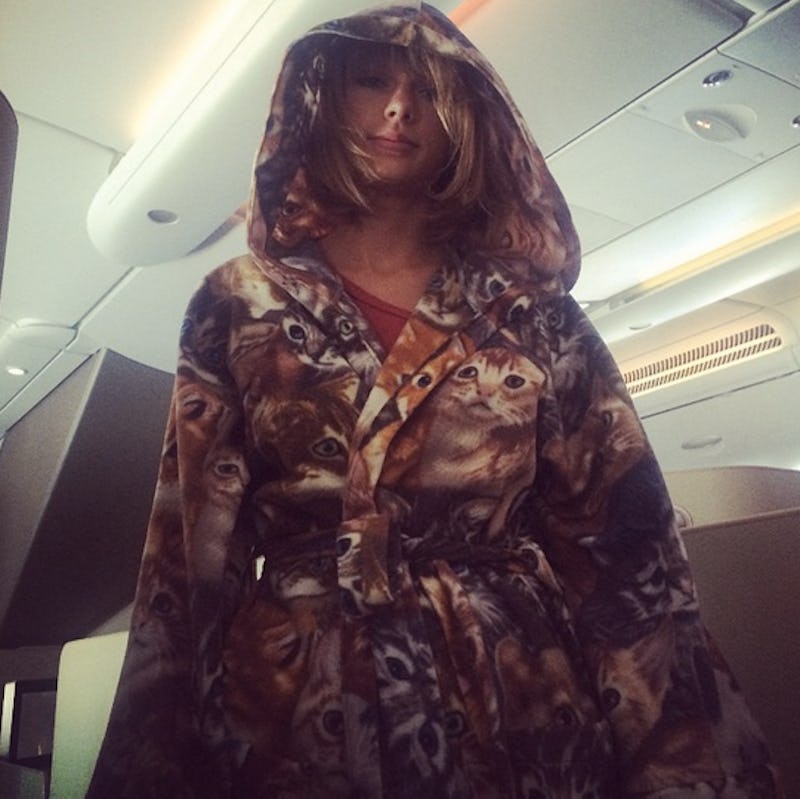 For the longest time, the term cat lady was associated with spinsters who will die alone with their feline friends. But in recent years as celebrities came out as total cat ladies, it suddenly became adorable and fun — as it should be for everyone. There are plenty of them in Hollywood, ranging from kitty queen Taylor Swift to cat-ear-wearing Ariana Grande. It seemed like Katy Perry was the music queen of cats — her fans are even called Katy Cats — for a long time, but now that Swift has two kitties and Instagrams a storm of adorable photos of and/or with them, she seems to have taken over.
To be certain, I've taken a very scientific calculation process to figure out who is the biggest celebrity cat lady of 2014. It was a tight race for some, but others really dropped the ball (of yarn) this year. In this ranking, no one really loses because we get adorable photos and videos of our favorite ladies with their furry friends, but some friendly competition never hurt anyone. Well, unless it's Perry vs. Swift, because we know there's definitely some bad blood there and the claws are out for those two.
6. Ariana Grande
Although Grande wears cat ears all the time and her character on Sam & Cat was named Cat Valentine, she actually doesn't own a cat. She's more of a dog person — as seen in this recent pic of her under a pile of pups — but she loves to dress up as a feline for Halloween. Yes, it's cute, but she's not the biggest cat lady.
5. Bella Thorne
Thorne has a cat named Louis and a dog named Kingston, and she doesn't favor one more than the other most of the time. But in the video above, her cat gets the last laugh.
4. Katy Perry
Perry has built her brand around loving cats. Her fans are called Katy Cats, her cat is named Kitty Purry, and she tends to use pictures of kitties on her merchandise. However, this year, she got a dog named Butters and told the world she's "#notjustacatlady" and fell on the list.
3. Lea Michele
Michele posts mostly selfies on Instagram, and many feature her cat Sheila in bed with her. Recently, it's been her with her boyfriend, Matthew, and the cat, which is pretty cute.
2. Nikki Reed
Reed is a huge animal lover, and this year, she and boyfriend Ian Somerhalder adopted a cat together named Sohalia. Most of her photos feature animals, including a series of photobooth-like selfies.
1. Taylor Swift
Drumroll please! Yes, T. Swift is the ultimate cat lady. Could it ever be anyone else? Nope. She has plenty of songs that could have been written about her cats, she gets elaborate kitty-themed gifts, and even wears her love for kittens in public. I could go on — especially about Olivia, whom she welcomed into her family this year and walked around NYC with the cat in her arms — but I think everyone gets the purrfect picture.
Image: Taylor Swift/Instagram