Dominic Cooper Is More than Iron Man's Dad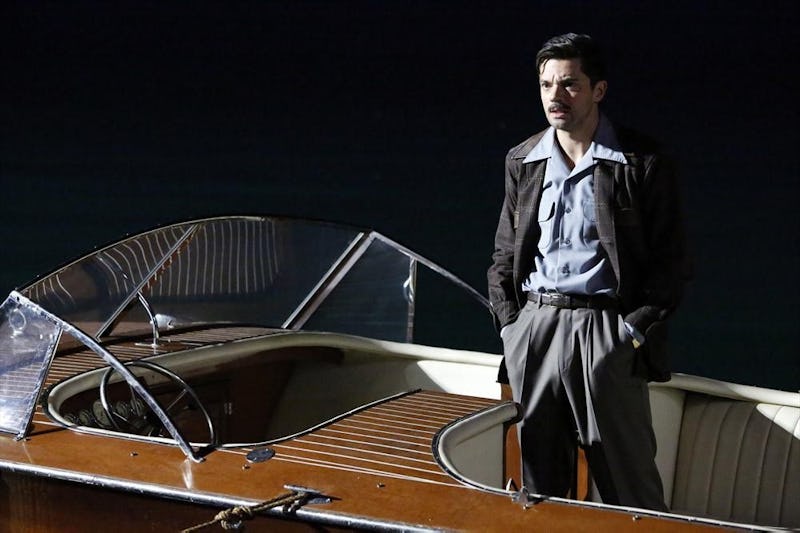 When Marvel's Agent Carter premieres on ABC this Tuesday night, Hayley Atwell as the titular intelligence operative won't be the only face that's familiar to fans of the Marvel Cinematic Universe. The prequel series, which bridges Agents Of S.H.I.E.L.D.'s midseason hiatus, takes place during the 1940s and revolves around Peggy Carter, aka. Captain America's crush from 2011's The First Avenger, and her efforts to both fight Hydra and establish the organization that would come to be known as S.H.I.E.L.D. While Agent Carter will feature a bevy of actors new to the M.C.U., such as Chad Michael Murray as Agent Jack Thompson and James D'Arcy as butler Edwin Jarvis, Atwell is joined by one other recurring M.C.U. player: Dominic Cooper as Iron Man's father himself, Howard Stark.
However, Cooper isn't the first actor to play Tony Stark's father in the M.C.U. The first time the character appeared on screen, for flashbacks in Iron Man 2, Howard was portrayed by Mad Men favorite John Slattery. But those flashbacks took place in the '70s, so when it was decided that the character would appear in Captain America: The First Avenger — which takes place in the '40s — the role was recast with a younger actor. Enter 36-year-old London native Cooper.
Where else might you have come across this talented English actor? Actually, chances are fairly good that you've seen Cooper doing one of the following:
Being Mischievous on the London Stage
After graduating from the London Academy of Music and Dramatic Art in 2000, Cooper spent most of the '00s on the London stage, playing major roles in such prestigious theatres as the Royal Shakespeare Company, the Royal National Theatre, and the Royal Court Theatre. The characters he played during this time tended to be on the mischievous side, such as the troublemaking fairy Puck in A Midsummer Night's Dream, brave sidekick Will in the two-part, six-hour adaptation of Philip Pullman's His Dark Materials trilogy, and handsome cad Dakin in The History Boys, for which he was nominated for Outstanding Featured Actor in a Play at the 2006 Drama Desk Awards.
Playing Supporting Roles in Period Dramas
At the same time Cooper was having major success on the stage, he was appearing in a number of small film roles with names such as "Constable," "Clerk," "Young Priest," and "Boyfriend." But after he reprised his role as Dakin in the successful 2006 film adaptation of The History Boys, he made a niche for himself in period dramas and started landing larger parts. He was Keira Knightley's extramarital lover Charles Grey in 2008's The Duchess, played Peter Sarsgaard's dapper friend Danny in 2009's Oscar-nominated An Education (alongside future Amazing Amy Rosamund Pike as his girlfriend Helen), and portrayed the blonde bombshell's real-life photographer Milton H. Greene in 2011's My Week With Marilyn.
Singing ABBA with Amanda Seyfried
He played hunky fiancé Sky in the 2008 adaptation of the jukebox musical Mamma Mia! You can watch him croon ABBA's "Lay All Your Love On Me" in all his shirtless glory above. You're welcome.
Kicking Off Our Doppelgänger Obsession
After dipping his toes into whimsical pop musicals, Cooper got serious with the historical drama The Devil's Double. 2014 may be remembered as the Year of the Doppelgänger, thanks to the increasingly popular Orphan Black , as well as a veritable parade of films featuring actors playing dual roles like Jake Gyllenhaal in Enemy , Jesse Eisenberg in The Double , Sophie Turner in Another Me , and (*potential spoiler alert*) Elisabeth Moss and Jay Duplass in The One I Love . But Cooper got a kick-start on the genre back in 2011, when he played Uday Hussein, the maniacal heir to Saddam Hussein's throne, as well as Latif Yahia, the soldier recruited to be the playboy's body double. While the film itself received mixed reviews, critics were universally wowed by Cooper's layered performance as both Uday and Latif.
Revising History in a Fantasy Double-Whammy
More recently, Cooper has been trying out supporting parts in bigger action films. Aside from his role in Captain America, he also played Aaron Paul's rival in the street racing flick Need For Speed, and he'll star as King Llane Wrynn in the upcoming adaptation of Warcraft by director Duncan Jones (Source Code, Moon). (In an interesting bit of Marvel cross-pollination, the Queen to Cooper's King will be played by Ruth Negga, aka S.H.I.E.L.D. 's recently-transformed Raina.) Among Cooper's recent spate of action flicks were roles in not one, but two revisionist historical fantasies — 2012's Abraham Lincoln: Vampire Hunter and 2014's Dracula Untold. In the former, he played Henry Sturges, the President's mentor and ally in undead-slaying; in the latter, he appeared as Mehmed the Conquerer, an evil Turkish Sultan warring against Vlad the Impaler.
Being Robert Downey, Jr.'s Hot Dad
It almost defies explanation that the youthful Cooper plays 49-year-old Robert Downey, Jr.'s father... and yet this will be the third time the actor has stepped into Howard Stark's shoes. After replacing John Slattery in The First Avenger, Cooper went on to reprise the role in Marvel One-Shot: Agent Carter, the short film that appeared on the Iron Man 3 DVD/Blu-Ray release and served as the inspiration for the Agent Carter TV series. Now he'll be a recurring presence throughout the show's eight-episode run.
Images: Kelsey McNeal/ABC; killyourdarlings, malorys, padmeamidala, fyeahhowardstark/Tumblr; Giphy