7 Celebs Who'll Probably Rock An Apple Watch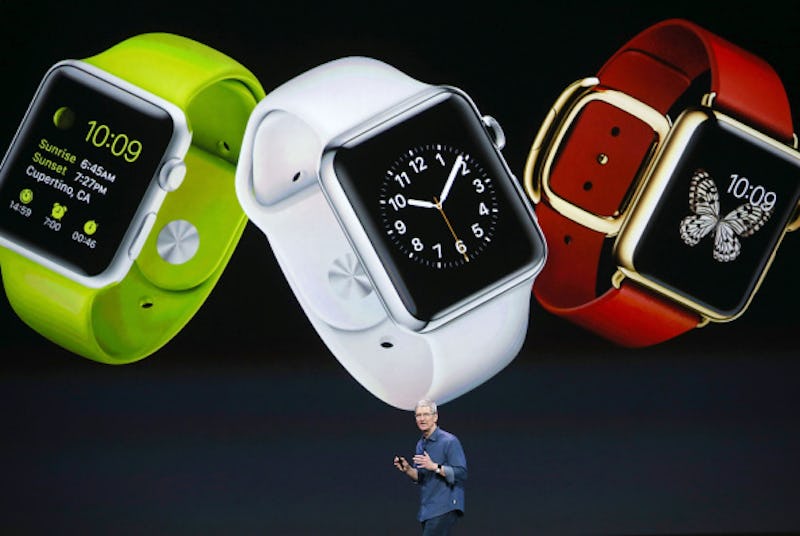 The latest Apple invention is here, ladies and gentlemen: the Apple Watch. Apple revealed all the details about the highly anticipated product at their live event in Cupertino today and it's proof that this is more than just a smart watch — it's a fashion accessory. Here's what we know: the Apple Watch will come in three different models — Watch, Watch Sport, and Watch Edition. With so many watch band and face combos, there's definitely an Apple Watch style for everyone. According to their website, the basic Apple Watch features different leather, Milanese loop, link, and "fluoroelastomer" bands with a sapphire crystal face. The Watch Sport is different in that its face is made out of aluminum and "strengthened Ion-X" glass that is more protective. And the classiest of them all — the Watch Edition — features a trendy, modern design embellished with nothing other than 18-karat gold.
Apple calls the watch their most "personal device yet." Whether you want to send a message sketch, check your heartbeat, or open your hotel door, the Apple Watch is an innovative product that will probably make your life a little bit easier (if you have an iPhone 5 or later version, of course).
Whether you're an Apple hater or lover, you have to admit the Apple Watch proves what kinds of innovative products are being created for the future. Even though the watch doesn't go on sale until April 24, we think these stylish celebs will definitely give into the Apple Watch trend first:
1. Kim Kardashian
We aren't sure if Kim K. is more of a rose gold or yellow gold girl, but one thing we know for sure is that she'll probably get the best of the best of the Apple watches. Of course, the rose gold would also go lovely with her various neutral outfits.
2. Jennifer Aniston
If you thought it wasn't possible for Jennifer Aniston's hair to look better, think again. As Jen smooths her famous locks, she'll get even more attention if she opts for that red 18-karat yellow gold Watch Edition on her wrist. She's known for wearing Jennifer Meyer jewelry, but we're guessing this watch will be her new favorite accessory.
3. Channing Tatum
We can't forget about the men who will be sporting the newest device. Channing Tatum will look even sexier (is that even possible?) and even sportier with his lime green Watch Sport. We're guessing he's the type of man that will want one in every color.
4. Emma Stone
Redheads, have no fear. When Emma Stone opts for the stainless steel Apple Watch with its brown modern buckle, it'll convince you that it's an accessory you'll love to wear everyday.
5. Jessica Alba
Businesswoman, mother, and actress Jessica Alba won't be able to complete her daily superwoman tasks without her new Watch Sport, which can track your fitness and even make calls. Jessica's style definitely takes on the "less is more" mantra, so we know she'll love the simple white sport band.
6. Alexa Chung
Since Alexa Chung's style is a mix of feminine chic meets sporty casual, we think she should go for the 18-karat gold and black Edition Watch. It speaks to her simple, yet elegant looks!
7. Chloë Grace Moretz
Chloë Grace Moretz would never be afraid to pair masculine and feminine pieces, which is why we think she'd sport a stainless steel and black Apple Watch with her red carpet gowns.
So the Apple Watch is all the buzz now, but will it become a staple accessory? It definitely can be dressed up or down, so that's a plus. Maybe you won't be getting an Apple Watch anytime soon (the Edition Watch starts at $10,000), but we can dream, right!? If Anna Wintour approved of a 12-page feature in Vogue, the Apple watch must be doing something right.
Images: Getty Images (7)