If You Loved 'Bad Feminist,' Read These 11 Books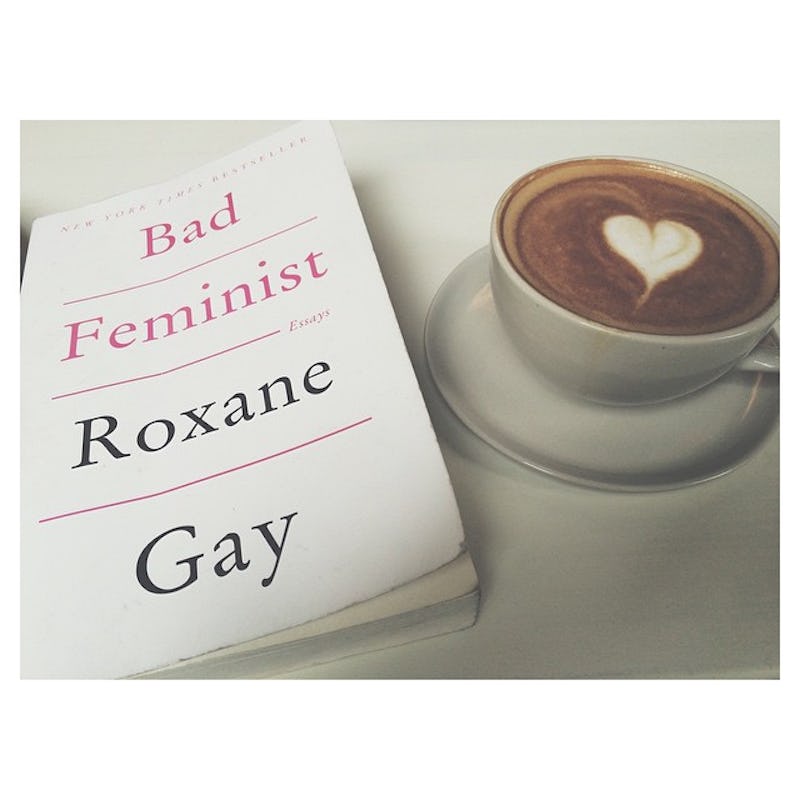 Roxane Gay doesn't mess around with her Bad Feminist , her already seminal 2014 essay collection that digs into why she feels the need to go by such a moniker ("I embrace the label bad feminist because I am human. I am messy. I'm not trying to be an example. I am not trying to be perfect. I am not trying to say I have all the answers. I am not trying to say I'm right. I am just trying—trying to support what I believe in, trying to do some good in this world…") and how it effects every single facet of her life.
Gay digs deeply into all manner of topics in her collection, from professional ambition to female friendships to even Chris Brown, and she's never afraid to question conventional understandings or to overthrow the status quo. Gay's work is remarkably clear-eyed, and her ability to cover such a wide range of topics is nothing short of stunning. That she places equal value on the personal and the political (and even the pop cultural) on her way to a fuller understanding of the world around her and the way she fits into it is inspiring, and the book is great fun to read, even as it (often) hits on some hard truths.
If you have already burned through Bad Feminist, here are some other books that will spark something new in you, too.
Steinem's first collection of essays was published back in 1983 and, like Gay's collection, the feminist thinker covers a huge amount of topics in just one excellent volume. For Steinem, the personal has always been the political, and her book weaves in longer journalistic pieces (like her work as a Playboy Bunny, which eventually spawned a Kirstie Alley-starring film) with emotional sections (like a tribute to her mother). It was a must-read in 1983, and it's still a must-read today.
Friedan's groundbreaking manifesto and social history of feminism in America pre-dates Steinem by twenty years, but the book remains relevant even today. Friedan was unafraid of dismantling and examining the constructs that her society hung on — women marrying young, not having jobs, feeling marginalized simply due to their gender — and the most staggering thing about her work is that it still feels applicable over half a century later. Some things haven't changed.
Beloved American author Didion frequently writes about her own life and experiences, but for this essay collection, she turned her gaze onto the American political process. Didion has never been one to pull punches, and her look at how the system operates it, who operates it, and what it means for the American populace is engaging and more than a little terrifying.
Solnit takes "mansplaining" in a funny, biting, and occasionally dark new direction with her 2014 essay collection. The author writes about issues general and specific, from the way men and women talk to each other (and, yes, explain things to each other) to the uncomfortably anti-feminist sentiments that cropped up after the Isla Vista shootings. It's heavy stuff, but in Solnit's hands, it's also bruisingly amusing.
Penny's book is mostly concerned with power and gender, but she uses modern examples to explore classic issues that arise from the conflict between the two. Think online dating and the Occupy movement in equal measure. It may sound wonky, but Penny doesn't balk at including her own experiences in the material, so while the book is a serious look at big problems, it also feels a bit like an accidental autobiography.
Sure, you've probably already read the divine Ms. Poehler's new essay collection, but if not, now is the time to pick up her funny, witty, and very personal look at life and work.
Dunham is a self-professed fan of Gay (she says as much in this Vulture interview between the two), and while her essay collection is certainly much lighter than Gay's own work, both are working through issues of application: how to be a feminist, how to be a "good" one, and how that effects every element of one's life.
The Americanah author gave a TEDx talk about this very topic back in 2013 (you can watch it here), and later adapted her thoughts and stories into this single long form essay. Deeply personal and incredibly moving, Adichie speaks from the heart and hits nothing but high notes.
My love for Moran's novel How To Build A Girl has been well-documented in this space (it is so funny and charming and real! please read it!), and Moran's previous work — half-autobiography, half-manifesto — is its own pleasure to read. Moran's feminist beliefs have guided her work and her life since she was just a precocious teen, and her experiences form this very funny and very relatable slice of life.
Daum is one of our finest essayists, and as she transitions from her wild youth to middle age, she's not afraid to use her talents to dig deeply into issues of distance, shame, and the so-called unspeakable parts of our culture. No, really unspeakable: her first essay is titled "Matricide," to give you some idea of how out of the box Daum is willing to go (and how bad she's willing to let herself look in service to that).
Gay's first novel is a tough read — to say that "bad things happen" within its pages is a tremendous understatement — but it's a must-read for fans of her work, and she effectively translates her sharp, honest voice into a wrenching and rewarding work of fiction.
Images: Instagram