The 'PLL' Cast's Theories Are Kind Of Awesome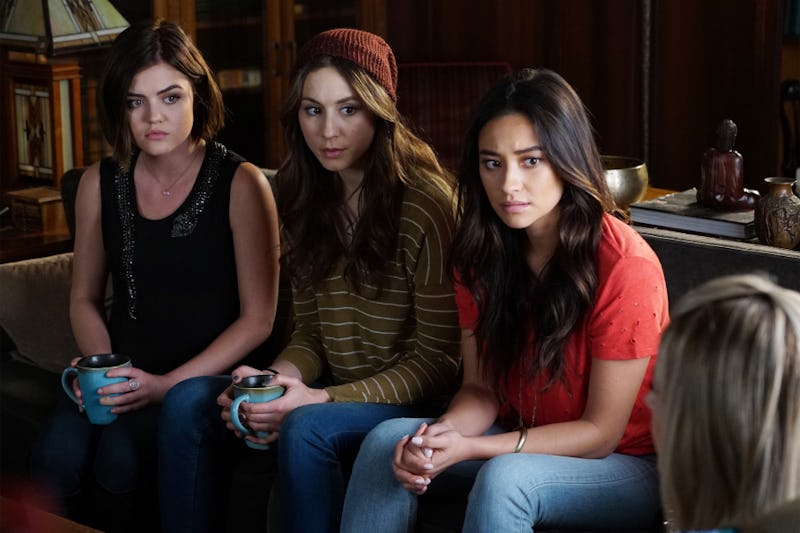 At this point, most of the cast of Pretty Little Liars' theories are behind them. They've given up on trying to figure out who A is — they've hung up their respective deer-stalker hats next to their oversized magnifying glasses, so to speak. Lucy Hale joked to People Magazine that she used to play "Detective Lucy," but has since thrown in the towel, since she has "always been proven wrong," and Shay Mitchell told Bustle, "I have no idea, I don't even wanna guess." Troian Bellisario even went so far as to tell her character to always second-guess herself: She jokingly advised Spencer in a 2012 PLL Promo, "If there's anybody that you completely fear, or think of as A, just embrace that person, because they're going to be your brother, your boyfriend, or somebody really, really close to you" (Sounds about right, eh?).
That said, not everyone has given up on the A sleuthing and truthing. Things have gotten trickier in recent days, since most of the cast actually does know A's true identity now — but luckily, that doesn't stop some of them from sharing their #BigAReveal hopes and dreams. Here are some of the cast of Pretty Little Liars' best A theories from throughout the years.
A Is... Jason DiLaurentis?
Jason himself (aka Drew Van Acker) has long harbored hopes that he was the major villain. When asked back in 2012 to share his A theory for the above PLL promo, he laughed and said, "I'd say Jason," as if it was a no-brainer. And for even more on Jason, check out Bustle's Pretty Little Liars podcast.
A Is... Melissa Hastings?
In that same 2012 promo, Ashley Benson made no bones about her favorite A suspect: She named Melissa as her "number 1 suspect." Brendan Robinson (who plays the perennial A-suspect, Lucas Gottesman) was similarly convinced. In an interview with Alloy Entertainment last year, he shared Benson's suspicions of the elder Hastings daughter, saying "I think that Melissa is definitely a strong possibility."
A Is... Jenna Marshall?
In a 2014 interview with The Hot Hits, Tammin Sursok joked, "I think there's a narcissistic part of myself that wishes that I was A." Narcissism or not, she's definitely not alone in thinking that Jenna could be A, or at least, A-adjacent. I mean, she's definitely up to something , right?
A Is... Cece Drake?
Like Sursok and Van Acker, Vanessa Ray has oft-theorized that her onscreen alter ego is to blame for all of Rosewood's rampant dysfunction. In a profile in Cosmopolitan, she confessed, "I thought it was me ... I really did. And I was so excited." Ray may have been quick to discount her personal theory, but who knows at this point? What with all of the incomprehensible machinations behind A's identity, she could still be right.
A Is... Maya St. Germain?
Maya hasn't come into play for years now, but that doesn't stop her from being a major factor in everybody's PLL conspiracy theories. Alison DiLaurentis herself (aka the ever-awesome and body-positive Sasha Pieterse) thinks she might be the key to it all. In an interview with People Magazine, she said that out of all the theories out there, Maya remains one of her favorites — because, as she points out, "It's actually a really good idea because generally in our show the person is only dead if you see their face, and Maya was really the only person that died that you didn't actually see her face, she was in a body bag."
It's worth pointing out that post-Mona, now even people who show up looking completely AND recognizably dead can still end up being alive. Also, Pieterse shared this theory after saying she knew A's true identity... so do with that information what you will.
A Is... I. Marlene King?
Tyler Blackburn may just have the one A theory to rule them all: In an interview with BuzzFeed earlier this year, he joked that IMK herself is PLL's big bad. Hmm, someone who likes to torture a group of young women with increasingly cryptic and convoluted clues and messages? Hey, if the shoe fits...
Images: Eric McCandless/ABC; Giphy (7)