Doja Cat's Bleach Blonde Hair & Brown Lip Liner Look Straight Out Of The '90s
She brought edge to the pink carpet.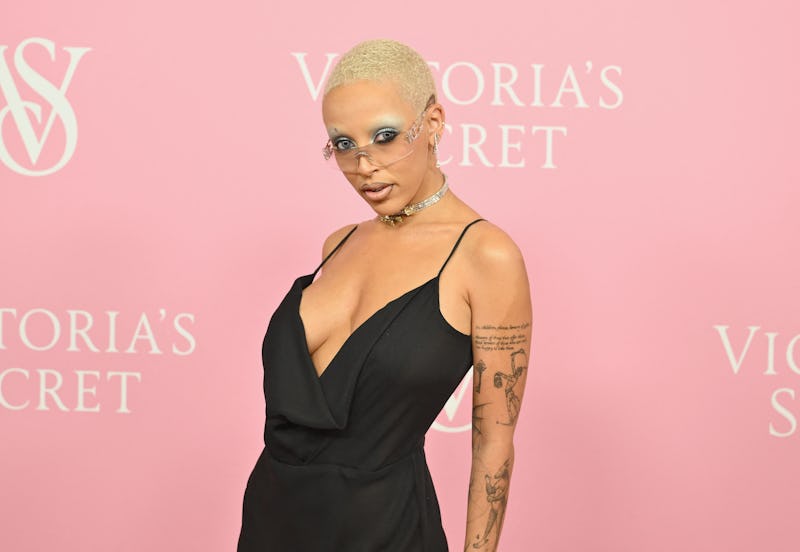 ANGELA WEISS/AFP/Getty Images
On the evening of Sept. 6, Victoria's Secret kicked off New York Fashion Week in celebration of The Tour '23, which marks its return to the angel wing-filled runway. Alongside OG VS Angels — including Adriana Lima and Candice Swanepoel — some of the hottest stars and socialites in the industry bared their sultriest looks on the (fittingly) pink carpet.
Announced as a featured performer in early August, Doja Cat no doubt brings a certain edge to the sensual lingerie brand. And proven to be quite the beauty chameleon in recent past, with unique glam moments like vampiric "anti beauty" looks, feline prosthetics at this year's Met Gala, and 3D mosaic nails — she took it upon herself to wear a minimal black slip dress with a plunging neckline and short kitten heels, which read as classically feminine, with some seriously eye-catching makeup and bleached hair that feels on-brand for the artist.
With a bleach blonde crop and shaved brows, all eyes were truly on Doja Cat's eyes and lips with this particular glamour, and overall, it served nostalgic 1990s vibes. Lined with thick black liner all around her eyes (making her icy contacts all the more intense), her baby blue frosted eyeshadow pigment climbed all the way up past her brow bone. As for her lips, she opted for a dark brown liner in contrast with a pale beige lipstick for that classically contoured effect. What's more? A tiny black gemstone was placed between her two front teeth, making it appear as if she has a tooth gap from afar.
Taylor Hill/Getty Images Entertainment/Getty Images
Taylor Hill/Getty Images Entertainment/Getty Images
While those in attendance got a sneak peek at the anticipated fashion presentation, The Tour '23 will be available to watch on Sept. 26 via Amazon Prime.