19 Books Like Bridgerton For Those Who Can't Get Enough Regency Romance
Who doesn't want more 19th-century love stories?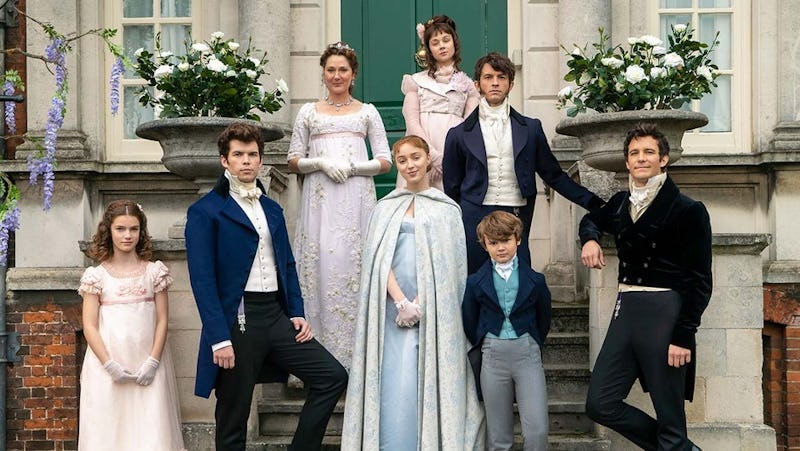 Netflix
When Shondaland's Bridgerton debuted on Netflix in 2020, it took the world by storm, quickly becoming Netflix's most-watched show of all time. Now, the series is back for a second season on March 25, and it's poised to once again dominate the ratings, winning viewers over with its intoxicating blend of fanciful aesthetics and soap opera-worthy drama. Based on Julia Quinn's bestselling novel The Viscount Who Loved Me, this season's romance follows eldest son Anthony Bridgerton as he squares off against his fiancée's abhorrent sister, who hates Anthony almost as much as he hates her. If you, like millions of other fans, just can't get enough of Netflix's new series, these books like Bridgerton will help fill the entertainment void that follows your marathon-watching session.
Bridgerton may be set in the 1800s, but fans aren't flocking to the series for historical fiction alone. Daphne and Simon's manufactured attachment in Season 1 looked a lot like the fake-dating trope popular in contemporary romance, and Anthony's enemies-to-lovers attachment in Season 2 will be all-too-familiar to fans of the genre. Plus, one of Bridgerton's biggest selling points — the cast's ethnic diversity — is also common in the show's literary counterparts, as there are plenty of historical romance novels focusing on characters of color.
That's all to say, if you're a fan of Bridgerton, you're almost guaranteed to love romance novels. And whatever your reason for loving the show — a certain trope, the period setting, or any number of other elements — you'll find something on the list below that will satisfy your craving for more. Below, 19 books like Bridgerton to read, because you can only re-watch the series so many times.
This article was originally published on