Adele's "Oh My God" Music Video Is The Most Fabulous Thing She's Ever Done
"I know that it's wrong, but I want to have fun."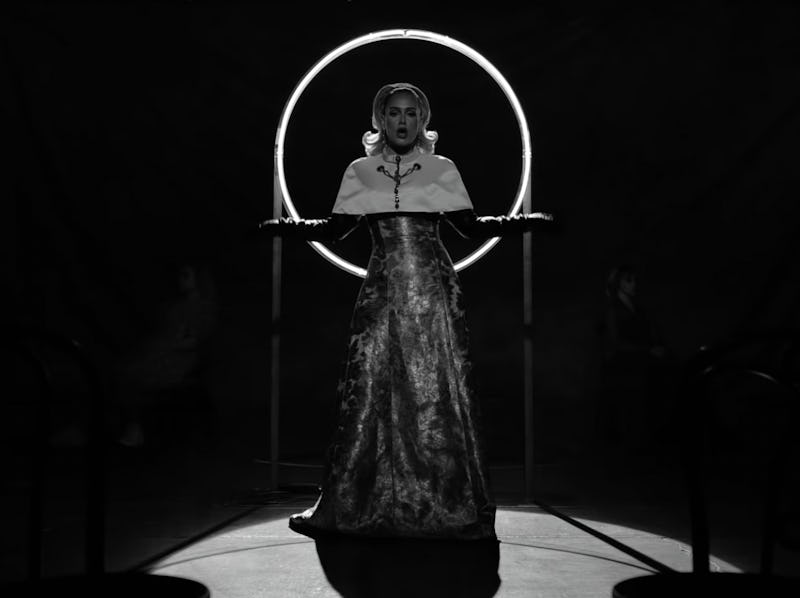 Adele/YouTube
One of the highlights of 2021 was the release of Adele's 30 in November, marking her first album in six years, and rather than going away quiet again, the 15-time Grammy winner is keeping us entertained throughout 2022. On Jan. 12, Adele debuted the music video for "Oh My God," the second single off 30, and it's just as glamorous as her teasers made it look. "I know that it's wrong, but I want to have fun," Adele sings on the track, and in the video, she does just that, providing for some golden Twitter memes as well.
The "Oh My God" video sees Adele serve as the accidental ringleader of a chaotic yet beautiful circus, cycling through fabulous looks as the madness unravels around her. There's interpretive dancers, gymnasts, chair sculptures, random children, and even a horse, all of which goes entirely unexplained. The clip culminates with a burning chair, which fans speculate is a nod to Adele's "Rolling in the Deep" video, with the flames symbolizing a new era and her divorce from Simon Konecki, the primary inspiration of 30.
But she's not done with chairs. This may be Adele's most camp and over-the-top video ever, but she still found a way to sit down for most of it, just like her iconic videos "Rolling in the Deep" and "Easy On Me." Adele revealed on Twitter that she reunited with "Rolling In the Deep" director Sam Brown for the "Oh My God" video, meaning the chair reference was likely intentional. "To collaborate together again a decade later was nostalgic to say the least," she wrote.
And needless to say, she had a lot of fun making the video — even if the huge python scared her away. "The attention to detail from the crew was borderline hilarious — thank you so much for your patience and pulling it all together, it was a lot of fun. Although right at the end a huge python was on set so I skidaddled my arse straight out of there!"
Adele announced the video on Jan. 6 by posting a 15-second teaser showing her standing in front of a circular light in a gown. "Rested and Re-Set!" Adele wrote in the teaser's caption on Instagram. "Feeling ready for 2022, there's so much coming, I'm excited for you all to see it x." She continued teasing the video days later by posting a stunning photo on Instagram of her clad in a beautiful off-the-shoulder Vivienne Westwood gown and Cartier necklace and earrings. Her outfit's red hue is similar to that of the apple in her hand (à la Snow White?), which matches her nails and dark lip.
Funnily enough, the song's title was the same reaction many fans had to Adele's teaser photo, which was shot by photographer Raven B. Varona. "Oh my god," one person wrote in the comments alongside a heart-eyes emoji. Many others opted for the acronym instead, writing, "OMG." Meanwhile, still others had more to say, such as Nikkie de Jager, who did Adele's makeup on her YouTube channel, NikkieTutorials, last month. "THIS LIP ON YOU?!?!" the makeup guru wrote alongside several emojis that showed her approval.
While "Oh My God" became 30's second single after the album's release, many fans initially predicted other tracks might get the nod instead. "I Drink Wine," "To Be Loved," and "Can I Get It" were all popular picks. That's not to say that "Oh My God" hasn't been popular, though. The track debuted at No. 3 on the Global 200 and Global Excl. U.S. charts, per Billboard. The "Oh My God" music video comes nearly three months after the one for "Easy On Me." That video, like the song itself, has been a massive hit, accumulating more than 223 million views at the time of this writing.
Memes & Tweets About Adele's "Oh My God"
As usual, Twitter was quick to react to the "Oh My God" video, praising Adele's many looks and her clever "Rolling in the Deep" reference. Some users made memes as well, especially poking fun at the random horse and the moment where Adele sings to a mirror image of herself.
This article was originally published on