Alison Hammond Is Iconic – & She Knows It
As the telly legend publishes her first children's book, Black In Time, we discuss her favourite huns and the power of the past.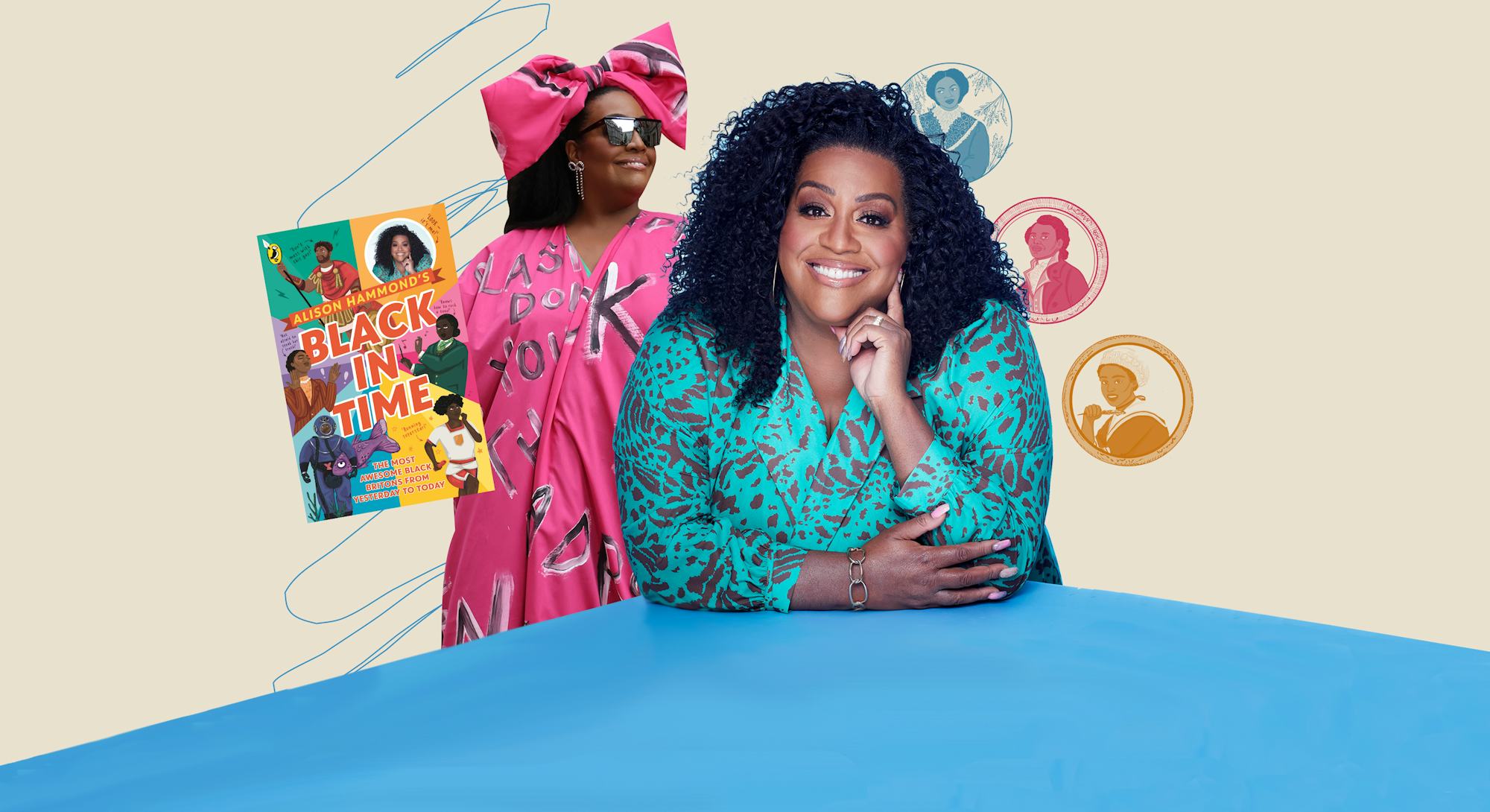 Neil Mockford/Getty Images
Within minutes of meeting Alison Hammond, she's singing. "I don't know who you are, but you must be some kind of superstar," she belts out, clicking her fingers to the beat of Jamelia's '00s pop hit "Superstar" in the middle of Penguin Random House's London HQ. Luxuriating on a comfy sofa, the TV icon bursts into one of her trademark guffaws of laughter — an infectious honk of amusement that fans of the This Morning presenter will recognise immediately from her celebrity interviews with the likes of Harry Styles, Lady Gaga, and The Rock.
We've met to talk about Hammond's first children's book, Black In Time, which tells the stories of incredible Black British figures who have long been left out of the history curriculum — more on that shortly — but proceedings have been temporarily derailed by Jamelia's track. "I think she's gonna want a copy," Hammond tells her management team. "Are we sending some out to celebrities? Jamelia's first on the list. I think she'll like that."
"She's a real hun," she tells me. "We go to the same nail salon, by the way. But don't look at my nails!" Hammond exclaims, "'cos they're all… I really need a new set."
Though she's sadly not confirmed a collab with fellow Brummie Jamelia yet, Hammond has always loved to perform. While growing up in Kingstanding, north Birmingham, she would spend many of her days staging performances on a hill that locals nicknamed The Pimple. "I used to go up there and sing Sound of Music, and do my own musicals of West Side Story," she smiles. "It was my escape really. Where I could scream, shout, dance, do what I want, cartwheels! I was obsessed with doing cartwheels. You know I can't do a cartwheel anymore, I'm absolutely devastated."
"I can still do the splits though," she footnotes. "If you said, 'Alison, do the splits,' I'd have to go off and do 10 minutes warm-up, bit of yoga, a few stretches. I found out the other day I can make my arms go all the way back," she adds. "I'm slightly double-jointed. I can take a broom and take it all the way around the back. It wasn't necessary for writing a book, though…"
As a teen, Hammond enrolled at the prestigious Television Workshop and starred in CITV's Grange Hill parody Palace Hill, but wasn't able to go to drama school because of the prohibitive costs. Later, she worked as a holiday rep and cinema usher before auditioning for the third series of Big Brother.
Though her time in the world's most claustrophobic house was over relatively quickly (she was the second to be evicted), a This Morning producer rightly guessed that Hammond had further telly potential. After six months presenting a segment called Diet Camp, she was thrown in the deep (celebrity) end and sent to interview George Clooney. She nearly whacked him over the head with her microphone because she was so nervous. But ever since, she's been the daytime show's most lovable agent of chaos. Highlights include fleeing from the Italian police after filming in Pisa without a permit, accidentally pushing a male model dressed as a sailor into Liverpool's Albert Dock, and playing Connect 4 with Beyoncé.
"The secret is that there's no secret!" laughs Hammond when I ask her how she seems to become best mates with almost everybody she interviews. "I've got a good smile," she adds, "that gets them every time. I go in there and have a laugh, and if they don't wanna play, they don't wanna play. I just go into it with the belief that we're going to play Connect 4, or we're going to tap dance." Was she secretly scared to debut her vocal pipes for Mariah Carey? "That was a bit cringe," she laughs, "Oh my God! I can't even watch that one. The Pierce Brosnan one [from 2006] when I jump up on him and he smacks my bum — that's not very appropriate nowadays! I cringe a little bit with Harrison Ford, too, but he's funny."
Up until recently, Hammond was best known for her playful, and often very raucous, interviews — but in 2020, viewers saw a different side to the presenter when she called into This Morning in the wake of George Floyd's murder in police custody. Audibly emotional, Hammond phoned into the show to speak about being the mother of a Black teenage boy and the pain of being exposed to brutality against Black people in the media virtually every single day. She urged viewers to educate themselves about the realities of Britain's history of colonialism and racism.
This moment inspired Hammond to make her first documentary, Back To School, two years ago. In it, she travelled around the country learning about Black historical figures who have been overlooked or ignored by the curriculum. In making the show, Hammond found that she quickly ran out of room to tell the story of Notting Hill Carnival's communist founder Claudia Jones, Victorian circus owner Pablo Fanque, and present-day Noughts and Crosses author Malorie Blackman. "It's the present I wanted to give to myself as a youngster," she says of Black In Time, which collects these inspiring figures into one place, made in collaboration with children's author Emma Norry, and woven together by Hammond's warmly witty historical commentary.
I think [a hun] is someone who lives life to the full and is just happy… and they don't know that they're iconic — but I know I'm iconic.
As a kid, Hammond especially loved science at school, but lost interest when she didn't get along with her college teacher. "I dropped out in the end, and ended up just doing performing arts. I only got one A-Level," she tells me. Though she enjoyed history, too, Hammond remembers noticing "that there was nobody who looked like me, and I didn't really relate to anyone. It's only now that I'm getting really into history," she says. "With every single one of the characters [in Black In Time] there's a surprising bit of information where I think, wow, that's incredible." Ivory Bangle Woman, for instance — a wealthy Northern African woman whose remains were discovered in 2010. "Back in the Roman times, there was someone who had elegance and the amount of jewellery she was buried with… Oh God, there were rich Black people back then? It's incredible."
Ivory Bangle Woman is her favourite historical hun, Hammond tells me. "She's fierce and she's got all the jewellery that I want, to be fair. In real life, my favourite hun would probably be Josie Gibson, I do love her. And Kate Lawler, she's a hun. Not recognised enough."
Beyond her well-earned status as a national treasure, Hammond has been elevated to hun status in recent years also, and is a regular fixture on the much-loved Instagram account @loveofhuns. Is she aware of the account? "I'm really aware of them, I think they're amazing!" she says. "They sent me an Easter egg this year. It was smashed when it arrived, and they had to send another one, but it tasted very nice, I'm not going to lie. I was very flattered that everyone voted me an Easter Hunny. I'd love to meet @loveofhuns. They must be just sitting there thinking… right, and what does hun stand for? What is a hun?"
I like Hammond's definition: "I think it's someone who lives life to the full and is just happy… and they don't know that they're iconic." She takes a moment to ponder further. "But I do know that I'm iconic, you know what I mean?" she adds, before erupting into another of her trademark cackles. "I do know I'm iconic," she concludes. "And I love that I'm a hun."
Alison Hammond's Black In Time is published by Penguin and is available to buy now.