Andrew Garfield's Flirty Red Carpet Interview Is Like A Mini Rom-Com
"Is this…the best rom com of the year?"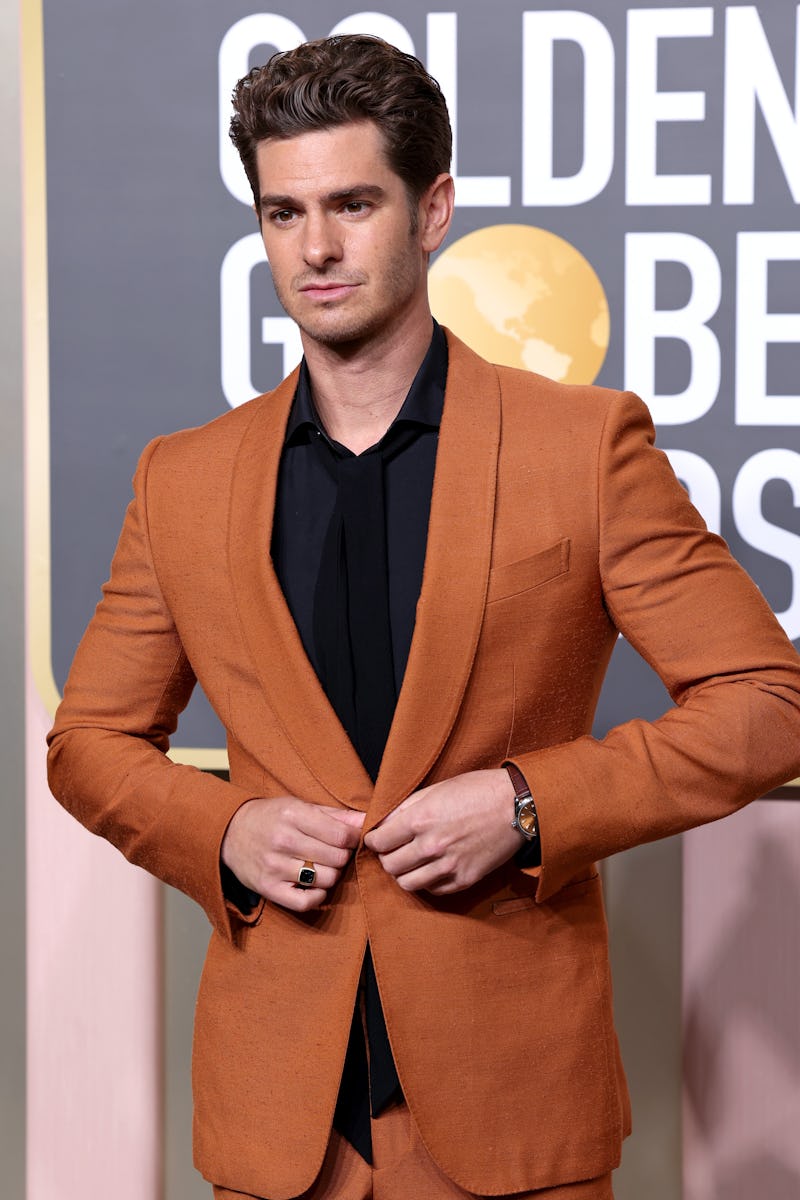 Monica Schipper/The Hollywood Reporter/Getty Images
Andrew Garfield, the internet's boyfriend, is no stranger to leaving everyone swooning — from his impeccable style to award-winning projects. But it was a recent flirty interview with a reporter that has fans blushing over the Spider-Man star. On the Golden Globes red carpet on Jan. 10, Garfield had a run-in (his second!) with journalist and comedian Amelia Dimoldenberg and Twitter quickly noticed fireworks between the two.
"We must stop meeting like this," Dimoldenberg told Garfield when he made his way to her. Known for her YouTube series Chicken Shop Date, Dimoldenberg asks celebrities for a sit-down interview, aka "date," over some fried chicken, and is therefore used to asking (mostly awkward) questions for the camera.
Garfield, a Golden Globes Best Actor nominee for his role in Under the Banner of Heaven, immediately started getting flustered. "I only ever wanna see you..." he trailed off. He later stammered, "That's not the end of the sentence! That's not the end of the sentence! I only ever wanna see you in these kinds of situations."
"I was gonna invite you to my birthday party," she told Garfield, who inquired about the date of her party and her astrological sign (they both have Aquarius in their birth charts). He flirtily said, "If you have a sun sign that's the same as the moon sign of someone else... it's good."
"I don't think we should explore this," he later teased, "I'm scared of what it could turn into." The interview ended with the journalist asking for an autograph from Garfield for their "Best Friend Certificate."
Dimoldenberg posted the video on Twitter with the caption, "Round 2" — and fans were delighted. "Is this…the best rom com of the year?" one user asked. Someone else said, "This going WAY too smoothly to not let it be a date." She also later posted their signed best friend certificate.
Their flirty exchange comes after the heels of their first red carpet meeting in November 2022 at the GQ Men of the Year 2022 event. When she met GQ's November cover star, Dimoldenberg immediately tried to shoot her shot. "I've been trying to get a date with you for a while," she told the actor about guesting on her YouTube series, "I'm asking you out right now."
"You do date a lot of people," Garfield replied, referring to Dimoldenberg's many YouTube dates with the likes of Ed Sheeran, Phoebe Bridgers, and Louis Theroux, which went viral on TikTok.
The wholesome interview has Twitter smitten. One user wrote, "ENOUGH!!! I have seen the Amelia and Andrew Garfield videos so much times and every time I've been giggling."
Though many found the moment filled with potential, Garfield is reportedly already off the market and is rumored to be dating Bridgerton's Phoebe Dynevor.