Benedict Cumberbatch & Sophie Hunter Once Used A Newspaper Ad To Confess Their Love
The Saturday Night Live host met her in 2009, and they got married on Valentine's Day in 2015.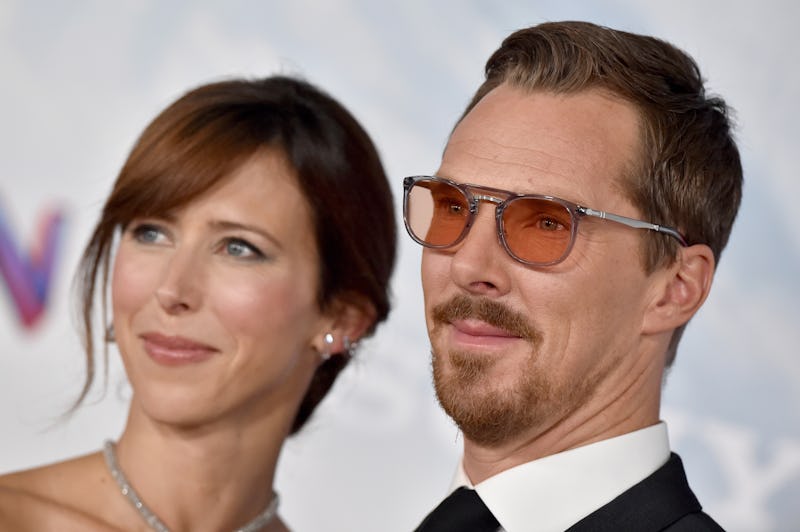 Axelle/Bauer-Griffin/FilmMagic/Getty Images
It's hard to imagine actor Benedict Cumberbatch topping his massively successful 2021, a year in which he returned to the Marvel Cinematic Universe in Spider-Man: No Way Home, co-starred in both The Electrical Life of Louis Wain and The Mauritanian, and earned his second Academy Award nomination for his leading role in The Power of the Dog. But May 2022 alone is already on track to reach similar highs for the 45-year-old actor, who is starring in Marvel's Doctor Strange in the Multiverse of Madness and hosting Saturday Night Live on May 7.
Amid all that madness, Cumberbatch and his wife Sophie Hunter, who share three kids, still find time to express their love for one another, sometimes with PDA at award show red carpets. With Cumberbatch on the tip of everyone's tongues again in 2022, people are curious about his personal life, including details about how did he fell in love with Hunter, the woman who single-handedly broke the hearts of countless "Cumberb*tches," the name given to his die-hard fans.
Read on to see their major milestones as a couple.
2009: Cumberbatch & Hunter Meet
Cumberbatch and Hunter met in 2009 while both were starring in the indie film Burlesque Fairytales. The movie, set in a fictional 1930s London theater, was not a box office smash, but it did bring the two together. It wasn't love at first sight, and the two were not romantically attached. Apparently, Cumberbatch was seeing actor Olivia Poulet at the time.
2013: The Romance Begins (Maybe)
The pair are notoriously private about their romance, so it's not entirely clear when they went from being friends to significant others, but the date could go back to the year 2013. The actors were pictured together at an event that May.
September 2014: They're Linked
In June 2014, the actors attended the French Open with one another, and a few months later, they were officially called a couple. The Daily Mail announced their confirmed love that September, and since then, their romance has been quite the love story to behold.
2014: Cumberbatch Proposes
Before he popped the question to Hunter, Cumberbatch reportedly flew from London to Edinburgh to ask permission from her mother. He is apparently very traditional, and though he didn't ask her father (she is reportedly closer to her mother), it's quite the gesture that he took the trip at all.
Unlike many celebrity couples, Cumberbatch and Hunter didn't take to social media to reveal the engagement. Instead, they took out an ad in the British newspaper The Times.
February 2015: Marriage & The Oscars
Just three months after their low-key engagement announcement, Cumberbatch and Hunter were married. They didn't waste any time in tying the knot, as Hunter was already pregnant with their first child. The ceremony was very private. The event, which took place on Valentine's Day 2015, was attended by just 40 people, per Hello! magazine, and it took place in a 12th-century church on the Isle of Wight. Later that month, the newlyweds attended the Academy Awards, as Cumberbatch was nominated for his work in The Imitation Game, though the trophy ended up going to Eddie Redmayne for The Theory of Everything.
June 2015: They Become Parents
Cumberbatch and Hunter took the next step in their relationship and welcomed their first child together in 2015. For months, the name of their baby was unknown, but eventually it was revealed to be Christopher Carlton Cumberbatch. The actor reportedly calls his eldest son "Kit."
October 2016: Pregnant Again
During an appearance on Live with Kelly and Ryan in 2016, Cumberbatch let it slip that his wife was expecting again. The pair were due to expand their family at some point in 2017, not wasting any time in growing their brood.
March 2017: A Second Child Joins The Family
A little more than a year and a half after the Doctor Strange actor and his theater director wife (who switched careers after beginning her relationship with the star) became parents for the first time, they doubled their total number of children. In October 2016, Hal Auden Cumberbatch was born to the very happy duo.
2019: A Third Baby
In 2019, Cumberbatch and Hunter quietly welcomed a third child, Finn Cumberbatch.
2020: A New Home
With much of the world going into lockdown in March 2020, production on The Power of the Dog was halted. Cumberbatch, Hunter, and their family ended up staying in New Zealand until after it resumed, the actor later told OK! magazine. He explained that his parents had come for a three-week visit, and it turned into five months together. "We were so lucky," he said. "Far away from home, but we found a new one."
2021: Red Carpet Support
When The Power of the Dog premiered at the 78th Venice International Film Festival on Sept. 2, 2021, Hunter was there to support Cumberbatch. The two shared sweet moments on the red carpet, enjoying the first screening of the film that would bring his second Oscar nomination.
February 2022: More Red Carpet PDA
Awards season has brought more public displays of affection from the couple. At the 28th Annual Screen Actors Guild Awards on Feb. 27, 2022, they looked as in love as ever.
February 2022: Walk Of Fame
Years into his tenure as a movie star, Cumberbatch was honored with a star on the Walk of Fame. The Los Angeles fixture and tourist attraction remains a bucket list item for many singers and actors, and Hunter was there when he unveiled his bit of history.
March 2022: Awards Season
March 2022 was packed with award shows and major events in the movie industry, and Hunter accompanied her husband to many ceremonies, as he was nominated for the most prestigious prizes in the business for his work in The Power of the Dog. Throughout the month, she was his date to The Santa Barbara International Film Festival, the BAFTAs, and, the Academy Awards, where the they shared a kiss on the red carpet.
May 2022: 'Multiverse of Madness'
Continuing to support her husband, Hunter attended promotional events for Cumberbatch's Doctor Strange in the Multiverse of Madness, including a screening in New York City on May 5.
This article was originally published on