Billie Eilish Recreates A Popular Scene From The Office With Two Of Its Stars
The Party Planning Committee found its newest member.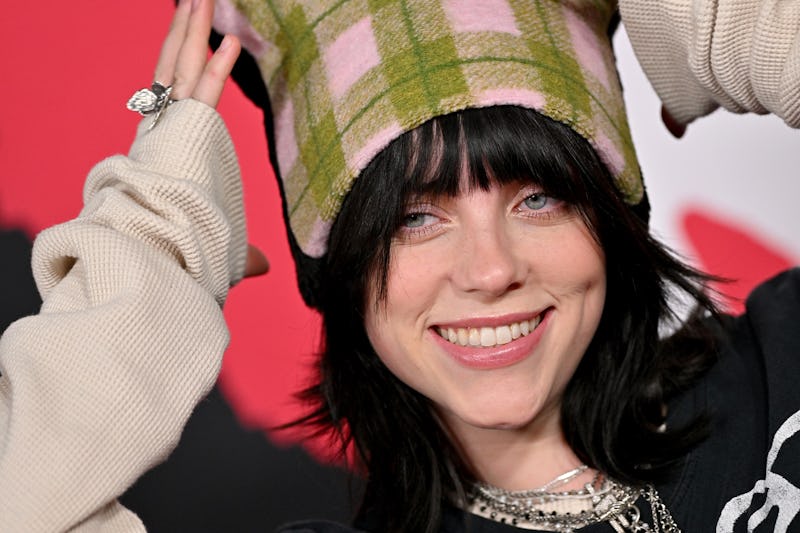 Axelle/Bauer-Griffin/FilmMagic/Getty Images
Though The Office originally came out in 2005, when Billie Eilish was just three years old, the seven-time Grammy winner has been vocal about being a huge fan of the NBC show. Her song "my strange addiction" samples from the Office script (remember The Scarn?), she's aced Rainn Wilson's (aka Dwight) Office-trivia quiz in a 2019 episode of Billboard's Quizzed, and now, she's an official member of the Party Planning Committee.
On Jan. 3, Eilish was a guest on the Office Ladies podcast by Office alums Jenna Fischer and Angela Kinsey, and was invited to reenact an iconic scene from Season 1 Episode 4, "The Alliance." "Do you want to do a scene with us?" Fischer asked an enthusiastic Eilish. "We printed out a scene from the show," Kinsey added, the "actual shooting draft" from 2004.
When Eilish found out they were doing the first-ever Party Planning Committee (PPC) scene, she responded, "Oh yeah, I know this scene quite well." Fischer and Kinsey both reprised their roles as Pam Beesley and Angela Martin, while the "bad guy" singer took on the role of Phyllis Lapin-Vance (originally played by Phyllis Smith).
Going into the scene, Eilish delivered the lines, "Well for decorations maybe we could do, no that's stupid forget it," adding, "Well, I was gonna say maybe we could have streamers but that's dumb everybody has streamers, never mind." She then continued to suggest streamer colors before Angela delivered her iconic "Green is kind of whorish" line.
Fischer then welcomed Eilish to the group. "You're officially in the PPC," she told Eilish — a huge deal, especially since the PPC is known to evict members (RIP to Karen's PPC tenure).
In a 2020 episode of Brian Baumgartner's podcast, An Oral History of 'The Office,' Eilish spoke about her obsession with the series — admitting she's watched it 14 times. She even got to do the podcast with her Office hero, Steve Carell, who played Michael Scott, Eilish's favorite character. Carell also guested on his co-star's podcast (Baumgartner played Kevin Malone) to discuss the lasting legacy of The Office, years after it went off the air.
On her part, Eilish said, "Every time I watch it, I understand something new, because I started at [age] 12," she said. "And I honestly, if you asked my parents, most of the things that — this makes me sound so stupid — but the most of the things that I know are because of The Office."
She even shared that she watches all the time — actively or not. "I never watch it on a TV or anything. My little phone and I put it on a little table, and I clean my room or leave the room or I'm in the shower or something," she said, adding, "Because I've seen it so many times, I can fully envision exactly what the scene is, so it takes me away from the reality of my life ... It's like a safe space."