Camila Morrone Is More Than Just The Groupie In Daisy Jones
The actor discusses how the wife of fictitious rocker Billy Dunne became the heart of the TV adaptation.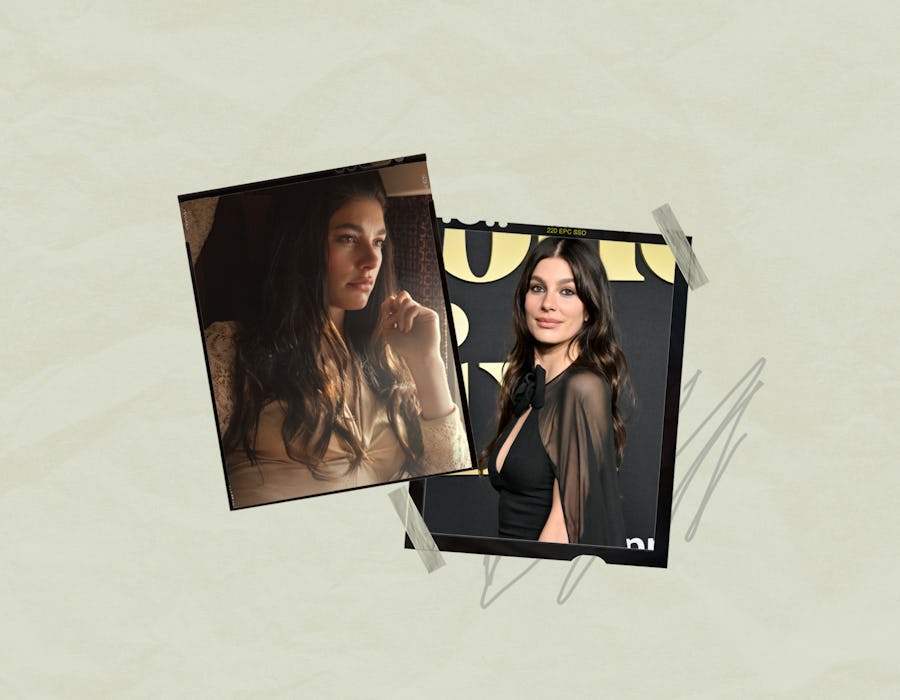 Lacey Terrell/Prime Video & Axelle/Bauer-Griffin/FilmMagic
Camila Morrone is the lifeblood of Daisy Jones & The Six. Sure, the Amazon series may be about the fictional band, with the central love triangle focusing on the complicated relationship between her character (also named Camila), her husband Billy Dunne (Sam Claflin), and his bandmate Daisy Jones (Riley Keough). But her significance was established well before the series came to life from Taylor Jenkins Reid's bestselling novel. Keough and Morrone were cast first and second, respectively. Morrone tells Bustle that the showrunners likely wanted to ensure that Daisy and Camila had the right kind of chemistry.
"Even though it's not a romantic connection, there is deep respect, love, and admiration between these two women," Morrone tells Bustle. "Riley vetted me in a second round of auditions alongside all the producers. We went on the journey together to find Billy Dunne. Then all the characters came on one by one, and we were a band, just like that," she remembers. "Or they were a band, and I was the groupie."
But she's more than just the groupie. In prepping for the role, Morrone voraciously studied documentaries along with iconic women of the 1970s, including Bianca Jagger — the former wife of Rolling Stones frontman Mick Jagger. Like Bianca, Morrone's Camila was married to the most famous rockstar in the world. In doing her homework, the 25-year-old actor brought an extra layer of emotional intelligence to Mrs. Billy Dunne.
Morrone understands how multidimensional Camila is as a muse, a mother, and a woman with unconditional love. Throughout the series, she carries the emotional weight of the band on her shoulders, from its formation and first show in the suburbs of Pittsburgh to its final curtain call. In the finale — which Morrone says had left her in tears — she remains a vital part of Daisy Jones & The Six even after she's gone.
Below, Morrone breaks down the Daisy Jones finale, how her character's style evolves throughout the show, and what adaptations she'd like to star in next. Spoilers ahead for Daisy Jones & The Six.
What did you think of the Daisy Jones & The Six finale?
It's my favorite episode. There's something touching about looking back at your life and your regrets, your choices, and your decisions. Growing older and reflecting is something that can be daunting to all of us. You see this group of people retell their life story, justify, and question the choices that they made. There's something connective and human about that.
What were your thoughts when reading the script regarding the twist where the filmmaker is Billy and Camila's daughter, Julia?
I don't think people are anticipating the interviewer had been my daughter for the entire 10 episodes unless you've read the book. It's an exciting twist for the newcomers to Daisy Jones. It's thoughtfully planned out and orchestrated so that the book is accurately represented, but also with its new twists and turns. The finale feels like it wraps a nice ribbon on the show.
Do you think the book or the television show handled the ending better, and how would you have done it differently?
I'm satisfied with the ending of the show. It was one of the last days that I shot, so it's still fresh in my mind, and I still feel incredibly touched by it, especially the Camila-Billy-Daisy love triangle. It's a hard story to tell, the man who loved his wife and always felt connected to another woman, but chose to remain faithful to his wife. Billy's regrets, Daisy's regrets, and Camila's regrets are all aligned, but they're people who felt they made the right choice for them at that moment in time.
When Billy and Daisy reunite at the end, did you interpret them reuniting musically, romantically, or both?
At that moment, anything is possible, and I don't think we'll ever know. The point of that reunion and Camila giving her blessing, is, as she says, life is complicated and nothing is black and white. They had a beautiful marriage, and now she's gone. She gives Billy her blessing to go wherever that takes them, musically or romantically or both. The point of it was that letting go and that loss of control and power, and just loving someone so much that you set them free.
The main title sequence is supposed to be from Camila's point of view since she's photographing the band throughout their rise to fame. What are your thoughts on this choice?
People feel that a lot after watching the show, even more so. Camila is the constant in this story and the woman that everyone turns to in a moment of crisis and guidance, and she's got this unwavering and unconditional love for everyone in the band. It's inspiring to see a woman who knows the right way forward, even if it's not always right, but she trusts her gut, trusts her instincts, and doesn't live with remorse and regret. It's a beautiful feature of hers that gravitates everyone to her.
As the show progressed, your clothes began to resemble Daisy's more and more. Was that intentional?
No one has mentioned that, and I hadn't thought of that. It definitely wasn't intentional. Her husband becomes the biggest rock star in the world, and she leans into the womanhood and the glamorousness that comes with that lifestyle. She elevates her aesthetic. It's perfectly timed with her becoming a woman, her being a mother, and heading into her adulthood.
What is your favorite song from Daisy Jones & The Six?
It was "The River," but lately, I have been playing "Two Against Three." I'm probably the person who has streamed "Two Against Three" the most in the world.
What have you been reading recently that you'd like to be a part of an onscreen adaptation for?
I just read Milk Fed by Melissa Broder, and I'm finishing My Year of Rest and Relaxation [by Ottessa Moshfegh]. I love both female characters. I think that's being adapted into a film already, which I can understand why because it is so well-written and has such a juicy character.
Have you heard of Taylor Jenkins Reid's other novel, The Seven Husbands Of Evelyn Hugo?
Yes, I have. I'm all over that one too. I love Evelyn Hugo so much, and I've wanted to play her since the first 50 pages of that book. I already was like, "Well, that's a character I'd love to play." Taylor writes great women. I also love Nina Riva in Malibu Rising. I will play any female character that Taylor Jenkins Reid writes.
This interview has been edited and condensed for clarity.