Dennis Quaid Dropped A Huge Parent Trap Revelation Via Taylor Swift's "Anti-Hero"
Yes, Nick, you are the problem.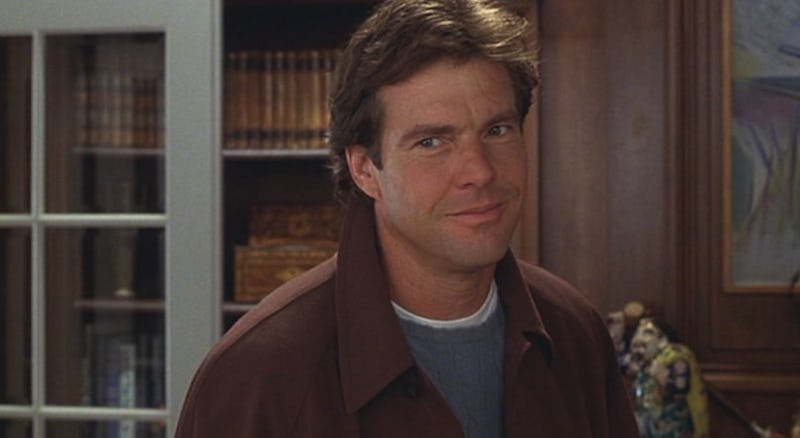 Warner Bros Pictures
If you're a '90s kid like me, you will no doubt also have a deep, abiding love for the 1998 classic The Parent Trap. Arguably one of Lindsay Lohan's best movie roles, and famous for having one of the most iconic antagonists of all time, this film is a rare example of a remake being better than the original. Actor Dennis Quaid, who starred as Nick Parker, the father to twins Hallie and Annie (both played by Lohan), has now revived the urge to rewatch the movie with a hilariously on-point TikTok, which poked fun at the movie's plot.
Actor and TV host Mario Lopez posted a clip of Quaid visiting a set. With Taylor Swift's "Anti-Hero" set as the background music, the TikTok starts with Lopez mouthing the question "Why can't your twins Annie and Hallie be together?" The camera then pans to Quaid lip syncing to the song's line "It's me, hi! I'm the problem, it's me," referencing how Nick made the decision to separate his twins after splitting from Elizabeth James.
Even the TikTok's caption "Sorry, Squirt!" was a call-out to Nick's nickname for his daughter, striking a nostalgic chord with The Parent Trap fans.
"Nah because watching that movie as an adult I'm like……. WHY DID THEY DO THAT," one viewer commented. Someone else tagged Elaine Hendrix, who played Nick Parker's girlfriend Meredith Blake, in their comment saying, "he finally got the picture, @elaine4animals! (and it only took him 25 years)."
Many also noticed the colour of Quaid's tongue, which can be seen stained blue in the clip, with people jokingly commenting that he had been enjoying a blue Jolly Rancher. Lopez also gamely replied to a fan's comment saying, "He's a Smurf!"
Watch the hilarious TikTok below: