Jack Grealish's Relationship Status Is… Complicated
Here's everything we know about the player's love life right now.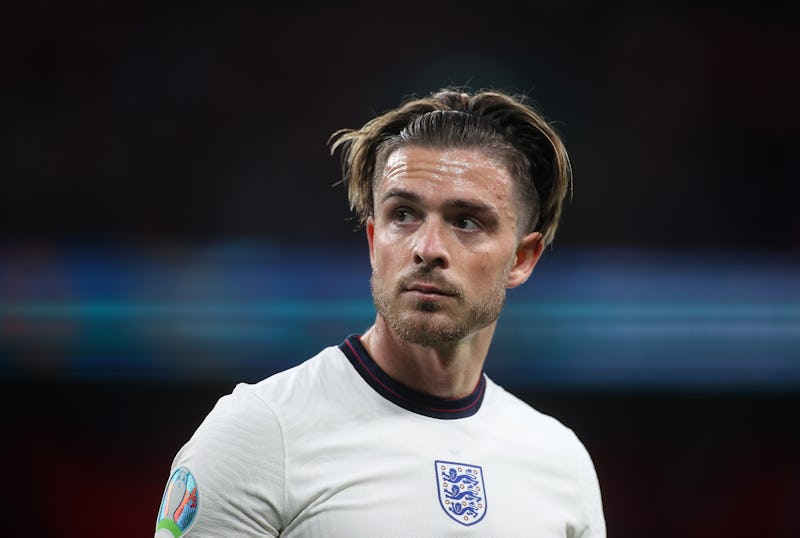 Carl Recine - Pool/Getty Images Sport/Getty Images
Originally a midfielder for Aston Villa, now Man City recruit, Jack Grealish quickly became one of the England squad's most popular players during the Euros. And how could he not? With a love of fashion, his big heart, Beckham-like looks, and even a rumoured Coronation Street cameo on the cards, the man is pretty dreamy. (And we have the memes to prove it.) But as deeply embedded as he is in our fantasies, what about his real love life?
Well, let's just say things are a little complicated right now. During the Euros, Grealish was dating model Sasha Attwood, who was described as his "secret weapon" for success on the pitch by a source in The Sun. Per OK online, the couple originally met as teenagers while studying at St Peter's Roman Catholic Church School in Solihull, and have been together since 2014, reports the Daily Mail. Attwood, who was reportedly scouted as a model when she was 13 years old, is represented by Industry Model Management.
Attwood was a regular face at England's matches over the Euros, sporting her BF's England shirt with a pair of Alexander Wang shorts prior to England's win over Croatia. Since then, they were spotted on holiday together looking very Fashion. Attwood has since spoken about the abuse she received from trolls during the Euros in an emotional YouTube video.
However, according to reports, Grealish and Attwood have been on-again-off-again in the months following the Euros. In August, it was reported that the Man City player was using Raya, an exclusive members-only dating app favoured by celebs including Paul Mescal, Jack Whitehall, and Cara Delevingne, to name but a few.
According to The Sun, Jack's profile was "active" on August 15, following Man City's loss to Tottenham Hotspur. A spokesperson told the paper, "We don't comment on these matters, whether they are correct or incorrect."
Grealish has also been linked to a number of Love Island contestants since the 2021 series came to a close, including Lillie Haynes, Natalia Zoppa, and Ellie Brown. However, it appears these rumours were indeed just that – rumours.
It seemed as if Grealish and Attwood were back on track in November when they celebrated their anniversary with a personalised movie night, which Attwood shared via her Instagram stories. The couple had a romantic spread set up, with The Notebook playing from a projector.
However, that same month, reports emerged linking Grealish to actor and comedian Emily Atack. The rumours were totally unconfirmed, but according to The Sun the pair had been in contact since September 2021 after "exchanging numbers." The Daily Star also alleged that the two were spotted together on October 18 at a Manchester Hotel before a Champion's League match with Club Brugge. But it's worth noting that Atack unfollowed Grealish on Instagram in December, so make of that what you will...
Bustle UK has previously reached out to both Grealish and Atack's representatives to ask for comment but has not heard anything back.
This article was originally published on